New York Despite what the cool kids would have you believe, you don't have to live in Brooklyn to enjoy the lobster rolls, ricotta pancakes, and pulled pork found within its borders -- all you need is a guide to show you the way. Like, say, this guide to the 15 greatest places to eat in Williamsburg and Greenpoint. Note: Yes, for the purposes of this article we've rolled the adjacent 'hoods of Williamsburg and Greenpoint together into one big foodie paradise. More Stuff You Will Like
  112 Berry St (Williamsburg) While the rest of the menu's stacked with excellent options (a steak & cheese sandwich!), Juniper's claim to fame is its brioche-bound burger. With beef and chorizo both on deck, it's no wonder this is one of our
favorite burgers in the entire city
-- get it with the seasoned fries, because life's too short for unseasoned fries.
  218 Bedford Ave (Williamsburg) This diminutive candy shop in the Williamsburg Mall might be a tight squeeze, but the candy lineup featured within is totally worth it. Gummies, jawbreakers, chocolates, and Big League Chew are just some of the sweets on offer, and you can even fill up a mason jar with your preferred candy (because Williamsburg). Continue Reading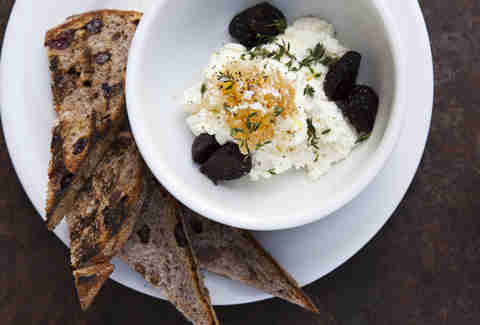 18 Bedford Ave (Greenpoint) Waiting in an hour-long line for brunch might sound completely foolish, and it is -- unless of course it's followed by ricotta pancakes, house-cured arctic char, or a sage scrambled egg panini. For these reasons, as well as the fantastic avocado toast, don't be surprised if you find yourself back on the exact same line the following weekend.
Best Mexican/Taiwanese fusion: Lucky Luna
  167 Nassau Ave (Greenpoint) Can't decide between tacos and steamed buns? Thanks to the blended menu at this Lucky Luna, you can get both -- along with kimchi, huevos Mexicanos, scallion pancakes, and pozole. The duck confit bao is a crowd favorite here, so even if you don't get it yourself, you should make it a point to steal some from your dinner companion.
  166 S 4th St (Williamsburg) With mouthwatering mains like chicken and waffles, fried catfish, and classic grilled cheese, this local favorite serves stick-to-your-ribs victuals for breakfast, lunch, and dinner. And then, of course, there are the pies: think pumpkin, apple, and bourbon pecan, then stop thinking and start ordering.
  33 Havemeyer St (Williamsburg) No, that's not a typo: the place serving Williamsburg's best pizza is actually called "Best Pizza." The pies here are bursting with fresh mozzarella and tangy sauce flavors, and whether you get a thin-crust white slice or a crispy grandma pizza, you won't be disappointed -- provided you can get past the relatively high price point, that is. If you can't splurge on pizza, though, what 
can
 you splurge on?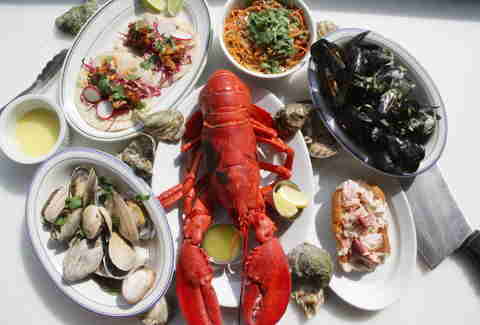 114 Nassau Ave (Greenpoint) In addition to the formal sit-down area in the back, you can grab to-go fare from the fish market and commissary behind the marble-topped bar up front. Order some fried fish tacos, pick up some oysters for waterside shucking, or tuck into one of the freshest lobster rolls in town. Better yet, do all three!
  33 Nassau Ave (Greenpoint) The food menu at this craft beer hall features 10 different kinds of brats, ranging from the traditional (krainerwurst and kielbasa) to the unusual (duck and rabbit). The variety extends beyond the sausage selection, as well: you can choose between eight different dipping sauces for your side of Belgian fries or a soft pretzel, including peanut teriyaki and mustard jalapeño aioli.
  727 Manhattan Ave (Greenpoint) For more than 50 years, Peter Pan's been frying up donuts and topping them with everything from apple crump to toasted coconut. Grab that thimble and fly your ass over here, then dig into a red velvet crumb donut that'd make a crocodile weep.
Best non-sushi Japanese place: Zenkichi
  77 N 6th St (Williamsburg) If you're on the hunt for a cheap, unlimited sushi, this is not your jam -- there are plenty of other spots for that. If, however, you're in the mood for high-class Japanese fare that isn't sushi (think waygu beef, grilled black cod, and Jidori chicken), this most definitely is your jam. Don't let the semi-expensive prices dissuade you from getting neck-deep in tempura.
Best oyster happy hour: The Bounty
  131 Greenpoint Ave (Greenpoint) Admittedly, there's more to this Greenpoint bistro than just oysters -- the cocktails are delicious, the burger's one of the best in the borough, and the back patio is great for dates. The siren call of $1 oysters overrides all of this, however, and it should absolutely be your move if you can get here between the hours of 5pm and 7pm.
  48 S 4th St (Williamsburg) If you're not lucky enough to catch the Landhaus folks doing their "farm-to-sandwich" thing at Smorgasburg, just head over to The Woods and hit up their full-service kitchen out back. You'll have access to the same excellent steak sandwiches and bacon-on-a-stick goodness, but with happy hour beer specials to sweeten the deal!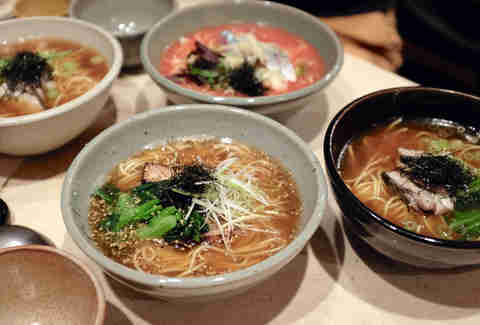 150 Ainslie St (Williamsburg) Despite relocating to Williamsburg, Ramen wizard Yuji Haraguchi's eponymous noodle shop still offers the same exemplary omakase menu we fell in love with
on the second floor of Whole Foods
. Be careful what time you show up, though, as this place actually has a split personality: it's Yuji Ramen after 6pm on weekdays, but it switches to Okonomi (and a different menu) for the rest of the week.
  359 Bedford Ave (Williamsburg) All the barbecued meats served up at this Dan Delaney flagship are worth sinking your fangs into, from the hot link beef sausage to the pork ribs. That said, the brisket's definitely the strongest move you can make here, as alluded to by the fact that it's in the freakin' name. Also, the place'll give you free meat on your birthday, which is a way better present than nana's peanut brittle.
  1110 Manhattan Ave (Greenpoint) Eating fresh pasta and drinking wine is generally frowned upon in libraries, but with its bookshelf-lined walls and traditional Italian menu, this popular date spot is the exception. No, you can't actually borrow any books here, but tortellini and panna cotta are infinitely preferable to card catalogues and late fees.
Sign up here for our daily NYC email and be the first to get all the food/drink/fun New York has to offer.
Gianni Jaccoma is an editor for Thrillist, and he's naming his firstborn "Ricotta Pancakes." Follow him to brunch/court @gjaccoma.