Spinning off into Brooklyn from its sister spot beneath the Dream Downtown, Williamsburg's Cherry Izakaya is a split-level Japanese bistro offering up a diverse array of drinking food, in a space that wouldn't be out of place in a very wealthy dumpling enthusiast's mansion... thanks to its thematic wallpaper, distressed mirrors, and a beautiful arched bar.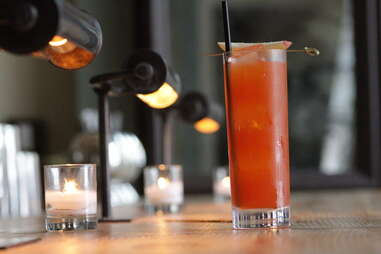 Wildly original cocktails include the Kanpai, which's filled up with roasted barley tea-infused bourbon, licorice root agave, Sapporo, and mace blades (no Ma$e blades -- he only skates on quads), or the pictured Chuhai shochu highball with roasted red pepper, homemade apple cider vinegar, and an apple slice dusted with sansho -- a deciduous aromatic spiny shrub from the Rutaceae family. But you already knew that.
This is the miso/brown butter ramen that gets stocked with pork belly, corn, charred bok choy, pickled red ginger, wood ear mushroom, and scallions. They don't skimp on the noodles, either.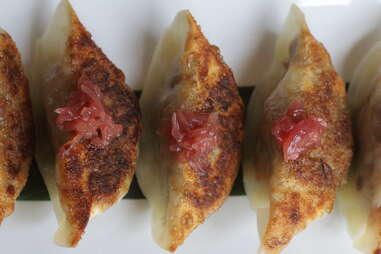 They don't have foie gras gyoza wherever you normally get your gyoza, but they sure do here. There's also shrimp and cheese, mushroom, and pork topped off with just a bit of red onion marmalade.
Big questions: have you ever had bacon sushi? Or this escargot donburi? No? Well, it's time to change all that.
Andrew Zimmer is Thrillist's NYC Editor and he never misses an opportunity to order something extra and use the fact that he's never had it before as an excuse. Follow him on Twitter and Instagram.