Williamsburg neighborhood favorite Extra Fancy (which frankly should already be on your late-night radar) has seriously upped its late-night game with the addition of a simple patty melt that you can GET TOTALLY CRAZY WITH, thanks to add-ons like more patties, lobster, and fried clams.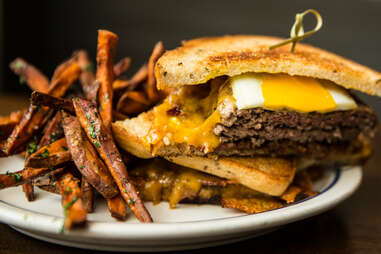 That means craziness like the guy pictured at the very beginning of this story -- with an additional quad of patties (so, five total) and "Southern-style" treatment, aka it's dripping with creamy, melty pimento cheese. Or you could do this slightly less-patty melt with way more sunny-side-up egg and bacon.
Or, if you're an American hero, you'll do this: two patties topped off with the Conche Out add-on (a pile of fried surf clam strips) and the Surf & Turf option, because -- let's be honest -- lobster on top of your burger is going to sound pretty damn good once 2am (or any time really) rolls around.
Sign up here for our daily NYC email and be the first to get all the food/drink/fun New York has to offer.
Andrew Zimmer is Thrillist's NYC Editor and he's done a lot of things he regrets at 4am, but a patty melt was never one of them. Follow him on Twitter and Instagram.