After years of running a taco truck out of its backyard, The Woods in Williamsburg is changing the game with a brand-new back bar (!!!) that's slinging Tiki cocktails, as well as an actual full kitchen operated by Landhaus, whose famed Maple Bacon Stick highlights an almost entirely new menu filled with crowd pleasing eats (assuming the crowd is into fried chicken, burgers, and grilled cheese).
Recommended Video
This Mac & Cheese Taco With a Bacon Shell Might Eliminate Tortillas Forever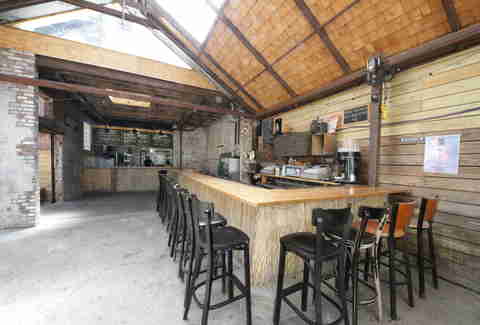 Scope the new setup out back, and don't worry -- things are still getting crazy here. In fact, Landhaus will occasionally suspend silverware just in case.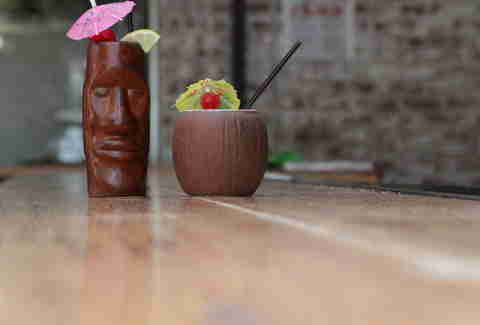 A whole new set of cocktails are available only at the back bar, and they include a frozen painkiller dusted with nutmeg (that's the one in the coconut) and a Zombie tweaked with homemade ginger syrup for a little extra bite in the Moai.
They've done burgers in the past, but this new delicious mess is a lamb patty (mixed with just a bit of pork fatback) that's covered in whipped feta, harissa, and charred onions.
Have three cheeses ever looked better?
The family recipe ribs are a little sweet and a little spicy, covered in peanuts and cilantro, braised and then fried, and 100% worth the mess.
If you like things you dip into sauce rather than things totally covered in it, step up to the Southern-fried chicken wings with hot and buttermilk-dill ranch sauces. Also good for people who are just really into fried chicken.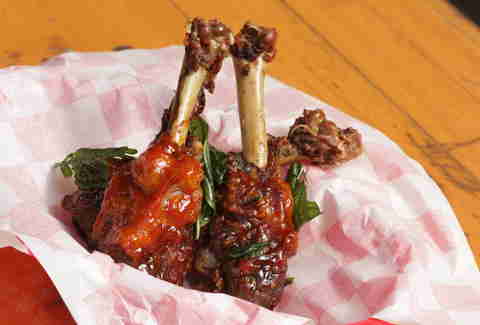 What actually might be the go-to dish amongst many go-to dishes are the duck wings; these slow-braised-then-crisped drumsticks are covered in Thai basil and chili, and are great for washing down sticks of bacon.
Previous Venue
Next Venue
Venue Description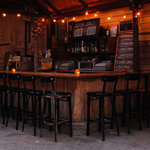 1. The Woods
48 S 4th St, Brooklyn, NY 11211
After years of running a rickety taco truck out of its crowded back patio, The Woods in Williamsburg changed the game with a backyard bar that's slinging island-themed cocktails as well as eats from an actual kitchen operated by Landhaus (we suggest the Maple Bacon Stick, which is famous in its own right). Rotating DJs and live music round out the rest of the weekly night scene, and continuously pique the interest of the young Brooklynite scene.