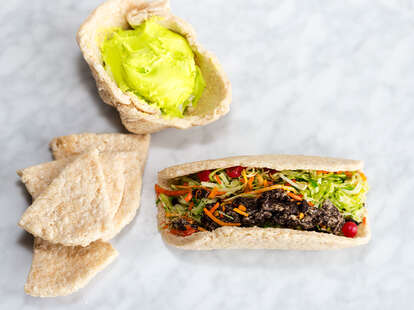 Courtesy Stieber's Sweet Shoppe/Ethan Covey
There's nothing like feasting on Cinco de Mayo with delicious tacos and chips 'n' guac, -- but what if it was all made out of candy? Lee Manne of Stieber's Sweet Shoppe is turning the occasion's traditionally savory grub on its head with hilarious and dangerously-good looking tacos made entirely out of sweets, paired with rice krispie tortilla chips and green frosting guacamole, because duh!
Like the chips, the candy tacos are made with a rice krispie shell, which is filled with shredded coconut (the lettuce and cheese), crumbled Oreos (the meat), Mike and Ikes (the tomatoes), and then topped with some marshmallow fluff (the sour cream). Basically, it's probably what freaking absurdity tastes like.
To top all of this sweet madness off, Stieber's is also offering margarita and beer flavored jelly beans, as well as gummy shot glasses, which they said makes the tequila go down a bit easier.
Tony Merevick is Cities News Editor at Thrillist and would have mistaken these tacos for the real, savory thing. Send news tips to tony@thrillist.com and follow him on Twitter @tonymerevick.