As of Wednesday, you'll likely no longer have to rely on monitoring the restaurant's live webcam or end up waiting for hours to get a table at Andy Ricker's unique, super-authentic Thai spot, Pok Pok Ny, in Brooklyn. Finally, the restaurant announced on Facebook it is now accepting reservations for all hours of operation for parties of one to 12, including via OpenTable. Now, you can rest assured that you'll get your fish sauce chicken wings and some garlic and coriander-rubbed boar meat glazed in soy and sugar, described on the menu as "Northern Thai drinking food," without a big wait.
Although, we'd still recommend the non-reservation approach, and spending the hour-long wait a block down the street at Ricker's Whiskey Soda Lounge, where you can get Pok Pok wings, great craft cocktails, and nice happy hour deals.
Recommended Video
This Pizza Dip Lets You Throw a New Kind of Pizza Party
(h/t Eater)
Tony Merevick is Cities News Editor at Thrillist and looks forward to the day when restaurant line live cams will be a thing of the past. Follow him on Twitter @tonymerevick.
Previous Venue
Next Venue
Venue Description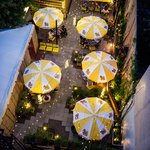 1. Pok Pok Ny
117 Columbia St, New York, NY 11231
Andy Ricker's Michelin-starred restaurant on Brooklyn's Columbia Street Waterfront specializes in Northern Thai food, a regional cuisine that favors pork and deep-frying over spiciness and coconut milk. Pok Pok's menu is filled with family-style plates like deep-fried pork riblets, minced pork salad with crispy fried garlic, and insanely good chicken wings, deep-fried and coated in fish sauce. There's usually a wait at peak dinner times, especially for a table on the back patio in the summer.