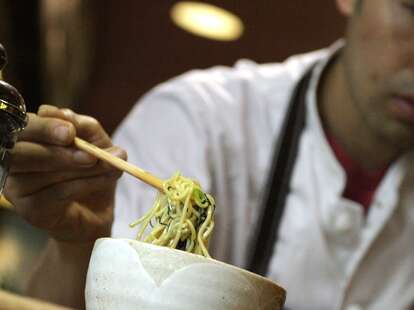 So ramen now comes in ravioli form, and it's delicious. And you've got Yuji Haraguchi to thank for it
Yuji is one part culinary seer, one part scientist, and 10 parts ramen evangelist, all of which adds up to twelve parts and him devoting his life to revolutionizing ramen in an entirely different way than you might think. Obviously, the brothy noodle dish has undergone a renaissance over the past decade, as the public connotation of it has graduated from Cup O' Noodles to Classy Bowls O' Significantly More Delicious Noodles. And while Yuji's upheaval certainly owes that explosion a debt of gratitude, it also involves a drastic shift in forms and expectations, and his goals are no less ambitious than to be "the only Ramen shop in the US with a Michelin star"
Those dreams are being built bowl by bowl on the second level of a Whole Foods on Bowery St in Manhattan, where Yuji is creating everything from "coffee" ramen to squid ink orecchiette ramen. While working at the famous Tsukiji fish market in Tokyo, ramen was actually one of his least favorite foods, as he found it "over-salted and over-fatted". That very same form is what he discovered was available when he arrived in New York in 2009, at which point spots like Ippudo and Momofuku Noodle bar were replicating the classic styles, which soon saturated the market like delicious meat flavor does a hearty broth
Over the years, Yuji's job allowed him access to the top chefs and kitchens around the world. After a visit to Chicago's Alinea, he realized that "this is what it takes to be truly different from everyone else" -- not only do you have to be interesting, you have to be perfect, which also just happens to be the slogan of Mr. Perfect. In 2012, he started to hone in on those ideals while putting in some time at Roberta's in Bushwick, where he was free to use their equipment late-night and the staff as a test case for his creations. The next step was a pop-up in Williamsburg's Kinfolk Studios, before he made the requisite appearance at that neighborhood's Smorgasburg with an uber-popular stand, which he'll be operating again this summer
He spent about a year and a half formally refining his product and three-tier ramen philosophy, level one of which is bringing ramen out of its cult status and into the mainstream. To display his challenge, but more so his opportunity, he uses the analogy of sushi, another Japanese food that the American public may not have warmed to without approachable, non-terrifying offerings like the California roll
Yuji's "California roll" is his bacon and egg mazemen (basically a brothless version of ramen), which tops noodles with a poached egg, smoky (sometimes blowtorched) bacon, and kale. Its approachability is based off the wild theory that everyone loves bacon and eggs, and Yuji feels that familiar flavors will make Americans less intimated. Also, it doesn't look weird, which helps.
The second tier is traditional ramen -- Yuji's not abandoning classic styles and preparations, he just wants to add seasonal and local touches to them that aren't necessarily reliant on pork. To that end, he offers daily bowls employing whatever's best that day from the bones and meat worked on by the Whole Foods butcher
Tier three is where things really get wild. In his Whole Foods "Ramen Lab" (and in preparation for his upcoming Brooklyn restaurant Okonomi), he's working up dishes so creative, they'll certainly never be considered to write a spec script for an NBC sitcom.
You ready? This ravioli is created using ramen noodle dough that just happens to be rolled in a different way, a move he realized in his Roberta's days. On one occasion, it was stuffed with uni and hit with oranges, but this one here has pureed monkfish liver (stay with us, it's delicious) with yuzu & soy sauce. The consistency is like ricotta, but the taste is very Japanese and a little spicy, thanks to serrano peppers.
He's also turning ramen into squid ink orecchiette..
... and topping it with a semi-Italian, semi-seaweed-tasting squid ragu that first gets grinded with tomatoes, before bigger chunks of squid get blended up separately to add texture and flavor, along with ramen broth and sesame oil
Here comes the "Oyster Gelee Ramen". Don't worry about the wobbly-looking bacon- and oyster-filled mixture avalanching towards your noodles. You receive it first so you can admire and perhaps be intimidated by its blob-like beauty, but then, in a participatory aspect perhaps ported over from his experience at Alinea, you're presented with the noodles below and asked to pour the mixture over..
… what then becomes something resembling traditional ramen with tasty bits of bacon and oyster in a broth. Yuji said he came up with the dish after waking up one morning, seeing one of his broths sitting on the counter, and thinking, "Shit, that's awesome, I could do something cool with it.
Surprisingly not created during some Jewish New Yorker's noodle-fueled fever dream is this seemingly bagel-inspired bowl of noodles, brown-sugar-cured salmon, salt, sansho peppers, nori, crunchy salmon skin, shredded shiso, grated lemon peel, and "cream cheese". "Yuji likes to call it cream cheese but it is very much not," says fellow Whole Foods Test Kitchen chef Luke Davin, who reveals that it's a mixture based on Camembert that's been melted into heavy cream. All that's then topped with a sauce made with soy, sake, combu, and a little rice vinegar. "It's like liquid crack," says liquid crack enthusiast Davin
Another participatory dish with a few fun steps to it is this "Coffee Ramen". Yuji thought of this process after realizing that coffee and ramen are both huge in Japan and both essentially "ways for making water delicious"
First, the mussels get nice and smoky thanks to a trip to blowtorch-town, before getting loaded into a French press with bonito flakes and shoyu broth
You then let it all sit for a minute before pushing the press down..
… and pouring the result over the noodles, mussels, scallions, and seaweed
Crap yeah
Through August, he'll be serving his boundary-busting creations in that Whole Foods to about 74 lucky people per week, as the 400 on the waitlist hope to god those other people decide they hate delicious coffee ramen. In the months before his proper restaurant opens, he'll be experimenting with stuff along the lines of ramen "risotto", a lot of crab, and a chemex drip filled with things like dehydrated strawberries
Even if they're small, "great products and ideas can have a big message," says Yuji. Thank you for your wisdom, Yuji. And also your ramen ravioli.