This Hot Sauce Advent Calendar Comes Loaded With 25 Bottles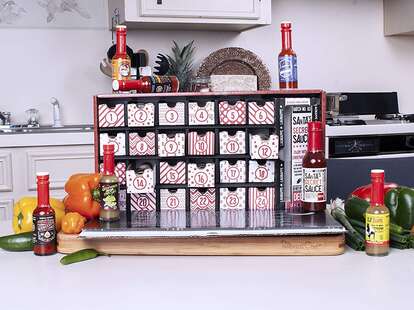 Personally, I'm of the camp that everything tastes better doused in hot sauce. And while, sure, I could go out and over-buy a stockpile of Cholula myself for this winter, why would I when Amazon is selling an advent calendar with 25 different flavors?

The "25 Days of Spice" set is filled with 2oz bottles of Louisiana hot sauce that'll last you through Christmas (you'll even score a full-size on the 25th). The Cajun-inspired collection, which is made the "old-fashioned Creole way," features a little something-something for every spice tolerance -- with milder banana and serrano peppers to the world's hottest, Carolina Reaper.
There's even a legit legal disclaimer for the latter. "Due to the extreme hot nature of this product, this product shall be used with extreme care in very small amounts only," the warning reads. Maybe do yourself a favor and check the fine print before consuming, k?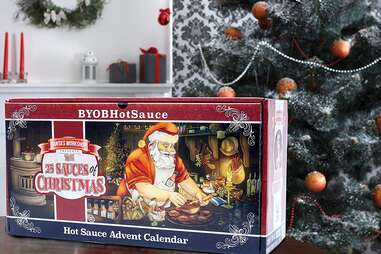 Each bottle is wrapped in a holiday-themed label, too. There's the Comets Cayenne Colon Cleanser, Frosty's Fire Start, Blitzen's Mouth Blazer, and more. Just me or are tacos sounding like the move for Christmas dinner? I'm right.
Because it's an advent calendar filled with hot sauce (this is reason enough, OK?), people are losing their minds over it. "This is a terrific gift for that hard-to-buy-for man in your family," one user suggested in a review. "I was worried that the price was a little high, but OMG!!! We love this so much," another chimed in.
Priced at $80, this calendar may not be quite as cheap as the traditional ones filled with candy, but like this year's cheese, beer, and hard seltzer advent calendars, it's hardly traditional. It's better.
h/tBustle
Sign up here for our daily Thrillist email and subscribe here for our YouTube channel to get your fix of the best in food/drink/fun.