Starbucks Just Added a New Free Perk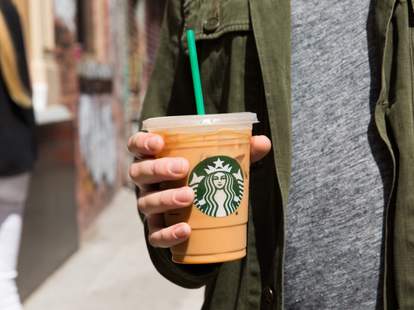 Everyone who thought Starbucks Rewards came with a five-finger discount on newspapers (or actually bought them) was disappointed when the chain announced it would stop carrying papers in July. And, despite the challenges the company faced with theft, it was unfortunate for the publications that could take advantage of the shops being a one-stop-shop for a morning coffee and a paper. 
Well, that experience isn't entirely dead. Starbucks has announced that it will provide the news for free through a new program. When customers are logged into the in-store wi-fi at company-owned locations they will now get free access to many papers that require a subscription. The list of papers includes The Wall Street Journal, USA Today, The Seattle Times, Chicago Tribune, The Baltimore Sun, Orlando Sentinel, and New York Daily News.
"It has been our vision that Starbucks remains a unique and sought out destination complemented by elevated digital relationships with our customers," the company's announcement reads. "With that in mind, we are exploring new ways to bring news and content digitally to our stores."
It's not clear how much the publications are getting in return. At the time of publication, Starbucks had not returned a request for clarification. However, the new service does cast a much wider net for some of the papers that would only have local distribution through Starbucks otherwise.
Starbucks says the access will only be available for "a limited time." The language suggests that this is something of a test run, and the announcement proclaims "this is just the beginning." It continues by saying they're "looking for new opportunities to deliver news, content, and experiences that are relevant to customers, inspiriting to our partners, and meaningful to our communities." Hopefully, that pile of words means that access to the news will continue and that it will be fruitful for the publications and patrons alike.
Sign up here for our daily Thrillist email and subscribe here for our YouTube channel to get your fix of the best in food/drink/fun.