It's Paris. If you're not regularly eating out, you will be politely asked to leave (if you haven't already been). Nobly making sure you don't end up banished to the gorgeous French countryside (noooo!) we've put together a list of the 10 best openings in town...
Recommended Video
Ghost Kitchen: Restaurant Gets Help from Community During Coronavirus Pandemic
1. Balls
11th arrondissement
Um, yup, some hero actually approved this name. And guess what they serve? Well, you can get you balls made of beef, lamb, chicken, pork, or veggies, which're covered in either tomato or yogurt sauce, as well as siding it w/  the likes of polenta and mushroom risotto. 
2. Benedict
4th arrondissement
It's Sunday, you're hungover and all you want is a damn eggs Benedict. Good thing there's a restaurant specifically for that. In fact at Benedict, you can get seven different variations (how about one with burrata??) on the classic brunch dish. And if eggs aren't your thing there are burgers. Or pancakes. A little anglophone hub in the heart of the Marais.
3. Blue Valentine
11th arrondissement
Opened late last fall, Blue Valentine is a weirdly romantic indie flick a pretty buzzing hipster spot near Oberkampf. Menu items change and the focus is seasonal, but you'll get things like roasted pigeon and salads covered in wild flowers. Let's hope they were foraged for God's sake. 

4. Caillebotte
9th arrondissement
Look out Paris, it's another neo-bistro (that is, bistro feel but no shitty bistro food), that literally every Parisian foodie is talking about. At Caillebotte you'll get a marble tabletop at the bar, things doused in fancy mousseline sauces and lots of smoked and steamed things (hello oysters). There's even a family garden that supplies some of the vegetables on your plate. The point here is on composition, but don't be afraid to eat that work of art in front of you, it is food after all.
5. Clint
11th arrondissement
A Parisian branché loves a good concept store as much as they love everything that's tres Brooklyn. Clint gives you both. There's a boutique section where you can buy an upscale t-shirt or a box of tea and then there's the resto space, which is making a name for itself on the brunch scene (English muffins drowned in eggs and bacon anyone?). They serve locally roasted Belleville coffee and the menu is always changing, but you're sure to find fresh and creative concoctions that will put any more upscale Parisian joint to shame, and the baked goods will keep you coming back.
6. Coretta
17th arrondissement
While tourists rarely make it over to the Batignolles neighborhood, the restos come thick and fast nonetheless -- Coretta is the latest, and situated right on Martin Luther King Park (hence the spot's name; an homage to the late King's wife). The setting is tranquil, and the cuisine is the neo in neobistro. Expect things like smoked eel and veal tongue, all done up on fancy plates and with properly placed parsley and fancy fresh herbs on top.
7. Dessance
3rd arrondissement
Only in Paris would you find a gastronomic dessert restaurant. You know when you eat an absolutely extraordinary meal and then the dessert comes and you wish you had like three of them? Well at Dessance you can. There's a mise en bouche, then the main dessert (like beets with white chocolate, cranberry compote, and bergamot sorbet), and then the dessert off the dessert tasting menu. Uh, screw macaroons.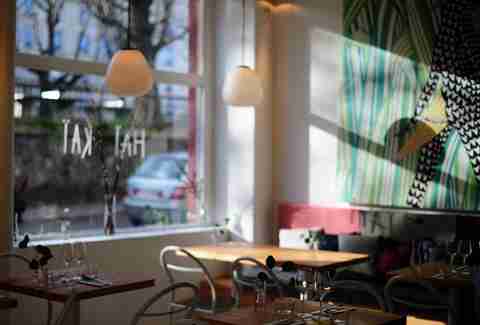 8. Haï Kaï
10th arrondissement
Haï Kaï is yet another modern addition to the Canal Saint Martin area, where thanks to the daily changing menu, you never know what you're going to get. It's run by a trio of ladies, and the focus is on fresh, creative cooking (cockles w/ grapefruit reductions, etc.) there's craft beer and you can round off your meal with a filter coffee.
9. Lockwood
2nd arrondissement
Coffee by day, cocktails by night, one of the most notable things that Lockwood has going for it (besides serving coffee/mixed drinks that don't not suck) is the fact that there's a spread of all-you-can-eat appetizers that are included in the price of your drink (Bruschetta! Cured meats! Cheese! Fruits! Olives!), and that drink should probably be their specialty: an Aperol Spritz.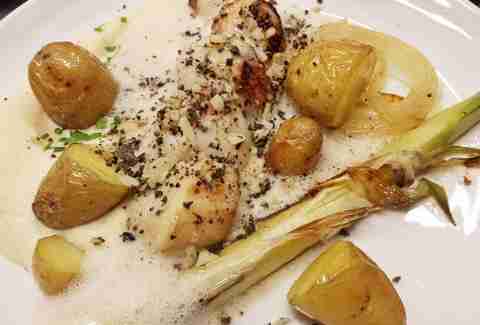 10. Paradis
10th arrondissement
Calling all locavores: Paradis is the paradise you've been waiting for. The chef is an alum of L'Arpege, which should give you a certain indicator of his street cred. With two floors, there's plenty of space, and you're even invited in just to grab coffee. But the ever-changing menu is what you're going for. Let's just hope you end up there the day they have boat scallops, or anything with fresh pig-hunted truffles.