Few would call burgers a staple of French cuisine, but they still make an appearance on nearly every Parisian café menu. Maybe it's part of the French love affair with the US (sometimes tumultuous, but definitely mutual), or maybe the burger is just a great vehicle for the hundreds of mind-blowing cheeses that can turn a normal burger into a genuinely French cheeseburger. Regardless of the reasons, there are some seriously good burgers in Paris prepared by cooks from all over the world, and these are the best of the best.
Grands Boulevards
The food truck that made food trucks cool in Paris, Le Camion Qui Fume now has a restaurant where its famous burgers require no chasing. The BBQ remains a favorite, with caramelized onions, bacon, aged cheddar, and a sizable onion ring (they call it an "onion beignet," but let's not dance around). More "French" varieties exist, like the Bleu, with Fourme d'Ambert and a porto sauce, but Le Camion is rooted in American-style burgers, so don't feel bad about going for a classic.
Strasbourg - Saint-Dénis
Not the most Parisian place on this list, W for Wok is basically a simple, local Asian takeout restaurant. True burger enthusiasts, however, will want to venture off the beaten path to indulge in the ramen burger, served at dinner. The beef patty is wedged between a bun made out of fried ramen, with a house mayo that's delightful -- and keeps us guessing about the secret ingredient. It's served with a choice of sides, like edamame or sweet potato chips.
Latin Quarter (& other locations)
The closest you'll get to a real American diner in Paris, this is the place for an authentic, American-style burger. Standout options include the Chile Con Carne Burger and the So Cal, with avocado, Swiss cheese, and mushrooms. You won't need it after all that, but go big with a milkshake at the end of the meal: regret never tasted so good. And forget about calculating the tip afterwards -- we're still in Paris here.
République
In 2010, a French restaurateur turned this basically abandoned restaurant into an American-style eatery that screams kitschy, right down to the Big Boy statue on the sidewalk. His burgers hit the mark, especially the B66, which serves up two steak patties, cheddar, bacon, and cocktail sauce with a heaping plate of fries. The owner is as delightful as he is altruistic, raising funds for cancer research after his son was diagnosed. Nowhere in Paris will eating burgers be such a benevolent act.
Montorgueil (& other locations)
One of the forerunners of hearty, cooked-to-order burgers, the Big Fernand is where you go for the most French of French burgers. You can't go wrong with any of the concoctions, which are topped with cheeses you may never have heard of as well as a host of homemade sauces. And if you think you can, just create your own burger, choosing your meat, cheese, veggie, herbs, and sauce. Lines can be long, but the burgers come out quickly at all three locations.
Upper Marais
There's a distinct West Coast vibe at the Cantine California, run by a San Francisco native, right down to the organic beef used for the patties. Begun as a food truck in 2012, the Cantine has its own restaurant now, where you can grab a burger with Gouda, chipotle mayo, arugula, and avocado called The Obama, because, well, obviously. We're holding our breath to see what The Hillary will taste like.
Canal Saint-Martin
The light and delicious bao burgers at Siseng bring a bit of Asian fusion to the scene. Vegetarians will even be happy that there is a tofu burger available, should you be so inclined. We opt for the meat, served with perfectly prepared sweet potato fries and a peanut dipping sauce. It might not be a gut-buster like some of the American-style places, but it's a great change of pace.
Bastille
The well-known Frog pubs in Paris make their own beer, and their outpost at FrogBurger pairs the brew with some of the city's best burgers. Beef, pulled pork, and fried chicken burgers are all on the menu, and they're all spot-on. The Da Vinci burger, with serrano ham, mozzarella, pesto mayo, and arugula, is a nod to mainland Europe, while staying true to the Frog's British pub roots.
Saint-Germain
For more than 20 years, Coffee Parisien has been serving up American-style fare day and night. The burgers here are less fussy than some of the fancy joints: just go for a straight-up bacon cheeseburger and call it a day. If you're feeling saturated with red meat, give the tuna burger a try.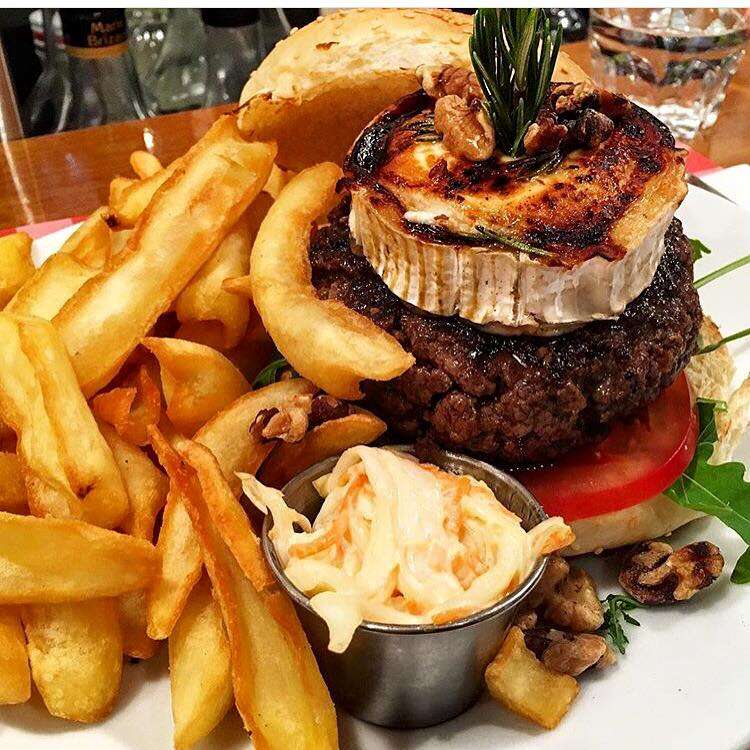 Marais
The original Schwartz's in the Marais has spawned two more locations... suggesting that it's doing something right with its burgers. The Chèvre has fried goat cheese and arugula with a honey balsamic sauce, while the Forestier is topped with mushrooms, Parmesan cream, and truffle oil. Sounds fancy, right? Wrong. We're not talking elegant gastronomy here -- we're talking large, dripping, delicious burgers that just happen to have a slightly high-end touch to them.
Grands Boulevards
Hailing from Lyon, the gastronomic capital of France, King Marcel gives other local burger joints a run for their money with its shop in Paris. Using only French beef, it tops its burgers with goat cheese and Saint-Nectaire cheeses -- the stinkier the better, right? The Cerdan burger is topped with raclette cheese, bacon, onions, pickles, and homemade ketchup, ensuring that this French-American paradox will one day become a thing of legend.
Bercy VIllage
Opened at the beginning of August, Five Guys has made its entrance into France with a restaurant down in Bercy Village. Fans of the chain already know what to expect, but the rest of Paris will discover burgers under 10 euros, with just four types to choose from, and a slew of garnishes like jalapeños, relish, pickles, and hot sauce. It may seem ridiculous to go for a US chain in Paris, but it's exciting for anyone who can't wait for a trip to the US or UK for one of these burgers... don't judge.
Sign up here for our daily Paris email and be the first to get all the food/drink/fun in the City of Light.
Bryan Pirolli is a Paris-based writer, photographer, tour guide, and PhD candidate at the Sorbonne who is more than likely currently drinking wine. Follow him on Twitter right here.