To say that Paris is pretty famous for its dining options is an understatement. Even for a seasoned resident, it can be difficult to narrow down where to go to even a specific neighborhood or area, let alone a particular restaurant. We've essentially chopped Paris up into its most thriving dining-out neighborhoods, from Montmartre to Le Marais, Bastille to the Grands Boulevards, and ranked them from "quite good" all the way to the best. The truth is, you can get a satisfying meal pretty much anywhere in this city. But when you're in Paris, why settle for satisfaction?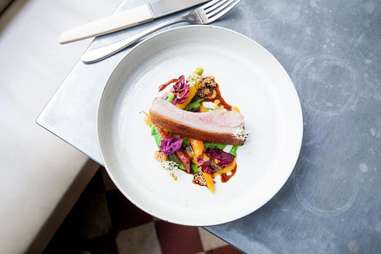 11. Bourse and Sentier
Essential restaurants:Big Fernand, Frenchie to Go, Saturne
On a typical day, the area around these two central Métro stations will heave with businessmen always bustling around the Paris Opéra, as well as the folks working in the hub of Paris' thriving textile industry. Although its meandering streets fare predictably well when it comes to quick food to go -- appropriate for a lunch break -- truly decent sit-down restaurants are still noticeably lacking. Two big favorites here are Big Fernand, one of Paris' best established burger chains, which layers high-quality French produce inside gorgeously soft burger buns, and star restaurateur Grégory Marchand's Frenchie To Go, where punters enjoy New-York-deli-style comfort food at breakfast and lunch. If you're after a more traditional French blowout, one ultra-soigné exception is Saturne, Sven Chartier's excellent organic-focused restaurant and wine cellar, which offers a generous lunch or dinner set menu at €75.
10. Montmartre
Essential restaurants:Le Coq Rico, Hardware Société, Bululu Arepera, Al Caratello
The crêpe vendors on every corner, the self-proclaimed "historic" bistros, the never-ending Amélie references: the restaurant scene in Paris' quintessential tourist district can certainly feel overwhelming. So where should you actually go? Homey Italian restaurant Al Caratello would be a decent start -- its fresh seafood pasta dishes and salads to share are very satisfying -- while over on the buzzing Rue Lepic, Le Coq Rico proposes all manner of exciting poultry dishes, ranging from duck and chicken classics to slightly more adventurous takes on pigeon and guinea fowl. Up for something a little more out-there? Head to the much-talked-about Hardware Société for a filling Aussie-French fusion brunch, or to Venezuelan restaurant Bululu Arepera for plantain chips, colorful cocktails, and hearty house arepas (a kind of flat cornbread stuffed with things like meat, beans, and cheese).
9. Champs-Elysées
Essential restaurants: Jérémie, Taisho Ken, Alain Ducasse au Plaza Athénée
If we had limitless money, the genteel streets that run off Paris' premier shopping street would probably be much higher up on our hit list. After all, with historic three-star recipients Le Taillevent, Alain Ducasse au Plaza Athénée, and Le Cinq all represented here, the number of Michelin plaudits in this area is almost embarrassingly high. For almost-as-overblown bistronomic greatness and a much smaller dent in the wallet, visitors should opt instead for Jérémie Tourdjman's star-deserving Jérémie, which offers a more affordable menu featuring various exquisite French meat and fish mains and a particularly delectable bourbon vanilla mille-feuille (the house specialty) -- although make sure to book ahead. In Taisho Ken, the area also boasts a cozy Japanese restaurant that whips up consistently spot-on ramen and dumplings, just two minutes from the Champs-Élysées.
8. Belleville
Essential restaurants:Lao Siam, Zoé Bouillon, Múkura, Tripletta
This neighborhood is worth visiting for the extensive run of Chinese and Vietnamese restaurants on the vibrant Rue de Belleville alone. Chief among them are the well-established Lao Siam, which also serves Thai and Laotian cuisine, and Tin Tin, just south of Belleville metro station. Further up the road, CREAM is the neighborhood's go-to coffee shop, with its appetite-whetting Anglo-French breakfast menu and freshly ground Belleville Brûlerie coffee. Over on the adjacent Rue Rébeval, Zoé Bouillon serves (mostly) healthy vegetarian fast food. Colombian cuisine also gets a decent spin at Múkura, and there's a whole load of great Italian restaurants around here too: Il Posto, Tripletta, and Popine all do excellent pizza.
7. Saint-Germain-des-Prés
Essential restaurants: L'Avant Comptoir de la Mer, Sauvage, Little Breizh, Café Trama
The Left Bank generally isn't amazing for cutting-edge dining (OK, the author of this piece may be a heavily biased Right-Bank resident), but Saint-Germain-des-Prés offers plenty of reasons to dine out on this side of the Seine. If you fancy pairing local wines with exceptionally well-prepared fish dishes, then TV chef Yves Camdeborde's creative tapas bar L'Avant Comptoir de la Mer and elegant bistro Sauvage are both seafood havens. Little Breizh, meanwhile, does Breton cuisine just right, cider included. Steak frites is pretty much the only thing you'd want to order at Le Relais de l'Entrecôte, which does it brilliantly. Café Trama serves all sorts of well-done French staples, from steak tartare to a superb chestnut fondant. For a sugary afternoon snack, try flashy macaroon pioneers Ladurée, or go for the Italian gelato over on the Rue de Seine at Grom.
6. Grands Boulevards
Essential restaurants:Papacionu, Zicatela, Le Richer, Le Camion Qui Fume
Twenty years ago, searching for decent grub along the 9th arrondissement's imposing Haussmanian boulevards was strangely difficult. Now it's as easy as taking a side street and walking a minute or two in pretty much any direction. New pizzeria Le Bookie is always packed, and for good reason -- its pizzas come with delightfully crisp crusts and fresh, generously sized toppings. One of its main rivals in the area is Papacionu, whose crescent-shaped Corsican pizzas have rightly taken off in recent months, while snug traditional Mexican restaurant Zicatela, just around the corner, is also deservedly popular at lunchtime. Its midday set menus (from €13.50) include sizable meat, fish, and vegetarian quesadillas, and various cleverly deconstructed burritos, which you can wash down with large glasses of sangria. One more upmarket spot is the chic French spot Le Richer, well worth the medium-level prices, while burger kitchen Le Camion Qui Fume and health-food canteen Café Soucoupe both have a more relaxed vibe.
5. Le Marais
Essential restaurants: L'As du Fallafel, Breizh Café, Candelaria, Raw
As any tour guide will tell you, a proper trip to Le Marais should always incorporate a warming, garlicky falafel pita from L'As du Fallafel, whatever time of day. But there's so much more to the area's food scene than just this Rue de Rivoli institution. With so many bars in the area, you may as well start drinking early, so why not team a buckwheat crêpe (or two) with a bowl of cider at the busy Breizh Café, or go for dainty tacos with Mexican beers at Candelaria, which doubles up as a speakeasy-style cocktail bar -- just walk through to the back and you'll find it. Vegetarians and vegans are catered to in the area, with Le Potager du Marais offering a colorful, 100%-vegan menu, and Raw serving only uncooked, beautifully presented, veg-heavy dishes (fish and meat dishes are also available). For dessert, you should head to Une Glace à Paris, which sells boldly flavored ice creams and sorbets, plus various alluring handmade biscuits.
4. Oberkampf and République
Essential restaurants: Soya Cantine Bio, Le Chateaubriand, La Massara, L'Îlot
If this were a list of Paris' best coffee shops or bars, the streets around Oberkampf would probably come out on top… but they fare pretty well for restaurants too. First off, there's the pleasingly designed Ober Mamma, one of three insanely popular Italian restaurants belonging to the Big Mamma Group, renowned for its indulgent pizzas and lengthy queues that are definitely worth braving. A few streets away, there's Soya Cantine Bio's excellent Mediterranean-inspired buffet, which takes in all sorts of lush veggie flavors, packing them into everything from lasagna to couscous salad. The consistently daring daily tasting menus at Le Chateaubriand, home to endlessly creative Basque chef Inaki Aizpitarte, is also definitely worth a visit. Over on the other side of the Place de la République, you have La Massara, a three-floor temple to Italian food -- pizza, pasta, salads, tiramisu -- that hums with customers every night, and the more intimate L'Îlot, a seafood restaurant with more-than-reasonable prices and an especially lavish wine list.
3. The Louvre and Palais-Royal
Essential restaurants: yam'Tcha, Verjus, HIGUMA, Kunitoraya
The area around the Louvre and the Palais-Royal is great for diners of two particular stripes: moneyed gastro types, and aficionados of all things Japanese. The former will no doubt feel at home at Michelin darling yam'Tcha, which pairs elegant Chinese-French fusion plates with rare teas and is featured as one of the four French restaurants profiled on the latest Chef's Table Netflix series. They're also likely to go for hotel-to-the-stars Le Meurice, whose glitzy two-star restaurant has been run by Alain Ducasse and team since 2013. Slightly less expensive options are Verjus, Laura Adrian and Braden Perkins' hit French-tinged wine bar/restaurant, and its nearby spin-off Ellsworth, which both offer reasonable tasting menus and charm expats with gourmet takes on Kentucky fried chicken and doughnuts (among other, perhaps more refined, options).
The nearby Rue Saint-Anne, meanwhile, is without a doubt the place to head for udon and gyoza in Paris: the road became a real magnet for entrepreneurial Japanese chefs back in the 1990s and 2000s, and has since been nicknamed Little Tokyo by some. Many of the restaurants are excellent, but it's HIGUMA and Kunitoraya that really stand out.
2. Canal Saint-Martin
Essential restaurants: Holybelly, Palissade, Sol Semilla, Les Bancs Publics
The canal has cut itself a trendy new image over the past few years, and this is partly thanks to its constantly evolving, eminently affordable bar and restaurant circuit. Hit recent-ish openings include Holybelly (a relaxed Melbourne-style brunch and lunch spot, especially popular on weekends), SAaM (fragrant Korean and Chinese dishes to eat in or take out), Sol Semilla (a bullshit-free superfood boutique and café) and L'empanaderia (a low-key Argentinian hangout specializing in cute, golden-crisp empanada pastries). Elsewhere, there's a trendy spin on pretty much every cuisine you can think of somewhere in the vicinity: from fish & chips at the Sunken Chip to Italian meat and pasta dishes at La Madonnina, mezze at Mezz to tapas at Palissade or Animal Kitchen. Move beyond Jaurès metro station, where the Canal Saint-Martin becomes the Canal de l'Ourcq, and you'll discover even more treats, like slick new Japanese restaurant Koko, family-friendly aperitif bar Café Odilon, and Les Bancs Publics, a chic bistro with a small terrace overlooking the water.
1. Bastille
Essential restaurants: Dersou, Septime, Caffé dei Cioppi, DUNE
Where to start? The expanse of exciting restaurants around the Place de la Bastille could probably keep you going for months, so here's just a handful of the very best. One of my favorites is no doubt DUNE, which now has Seattle native Evan Leichtling at the helm. Here you can get a solid three-course menu for €25, with meat, fish, and vegetarian options done in various inventive and elegant ways, spanning many different cuisines. There's also Big Mamma's East Mamma branch, for pizza and spritz, while vegetarians have the vegan bistro Gentle Gourmet and the mostly meat-free Welcome Bio Cuisine. One of the most hyped addresses right now is the recently reopened Caffè dei Cioppi, a contemporary trattoria run by a Milano-Sicilian couple and certainly one of the best Italian restaurants in Paris. If you're looking to spoil a loved one, the extravagant tasting menus at mixologist Amaury Guyot and Japanese chef Taku Sekine's industrial-chic Dersou, which include both food and cocktails, are also absolutely worth splashing out on (prices are currently €95 for five courses and five cocktails, or €135 for seven of each). You can bag a fantastic modern French dinner at either Will or Septime, on the other hand, for around half that price. Either way, you're very unlikely to go wrong... and the same holds for Bastille as a whole.
Sign up here for our daily Paris email and be the first to get all the food/drink/fun in the City of Light.
Huw Oliver is a British journalist who regularly hops between the UK and France, covering food, culture, and things to do in Paris. Follow him on Twitter @HuwOliver.