Paris' 10 best new restaurants of 2014
In Paris, there are a few things that you will always be able to expect: public transportation strikes, the smell of baguettes at 6am, and tons of restaurant openings. Helping you out with one of those (hint: prepare to smell fresh bread in front of an unopened Metro station), we've brought you a list of the 10 most important eatery openings of 2014...
11th arrondissement
This city is filled with celebrated chefs, though the roster is generally dominated by male names -- sisters Tatiana and Katia Levha, however, aim to challenge that with Le Servan, and since opening, they've seen plenty of accolades come their way thanks to top-shelf cuisine infused with Tatiana's Philippine roots; expect beef with miso, duck hearts with sweet chili sauce, crabmeat en vichyssoise, and beyond.
10th arrondissement
Acclaimed Singapore Chef André Chiang's travels and cooking experiences throughout Asia and Europe have certainly influenced the menu at Porte 12, which is a distinct veer from classic French fare. Enter the copper door of the former textile and lingerie atelier, and be ready to enjoy the work of Chef Vincent Crepel, who executes Chiang's culinary vision, with everything from mackerel served with cucumber sorbet to cuttlefish.
11th arrondissement
This spring, Les Déserteurs joined a list of other 11th arrondissement establishments that are reviving the classic neighborhood bistro. "Neo-bistro" is a term that gets commonly thrown around on the Parisian food scene, and it's these places that are helping to revive Parisian culinary culture. At Les Déserteurs, you'll find revamped bistro dishes concocted of the freshest produce -- think plates like fresh peas and baby fava beans with a yuzu foam or asparagus spears with anchovy paste -- that surprisingly won't break the bank.
11th arrondissement
Oh Pierre Sang. This ex-Top Chef has birthed a cult following, and after the success of Pierre Sang on Oberkampf, it seemed only fitting to open up another location three doors down. Originally Sang hails from South Korea, and the constantly changing menu reflects a cuisine with both French and Asian influences, like eggplant caviar with yuzu and cucumber kimchi and Wagyu flank steak with sweet miso. To add an air of allure, there's no phone, which means no reservations, and most certainly a line.
16th arrondissement
The thought of trekking out to the the 16th arrondissement for a meal may seem a stretch for some, but since it opened this fall, PAGES has gotten terrific reviews that may change your opinions on eating near the Arc de Triomphe. Like many of Paris' hottest joints, there's a Japanese chef behind the operation, and Ryuji Teshima puts together a tasting menu that pulls on local culinary traditions as well as his own.
12th arrondissement
William Pradeleix's joint near the Bastille is yet another modern Parisian bistro that has been noted by many locals for getting things right. This is not your pretentious, overly upscale Parisian joint, and honestly, who has time for that? This is a friendly, simple bistro whose focus is on food. With a creative menu focused on good ingredients, from salt-baked salmon to carpaccio with lemongrass, Pradeleix shows off his culinary skills that have been influenced by his world travels.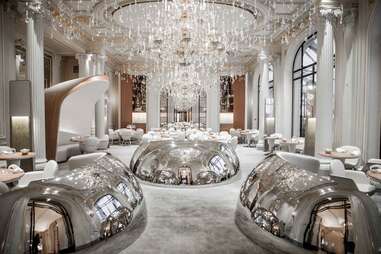 8th arrondissement
While Ducasse's operation at Plaza Athenée isn't new, after being shut for several months for refurbishment, it reopened to much fanfare. With the reopening, Ducasse, a man with many Michelin stars, has highlighted the commitment to organic produce that's heavy on the vegetables. Sure, there's fish and meat on the menu, but Ducasse has made it clear that he wants a menu that's more environmentally friendly. But it all comes at a price; dinner for one will run you 380€, without drinks (IF you can get a reservation, that is).
3rd arrondissement
If there was a hyped restaurant this fall, then The Beast was it. Why? Because Paris now has Texas-style BBQ. TEXAS BBQ. While this may not impress the Michelin crowd, brisket and pulled pork do have their devoted following, and Frenchman Thomas Abramowicz is providing it. And what pairs well with BBQ? Bourbon of course. There are over 50 varieties of it, and if that's not up your alley, there's local Parisian craft beer and yes, wine of course.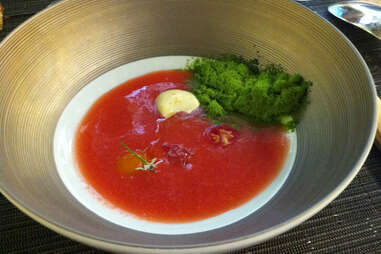 7th arrondissement
Although it soft-opened in the last week of December last year, it was only after we said hello to the new year that Restaurant David Toutain fully swung its doors -- and it may, in fact, have been the hottest new restaurant as we run in 2014. Toutain, who has worked under some of the biggest names in French cuisine, is known for his artistry with vegetables. But don't let that make you think this is a vegetarian haven, because the veggies are intermingled with everything from pig skins to clams, in Toutain's complicated creations that have helped him make his name.
3rd arrondissement
There's no denying that Paris has a love affair with Japanese cuisine, and SŌMA is its latest seductress. But while many establishments in Paris have gone for a more cliche version of Japanese cuisine, at SŌMA, it's about bistronomie Japonaise, and this is all about being the most stylish of Japanese bistros, both in look and in menu. With options like Black Angus steak in teriyaki sauce, Chef Sourasack Phongphet is serving up exquisite small plates to be paired with the quality selection of Japanese whisky that's on hand.