If you only go à la carte, your cheque at many supposedly affordable Parisian restaurants can easily fly into the hundreds. The prix fixe menu -- or formule -- is easily the best way around this: essentially a chopped-down selection of the house's full-length menu, and often featuring many of its signature dishes, these menus offer a great feel for the kitchen's quality and character, all without leaving a substantial dent in the wallet. We ate the length and breadth of Paris to find the 10 absolute best deals, from high-class Michelin-rated bistronomy to quick-service, organic fast-casual.
Recommended Video
This Restaurant Reinvented the McGriddle
Bastille
Simple, seasonal, beautifully presented dishes, paired with rare natural wines and enjoyed in a warm, hassle-free environment: that's what you can expect at ex-L'Arpège chef Bertrand Grébaut's Septime, an understated neo-bistro open weekdays on Rue de Charonne. Its Scandi-inspired interior rings with chatter at every sitting, creating a jovial setting for a laid-back, modern French experience. Prix fixe menus are available at lunch and dinner, the best deal being the €30 option at lunch, which includes a starter, a main, and dessert. Make sure to peer over at the open kitchen to see the chefs at work -- it's quite the spectacle.
Pigalle
In terms of décor, Le Pantruche delivers the complete opposite experience of Septime. With dark oak furnishings, copious banquettes, glittery columns, and wall-length mirrors, this popular haunt makes a clear effort to evoke the opulent restaurant aesthetic popular in 1930s Paris. Chef Franck Baranger runs the show here, producing precise and well-executed plates packed with fresh ingredients and heaps of off-kilter ideas. The menu changes every month, but if you're lucky, you may get hold of favorites like the signature huître en tartare, shredded oysters served in a cream of lettuce soup, or one of many sumptuous rotating desserts, such as the Grand Marnier soufflé with salted caramel sauce. Prices are €19 for two courses at lunch, three for €35 at dinner.
Île Saint-Louis
It doesn't get more central than this "Garden Patch Bistro" on one of the Île Saint-Louis' criss-crossing old-world streets. As you might have guessed, fresh, seasonal garden produce forms the basis of most dishes at this chic yet unassuming address, as Alsatian chef Antoine Westermann tries his utmost to cater to vegetarian and omnivorous visitors alike. Blending contrasting textures and colours, Westermann handles both raw and cooked elements with élan, the menu swiveling from extravagant salads and vegetable tartares to lushly seasoned meat and fish dishes served with a strong green component. The two house desserts, meanwhile, are rum baba and a spot-on chocolate tart. This one's more on the steep side, with a lunchtime prix fixe costing €47.50.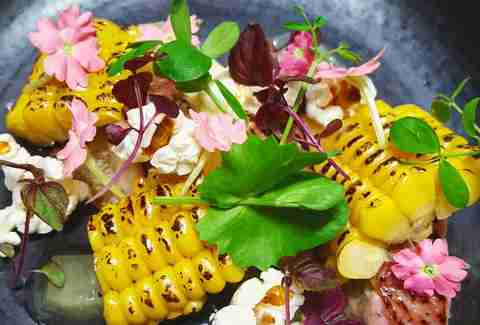 Bastille
Cozy Asian fusion bistro Will has played a large part in transforming the eastern 12th arrondissement into a much-talked-about dining destination over the past couple of years, and rightly so. Customers perch on vintage 1960s furnishings gridded in a light-filled, minimalist dining space, and pick out options from a copious set lunch menu (€19 for two small starters and a main, or a main and a dessert). The menu consists mainly of refined, aromatic re-imaginings of European classics, ranging from steak tartare to tuna veal, roasted hake, and tuna carpaccio. Each plate usually comes infused with a subtle Southeast Asian flavor, like a whiff of ginger or a dash of sesame oil, although the Asian influence is more pronounced in some. For instance, the side of Malaysian satay eggplant is a knockout.
Grands Boulevards
It can be difficult to get really good Mexican food in Paris, but the unpretentious Zicatela does burritos, quesadillas, and enchiladas exquisitely. The restaurant is certainly on the homey side, though it rarely fills up at lunch, which is fortunately when it serves its most fantastic value formules. Choose from a burrito, fajitas, or a quesadilla as your main, which also comes with a glass of sangria, an extra drink, or a dessert, and a tea or coffee (all for €13.50-€15.50). The vegetarian Oaxaca and tuna Emperador quesadillas are particularly well done, while the refreshing horchata is worth stopping in for on any sunny -- or simply hectic -- Parisian day out.
Oberkampf
A dynamic, contemporary Tuscan trattoria done out in industrial wood, grey colors, and low-hanging lanterns, Sassotondo wows thanks to its humble, hearty Italian creations. House-made pasta, fresh charcuterie, seafood & cheeses, and seasonal vegetables form the basis of a menu that spans staple dishes from across Northern Italy, such as clam and pecorino gnocchi, smoked duck breast with creamy polenta, or spiced baked figs. If you're after a weightier dessert, then the tiramisu is among the best in Paris. The two-course prix fixe menu at midday is relatively limited (there are just five starters and five mains to choose from), but you'll still want to order it all. Come dinner, four courses are €33.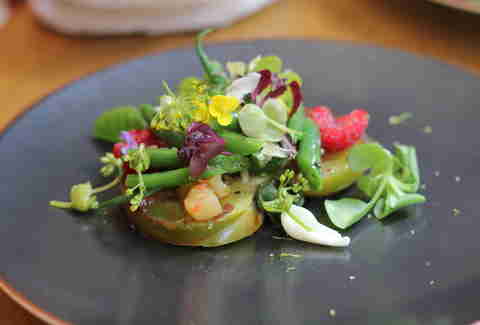 Grands Boulevards
The Rue du Faubourg-Poissonnière overflows with choices for rapid lunchtime take-out, but vibrant, multi-course bistronomy's the specialty at inventive neo-bistro Abri. The face behind the food is Japanese chef Katsuaki Okiyama, previously of the deluxe two-Michelin-star Taillevent, who serves a limited six-course menu of dainty Japanese-French dishes at dinner (€48). The menu changes every day, and Okiyama and his waiting team attempt to personalize each and every course to the customer, depending on taste and mood. Space is very limited -- we're talking 10 or so tables in one fairly small, former retail space -- so make sure to book well in advance.
Belleville
This Belleville restaurant's deeply generous two-course lunch menu (€20) should definitely feature prominently on your hit list. The joint project of MasterChef France finalists and business partners Thibault Sombardier and Kevin d'Andréa, Mensae has proved particularly popular among 19th arrondissement locals in recent months. The two courses are always the plats du jours, either a starter and a main or a main and a dessert, and are usually modern takes on quite simple continental classics -- think risotto, fresh cuts of fish and meat, ravioli, and so on. If you're feeling particularly peckish, why not add in a sharing plate of frogs' legs with parsley and garlic, served in a saucepan, or the sizeable platter of fragrant Lyonnais charcuterie.
Belleville
Don't expect anything fancy at this laid-back vegetarian café and canteen, five minutes down the road from Mensae, but do expect filling, mostly wholesome food, and more than decent value for money. There's a slightly complicated array of set menus on offer here, but usually you can get away with three courses for €12-€15. The menu at €13 includes two savory mains, including soups, couscous salads, and sandwiches, a slice of one of the signature savory "cakes," and a dessert. Whichever formule you go for, definitely opt for the excellent cheese & tomato cake, and the perfectly gooey chocolate slice -- the two best things on the menu. You can either eat in at one of the battered wooden banquettes or take it to-go.
Clignancourt
It's certainly worth traveling up to the 18th arrondissement, just east of Montmartre and its crowded slopes, to sample the surprisingly affordable lunch menus at this Michelin-starred contemporary French bistro. From Tuesday to Sunday every week, Geoffroy Maillard -- formerly of the super-flashy Le Bristol and Plaza Athenée -- and his kitchen team deliver flavorful plates that work sophisticated wonders out of relatively simple, locally sourced ingredients. The menu changes every 10 days, but recent standouts include things like Iberian pork ribs on a bed of sweetcorn and beetroot, sprinkled with mole sauce; and semi-cooked foie gras with vineyard peach and a pear & port chutney. Sure, the atmosphere may be pretty formal, but the capacity of this space is bright and tranquil, and the staff is very friendly. For €35, you can expect two courses, an appetizer, and a gourmandise to finish; €42 gets you the same, but with three courses.
Sign up here for our daily Paris email and be the first to get all the food/drink/fun in the City of Light.