The eight coolest restaurants in Paris
If a country can take ingredients like frog legs and snails, and turn them into delicacies, you know that they must be good with self-delusion food -- hence the fact that paring down Paris's eateries to only its eight best is no easy task at all… but we managed it somehow, and here they are: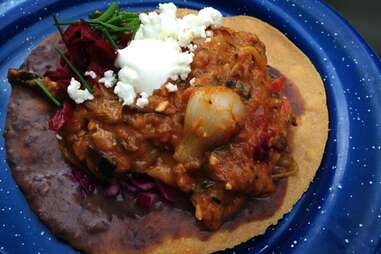 1) Candelaria
Mexican food might be a kind of a rarity in Paris, but Candelaria more than makes up for it -- fronted by a small, boxy green storefront that announces "Tacos" in electric pink lettering, the decor itself might be pretty unspectacular but the food certainly is, boasting delicious soft- & hard-shelled tacos expertly stuffed with the likes of 'shrooms, chicken, carnitas, and cactus.
2) West Country Girl
Serving crepes almost exclusively, WCG's menu is split up into savory options w/ ham, cheese and egg, etc., or sweet options like dark chocolate sauce -- and depending on the day, they might also serve undecorated plates full of fresh oysters at market price. Its collection of connected rooms host small candlelit tables for an intimate vibe, while collages & framed artwork decorate the walls.
3) La Taverne de l'arbre Sec
A bistro specializing in traditional French cuisine, La Taverne de l'arbre saddles the corner of Rue Saint-Honore and Rue de L'arbre Sec (where it takes its name from) right next to the Lourve museum. You can get a masterpiece of your own thanks to a meat-laden menu filled with the likes of filet mignon, Côte de boeuf (the French version of prime rib), or steak tartare.
4) L'as du Fallafel
Existing on a street where several vendors claim to have the best falafel in Paris, L'as du Fallafel is the only one with the endless line (they've even had to develop a system for keeping the queue moving with a combination of tickets & pre-pays). Reach the end, and you'll find yourself the proud owner of some falafel w/ curry sausage, grilled chicken livers, schwarma, or even schnitzel.
5) Chez Omar
Practically an institution, Chez Omar has occupied its spot on rue de Bretange for years, serving up a wealth of traditional Moroccan food alongside a smattering of French dishes. It's a no-reservations spot, and's famed for its couscous, Moroccan lamb sausage, rattatouille, and even steak.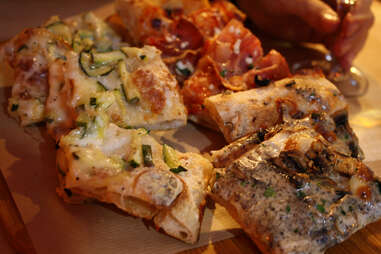 6) Al Taglio
Slinging maybe the best 'za in the city, Taglio serves it in square pieces, and literally charges for it by the kilo (converted to imperial units, that's… a lot). Toppings get inventive with the likes of potatoes & truffle cream, or salmon & walnut pesto to complement traditionals like prosciutto & speck.
7) Lao Siam
Located in the center of Paris' Asian district of Belleville, Lao Siam may be on top of a hill, but that doesn't stop the chow-seeking crowds from coming in droves; it may not take too long to be seated, but a line out front is a pretty common sight. Serving traditional Thai & Laotian options, highlights include the grilled calamari, and the pineapple fried rice w/ torched squid.
8) Beef Club
True to its name, Beef Club is a place where people get together to have arguments focuses on the beef; from the folks behind vaunted drinkery The Experimental Cocktail Club, a full variety of steak cuts like sirloin & entrecote fill its upmarket menu (alongside veg and fries). On weekends, the spot offers a raved-about, full-on Champagne-fueled brunch, and there's also a hidden ballroom a floor below w/ two dedicated cocktail bars.