The abundance of a "steak frites" on Paris's menus has meant that the city has a relative dearth of full-on steakhouses (also? They're American. Ugh!), but one thing's for sure; the French sure love their cow cuts, and you don't become one of the world's greatest food cultures by cooking them badly. That in mind, we went and ruthlessly pitted the best spots against one another to bring you the official Paris steak spot power-rank.
10. Ma Chère & Tendre
17th arrondissement
Self-proclaimed locale of "rendezvous for lovers of good meat", Ma Chère et Tendre is a steakhouse in every sense of the word. There's certainly an American influence here (crab cakes as a starter, for example) and the emphasis is on good meat. If you're up for it, get the It-Beef, a sampler of all the different house steaks they offer, tartare of beef, fillet of beef, ribeye, skewers, and hanger steak.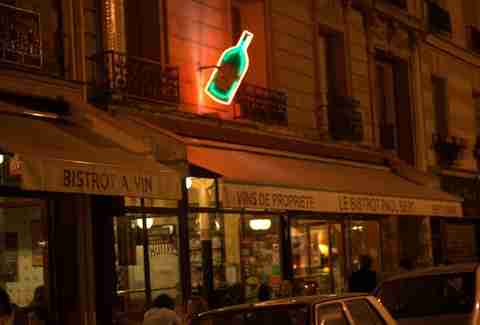 9. Le Bistrot Paul Bert
11th arrondissement
It's in this very traditional Parisian bistro -- which pulls both a local and tourist crowd -- that you'll find solid steak frites, and while much of the rest of the menu changes depending on the season, the beloved dish is always there. In fact, Bistrot Paul Bert is such an institution that the two owners even wrote their own book. Want to go on a real bender? You can spend up to 800€ on a bottle of wine (don't worry, there are less bankrupt-ey priced ones as well).
8. Chez Boris
8th arrondissement
After making a name for himself in Montpellier, Boris Leclercq is bringing his passion for meat to the capital. Here you can get all kinds of steak from a T-bone to a tartare. If you wanted good French meat, this is the place to go: Boris gets his meat from his own cows raised in the Aubrac region. His philosophy is to use the whole animal, which is why the fries are fried not once, but twice in beef fat.
7. Bang!
10th arrondissement
Located in the hip neighborhood of Canal Saint Martin, Bang! is a so-hot-right-now joint with a long laundry list of meat to make your little steak-loving heart content -- they even have a grill-it-yourself setup if you're into it, and also feel like making the chefs look totally redundant. Oh, and on weekends you can get Black Angus beef for brunch.
6. Le Boeuf Volant
17th arrondissement
The newly opened Boeuf Volant (yes: The Flying Beef) does literally that, w/ meat flown in from Australia to Spain, while the resto itself is decked out in true modern New York steakhouse spirit, filled with Eames chairs and vintage light bulbs. Sides stay NY, w/ the likes of gourmet mac & cheese, but the wine list stays faithfully & deliciously local.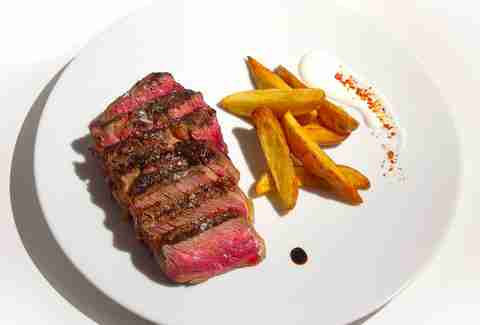 5. Restaurant Unico
11th arrondissement
You may have come to Paris looking for French beef, but you would be missing out if you skipped out on a night at Unico, one of the city's acclaimed Argentine steakhouses. Housed in an old butcher shop, its dedication to good meat does not go unnoticed. The design is an hommage to the '70s and's complete with an actual barbecue to grill up the long list of Argentine meats. Also? There's a "dulce de leche volcano" for dessert, so... get that.
4. Drugstore Steakhouse
8th arrondissement
You're in Paris, so clearly a steak-fueled dinner on the Champs-Elysées is in order, and the best place to do that is at Drugstore Steakhouse. It'll cost you a fair amount, otherwise this spot would be higher up the list, thanks to its tender French, American, and Argentine cuts. Housed in the famed Publicis Drugstore, the concept store below the offices of ad agency Publicis Groupe, it makes for a fairly unique jaunt on the Champs.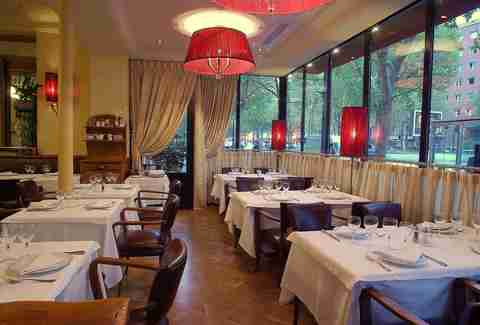 3. Au Boeuf Couronné
19th arrondissement
In earlier days, you would find most of Paris's abattoirs and butchers chopping up hunks of beef near what is now Parc de la Villette. Au Boeuf Couronné carries on the tradition, with a menu that features almost a dozen different cuts and sizes of meat; the rib roast, for instance, weighs in at 1.2 kilos. The art-deco interior of the neighborhood haunt makes you feel like you're taking a step back in time, and you're in France, so there are plenty of foie gras and snails for apps, as well.
2. Le Severo
14th arrondissement
Le Severo is run by a former butcher, and it shows: this is one of the local hotspots for anything meat related (hint: make reservations), and everyone raves about the house fries, as well. Pair it with the royal wine list that covers the blackboard on the wall and you'll have one of the finest evenings that Paris has to offer.
1. Beef Club
1st arrondissement
Le Beef Club is brought to you by star butcher Yves-Marie Le Bourdonnec (who once posed naked with a cut of cow for a promo campaign. Little advice? Don't Google that.) The white glazed-brick walls give it a distilled NY vibe, and yes, it's complete with a whiskey bar run by the folks from the Experimental Cocktail Club. And don't tell the French, but the beef is raised in… England. Grass-fed of course.