A decade ago, asking for your salad "sans viande" (without meat) would have earned you a snooty reply from your waiter and questioning looks from the patrons at the next table. Being a vegetarian in what is arguably the gastronomic capital of the world used to mean poking around some green leaves while others enjoyed coq au vin or lapin á la moutarde, but oh, have things changed. The metropolis has become more health- and sustainability-conscious, and has started offering Vélib (rentable bikes stationed all over town), outlawing plastic bags, and creating initiatives to make the city even more walking-friendly. Now Parisians are flocking to an increasing number of vegan and vegetarian establishments, while prompting traditional bistros to add more creative, plant-based meals to their menus. To make your hunt for green options easier, we found the best vegetarian restaurants in Paris, ranging from dazzling haute cuisine to eye-popping street food.
Le Marais
For diners who are under the misconception that vegan burgers have to be any less sumptuous than their meat-based counterpart, this is the place to be proved wrong. Located on a busy street in the bustling Marais area, this tiny fast-food restaurant serves up vegan burgers to a hip, young crowd. Try the La Catcheuse, topped with vegan cheese, mustard, and alfalfa, and choose from sides of vegan coleslaw, fries, or salad. They offer both soft drinks and beer, and yes, everything is organic. Pro tip: the stairs to the right look tiny, but the space above is actually quite ample and has a very laid-back vibe.
Bastille
If you are up for some cruelty-free fine dining in the city of lights, this charming venue serves vegan haute cuisine, and they do it well. An essentially French menu with Italian and Asian influences, the ever-changing options are always interesting here. Make sure to prepare for this one by eating a very light lunch -- you'll want to have several courses. The house-made ravioli stuffed with tofu and sea lettuce packs heaps of flavor, while the dessert tartelette with Morello cherries hits that perfect balance between tart and sweet. Don't miss out on the vegan cheese plate, with a selection of three fermented cashew cheeses served with buckwheat crackers. The wine list is carefully selected, with exclusively organic, vegan wines, so take your pick. The dishes are aesthetically delightful, too -- we bet you'll want to add it to your Snap story.
Montmartre
This small bistro, located by the little square at Abbesses, looks like your run-of-the-mill, average quality Parisian restaurant, but don't be fooled. Run by a couple with an interest in healthy cooking, they offer a selection of both vegan and vegetarian platters that are creative and enjoyable. Check out the vegan platter, which comes with vegetable rolls, quinoa salad, and house-made olive tapenade; the tofu burger with mushrooms; or the "salade Montmartre," which is topped with a very tasty vegetable quiche (which is vegetarian but not vegan).
Poissonière
This very chic eatery specializes in raw food. The menu changes daily, but you can be sure to find tasty variations on raw lasagna, or "pasta" dishes made with spiralized vegetables, legume salads, and interesting sauces and stuffings. The restaurant is decorated in a minimalistic manner that suits the food, but is better for a lunch with friends rather than a romantic dinner. Located in a busy area with a lot of young professionals, it fills up quickly at lunch time, so consider stopping here a little early or late. Also, bring cash -- they don't take credit cards.
Le Marais
This historic quartier used to be home to the Jewish community in Paris, which still is noticeable in the character of the energetic Rue des Rosiers. This is the place to go for kosher pizza or traditional Jewish baked goods, and definitely come here for the falafel. L'As du Fallafel is the most famous falafel stand, and there is always a long line of people waiting for their pitas, filled with grilled vegetables, piquant red sauce, and those crispy-on-the-outside, flavorful-and-fluffy-on-the-inside, deep-fried chickpea delights. Eat your falafel standing in the street, or peep around the corner to Place des Vosges, the beautiful, early 17th-century square that was once home to Victor Hugo, to sit down on the grass and people watch.
Canal Saint-Martin
Famed for being one of the oldest vegetarian restaurants in Paris, Sol Semilla was there even before gentrification rendered this one of the coolest neighborhoods in Paris. Part restaurant, part boutique for healthy, vegan superfoods that are both organic and fair trade, Sol Semilla offers colorful and beautifully crafted meals that leave you glowing. While in the area, make sure to take a walk along the canal, where groups of students, unshaven artsy types, hipsters with fixie bikes, and Parisian families alike hang out. There are heaps of cafés and some interesting shops along the quai, and it is the place to see and be seen on a sunny afternoon.
Pyramides
The Rue Sainte-Anne is famed for its array of Asian restaurants and food shops. Udon Jubey is one of the slightly fancier options, and although not strictly a vegetarian restaurant, they have a vegetarian dish so good that it's the only choice you'd ever need: the delectable udon bowl with tofu. They also offer up a selection of vegetable and mushroom tempura that shouldn't be missed.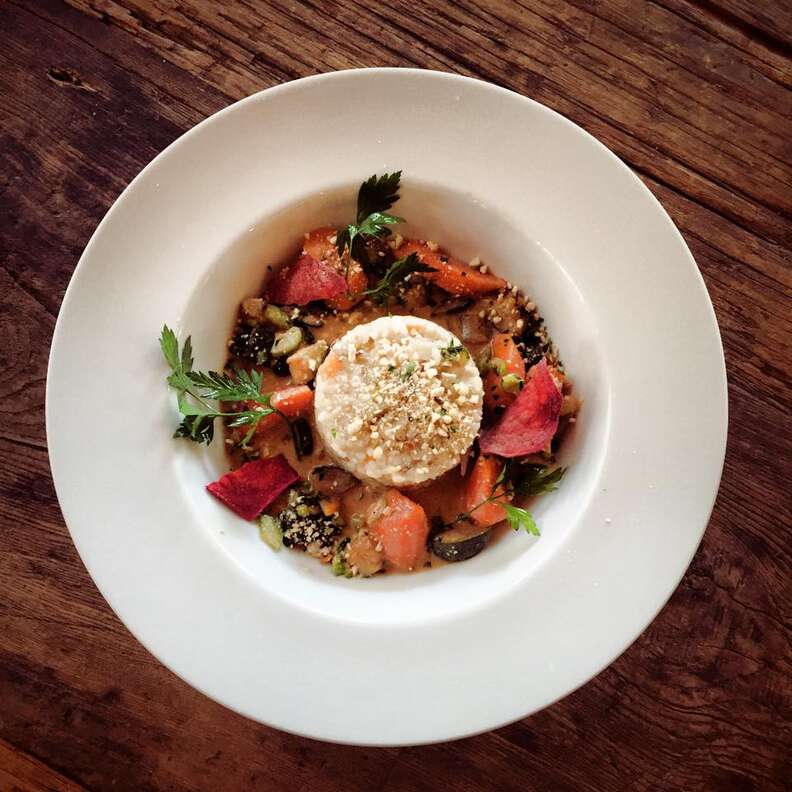 Commerce
The only left bank restaurant on our list, this one's worth a special trip if you're not in the area. Decorated like most of the hip, young restaurants in Paris in an industrial, but cozy style, Brasserie Lola offers an entirely vegan menu with scrumptious versions of typically French bistro food, occasionally infused with Asian spices and flavors. The vegetable risotto served with beet chips, and the spicy noodle salad with samosas and fried tofu are both great choices. Make sure to save some room for dessert -- go for the house-made vegan sorbet!
Rochechouart
This small, vegan restaurant and juice bar, open four days a week, has a menu which rotates based on the season and what was good at the market. Beautifully plated, these social media-friendly plates will make you smile before devouring them. Opened in 2015, the restaurant has received acclaim in the vegetarian community, and has been featured on French television (which is extra impressive given the, you know, lack of meat). They have an all-day breakfast menu during weekends, and also offer beer and wine, in case all that unending healthiness is freaking you out.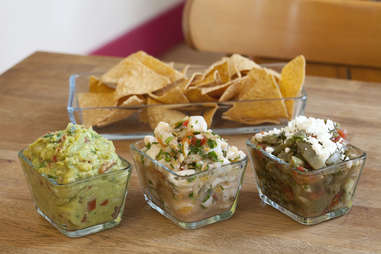 Republique
This taqueria, hidden on a back street behind the bustling Place de la République, is not as famous as Candelaria in the trendy area of Haut Marais, but on the other hand, you don't have to dress up and stand in line forever. Also, the food is amazing, and veers more on street food than fine dining. Go for a fixed set of three vegetarian tacos and a Mexican beer -- the Nopalitos with cactus, and Champiñones with mushrooms, peppers, and onions with guacamole. There are flaming hot condiments to throw on, too. While in the area, check out the neighboring street, rue de Marseille, which is lined with outlet stores of chic French brands such as Maje, Claudie Pierlot, and A.P.C.
Mouffetard
As long as you are in Paris, it would be a shame to miss out on the world of French baked goods. At Vegan Folie's, you can have your pick and be sure that nothing animal-related crosses your lips, so go ahead and go crazy. Our favorites are the dark chocolate and cherry cupcake, carrot cake, and chocolate and caramel baked cheesecake. Come by for a piece of cake sur place, or order a personalized cake for a special occasion.
Sign up here for our daily Paris email and be the first to get all the food/drink/fun in the City of Light.
Robin Watts is an advertiser and freelance writer with a love for food, running, and the city of lights. Follow her Instagram here.