The Best Value Michelin Stars in Paris
After hitting Paris's restaurants, it would be nice if that spare tire you put on came from Michelin -- unfortunately however, that's a task that usually makes your wallet a little too thin. Helping you achieve the dream of both gourmet gorging and a healthy bank balance, we've price-compared all the star-graced eateries in the French capital in all three categories.
Restaurant Auguste
7th arrondissement
One Star
Matching modern design & artworks with a purely classical menu, Auguste sits within view of the Eiffel Tower, and's a prime example of the first rule of good value Michelin dining: go at lunch. Their a la carte is reasonable enough -- an entree of brill, kumquat, and turmeric is a mere €36 -- but for the same price you can score a three-course midday meal, meaning that for your star, each course weighs in at a mere €12.
L'Agapé
17th arrondissement
One Star
Clocking in at a yet more reasonable four courses for €35, Agape's set lunch is a staggeringly reasonable €9 per course, all served in their sleekly minimalist white & grey space. The value even extends to dinner, where their eight-course ever-changing tasting menu ("carte blanche" from the chef, who chooses the courses daily according to what's fresh) is an extremely competitive €120, or €15 per course.
l'Atelier Joël Robuchon
7th arrondissement
Two Stars
You might not suspect that French chef superstar Robuchon would make it onto the budget list, but fortunately this big name in French cuisine is kind enough to give us access to upscale French cuisine that won't break the bank. There's a degustation menu that lets you dive into typical dishes like foie gras (€29) and crabe royale (€45), but the star here is their 12-course dinner menu that'll set you back just €175; that's €18 per course for one of the best meals in the country.
Le Relais Louis XIII
6th arrondissement
Two Stars
For a similar price-per-course, the set lunch menu at two-star Le Relais Louis XIII will set you back €55 for a starter, entree, and dessert (the set dinner menu is only €85, which is cheap considering what you're getting). Fit for a king, the restaurant sits on the grounds of Couvent des Grands-Augustins, the exact place where Louis XIII was proclaimed king in 1610 and the decor is reminiscent of something the king himself would have loved. And no matter what the cost, you'll want the mille-feuille.
Passage 53
2nd arrondissement
Two Stars
Tucked away in the beautiful glass-roofed Passage des Panoramas, Passage 53 is headed up by Japanese Chef Shinichi Sato, who'll happily sling you an exquisitely crafted (and classically French) €60 lunch menu, where your five courses cost only €12 a piece.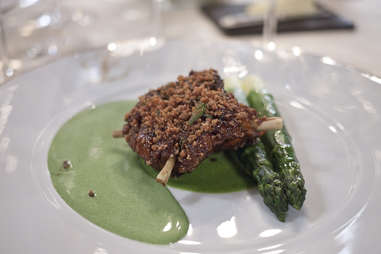 Pavillon LeDoyen
8th arrondissement
Three Stars
Besides l'Astrance, Ledoyen is the other commonly referenced three-star "budget" choice in town, and it's all thanks to the reasonably priced lunch menu, which scores you five courses of deliciousness for €94, or just €19 per course (dinner can go up to €310 if you're wondering, which we know you are). Nestled in a neoclassical pavilion in the gardens of the Champs-Elysees, the setting at Ledoyen is as luxurious as you can get, and it also happens to be one of the oldest restaurants in Paris.
l'Astrance
16th arrondissement
Three Stars
Often noted as the budget-friendly alternative to some of the other more hefty price tags, the most special quality of l'Astrance is that you don't get to choose what you eat. No menu or a la carte in this restaurant; all you get is whatever Chef Pascal Barbot (he's a l'Arpège alum) is inspired to cook that day, yet the three-course lunch will only run you €70.
Sign up here for our daily Paris email and be the first to get all the food/drink/fun in the City of Light.