Paris's 11 greatest food trucks
Food-truck wise Paris, may be no New York, Portland, or side-street in LA, but little by little, it's getting there, making headway in a food culture heavily weighed towards taking lengthy, wine-fueled lunches -- and as the French's love/hate relationship with American food begins to tip in favor of "not being assholes about it", the trucks have begun to roll in. Here are the best 11 so far… To track the wheeled restos in real time, try French website Pouet-Pouet. Click on "Paris" in the location search box to the left, and it'll pull up a map with all of the food trucks and their location for the day.
1. Camion Qui Fume
In 2009, Kristin Frederick left the US to train at a well-respected French culinary school, and soon after her graduation, launched Camion Qui Fume, France's first food truck (yes, in the entire country). One of the first to jump into the world of gourmet burgers too (she's like some kind of pioneer), Kristin has built a cult following for Camion Qui Fume by serving up the delicious likes of braised pork w/ coleslaw, to the BBQ burger topped w/ cheddar, bacon & a huge onion ring.
2. Cantine California
Started by American/Canadian Jordan Feilders, who hails from San Francisco, Cantine California brings a melange of cuisines to Paris, in the form of all-organic tacos and burgers. It's hard to resist The Dude's Burger, a laid-back combo of burger, bacon, Beaufort cheese, caramelized onions, and blackened red peppers. And if you don't want to have to stand up like a sucker while eating your tacos, check out the newly opened resto, Le Dépanneur, which Feilders is also behind.
3. Le Refectoire
If you're in search of a burger with a little French flair, this is where you want to be. Comte cheese, homemade mayo, grilled goat cheese w/ honey; the list of gourmet ingredients to top off your beef puck goes on. If you track the truck down on Sundays, you can even get the brunch menu, which includes a deliciously re-hydrating "rehab lemonade".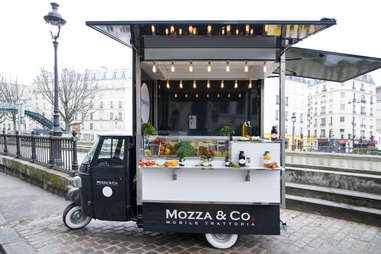 4. Mozza & Co.
European cars are regularly known for being smaller and more compact than American ones, and if there's a food truck that visualizes this, it's Mozza & Co. The concept is a mobile mozzarella bar, with four types to choose from (buffalo, burrata, etc.), that are then paired with your choice of salads and toppings (like prosciutto and basil), which can all be thrown into a hefty focaccia, and chased with a tiramisu for dessert, after which you'll be chasing nothing.
5. Glaces Glazed
Planning to hit the City of Light in the summer? You'll want to stop at Glazed, an ice cream truck that's known for its slightly insane flavor combos. The menu is constantly rotating, but with concoctions like orange Campari with balsamic reduction or the "Highway to Ale", made from delicious, delicious beer, you're not going to be disappointed.
6. Caravane Dorée
Caravane Dorée has two trucks: one devoted to bun bo, a Vietnamese dish of vermicelli noodles, salad, and meat, (super-popular in the French capital), and one devoted to sandwiches, featuring a variety of creative bread-traps, made on everything from bagels to focaccia, and including Le Mika, made with smoked duck breast, honey mustard, fresh goat cheese, tomatoes, mesclun & parsley.
7. Clasico Argentino
Argentinean empanadas and ice creams are served up in this small mobile truck that's the baby of the several Clasico Argentino restaurants around town, a "carrito" as they call it. The empanadas are made with fresh ingredients, so you never know what you're going to get, but you can be sure that you can top it all off with a refreshing Argentinean ice cream. A little piece of Argentina on wheels.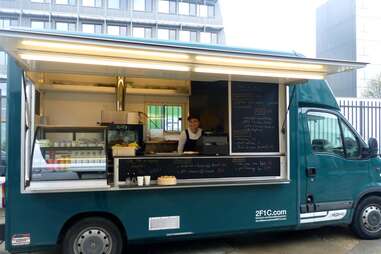 8. 2F1C
2F1C stands for Deux Filles, Un Camion, or "Two Girls, One Truck", and if that means anything to you, then you have a dirty mind. If you're sick of burger options, or have simply overdosed on steak frites in Parisian restaurants, these ladies will sort you out. Known for a more gourmet cuisine, done in a simple and creative way, they'll furnish your belly w/ lamb tagine with prunes, carrot soup, and classic French Moelleux chocolate cake for dessert.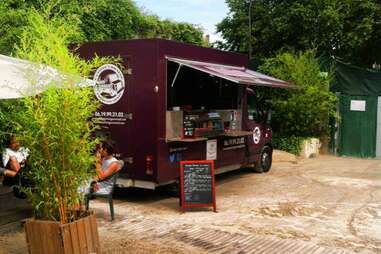 9. Le Camion Gourmand
As its name would have you believe, this gourmand food truck is for people who love good food. Farm-to-truck ingredients bought the same day they are prepared, meat that's organic and 100 percent French, and burgers and fries that you actually can and should write home about.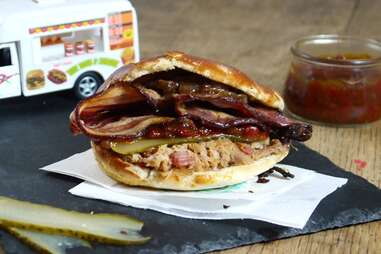 10. Miss Pig
Meat alert: newly opened food truck Miss Pig is all about ingredients like frog-loving puppets pulled pork, ribs, and bacon, and crazily enough, they've even been known to make a meatball sandwich, too.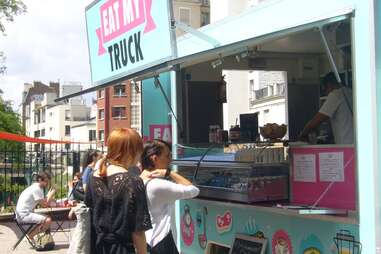 11. Eat My Truck
Gourmet hot dogs? Yes, Paris has them. With options like the Classic Boom (beef w/ house-made ketchup) and the French Kiss (hello hot dog with bleu d'Auvergne), you really can't go wrong. And if you already had lunch, maybe you want to try their dessert dog instead -- it's made with a banana and Nutella, and therefore by all rights you can't not have it.