Paris is both full of svelte attractive people, and delicious restaurants aiming to make them all less svelte -- adding fuel to that already uneasy dynamic, here are 10 just-opened spots all aiming to blow out Parisian waistlines in 2014.
Name: Le BAT
Open now
Why You Should Care: BAT stands for Bar à Tapas. But let's be clear: these are not your dive bar Spanish tapas. The options at Le BAT are tapas with a French gastro touch and a bit of international fusion (think: oysters w/ a pomegranate & ginger vinaigrette). The tapas rotate weekly, but if you somehow don't like tapas? Fear not friend, because you know what else BAT stands for? Bar à Tartares, so get some delicious raw steak instead.
Name: Les Enfants Rouges
Open now
Why You Should Care: Sure, Paris's Japanese resto scene is booming, but a Japanese chef cooking French food? Apparently not only is it a thing, but it's an amazing thing. Les Enfants Rouges used to be mostly a wine bar, but now that Daï Shinozuka is helming the kitchen, everyone's crowded around the tables instead of the bar. It's certainly French cooking taken to the next level, with a bit of mix from other culinary cultures; salmon fillets in beef bouillon anyone? There's a solid wine list, complete with some natural wines, and Shinozuka gets his bread from Parisian favorite Thierry Breton.
Name: Lazare
Open now
Why You Should Care: While the neighborhood around St. Lazare train station leaves something to be desired (better graffiti, maybe?), now there's Chef Eric Frechon's new venture Lazare to keep you well-fed while you wait for your train out to Normandy, or just need a break from hanging out on Les Grands Boulevards. In the large space that's all-French-food-all-the-time, you can get breakfast, lunch, and dinner. There's a daily lunch special for 18€, and if you really want to go all out, check out the Sunday "Grandmother's Breakfast", a 38€ brunch blowout. Recommended? The horse steak topped w/ grilled bacon.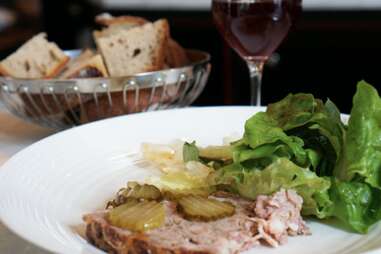 Name: Café Trama
Open now
Why You Should Care: This classic French spot pairs its rough Art Deco designs w/ a country-style menu boasting the likes of duck foie gras w/ apple & fig chutney, Thai-flavoured (!) beef tartare, and country terrines with sweet & sour pickles. It's all reasonably priced, and there's a solid wine list (naturally) available by the glass.
Name: La Cantine de la Cigale
Open now
Why You Should Care: If you're looking for a casual Parisian bistro feel, La Cantine de la Cigale has plenty to offer. Well-priced, it's a good fit if you are looking for a traditional French dining experience but don't want to shell out hundreds of euros. Even better: they don't take rezzies. Roll with crispy pig ears as a starter, then onto razor clams, and roasted barbue fish to follow.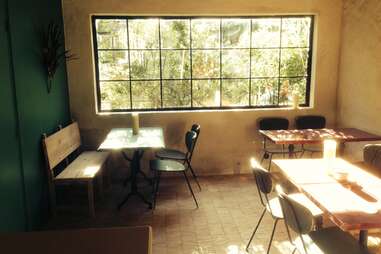 Name: Clamato
Open now
Why You Should Care: From the uber-chef behind neo-bistro Septime, Clamato's seafoodery is appropriately decorated w/ boat deck-style wooden floors & ceilings, while the menu sees a slew of oysters (from Utah beach to Maldon rocks), small plates like curry marinaded shrimp, and naturally a clam-laded Bloody.
Name: Bronco
Open now
Why You Should Care: When you're craving the taste of home, head to Bronco, which advertises "legit American food". Read: greasy, fatty, and lots of burgers, starting at 11€ (which is actually pretty reasonable in a city whose gourmet obsession extends even to the humble beef puck). Order a coffee and you'll get a brownie with it. And if all that doesn't pull you in, maybe the party scene will: Thursdays, Fridays, and Saturdays from 1030p onwards there's a DJ.
Name: Holybelly Cafe
Open now
Why You Should Care: Dedicated to all things breakfast, Holybelly's Canal Saint Martin spot is smartly decked out in old-school tile floors and rough wooden tables. They get their (strong) coffee from the nearby Belleville roastery, and use it to wash down day-starters like eggs w/ boudin noir, and bacon brownies
Name: Encore
Open now
Why You Should Care: Slinging Franco-Asian cuisine out of a former butcher shop, head Chef Yoshi Morie has whitewashed the walls, and laid out inventiveness like hay-smoked white tuna w/ red onion & blackberries, or burnt mackerel filets with poppy seeds to go with a small-but-perfectly-formed wine list of all-natural vinos.
Name: Miznon
Open now
Why You Should Care: Israeli street food in Paris? Sure, why not. In the heart of the Marais, the city's Jewish quarter, is Miznon -- already well known in Tel Aviv for its quick-yet-delicious Israeli fare, the food of choice is pitas, which they'll load up w/ chicken, lamb kebab, steak, etc. You can eat in the restaurant or grab a pita to go. Plus? You can get Israeli wine too, and it must be good if it's competing against the local stuff, right?