The Parisian waiter snootiness scale
Paris's waiting staff are famous for serving snails, vegetables, and many other types of tourist -- and they don't particularly care to disguise their contempt, either. We've scoured the reviews, and done the maths, and finally developed the official Parisian waiter snootiness scale: points are added for multiple sources independently alleging snootiness, then multiplied by the passion & rage with which they recall it, and finally divided by the number of exclamation points they use.
Chez Flottes
1st arrondissement
If you're in the 1st arrondissement, you should naturally expect that any concierge recommendation will most likely get you into a tourist trap. And when you do, follow Yelp user Ben P.'s advice, "Run! Don't walk...Run!" Why? Because "waiters are completely rude -- not the expected rude -- just plain rude and dismissive." And as Marguerite B on TripAdvisor puts it, you risk getting forced to drink (nooo!): "the waitress pushed an expensive red wine that turned out to be barely drinkable, and forgot the water we ordered."
Official Snootiness Rating: 4ish.
Le Petit Nicois
7th arrondissement
You can almost see the disappointment from lalawoman on TripAdvisor, "We had a horrible waiter who came by and kept yelling "sshh" every time we opened out mouth to say anything. We asked for a bottle of water and he told us we should say "please" when we ask for something, even though we had said please." You can probably understand the shushing though, because "The restaurant was very noisy, and the service was poor" according to Yelp reviewer John G.
Official Snootiness Rating: Like, 7?

Café Palais Royal
1st arrondissement
Rule of thumb: the closer you are to monuments, the worse the service gets. As Yelp user Alina M. puts it, "The staff is extremely rude and they don't care about the quality of services. Once Paris was the capital of good manners and good taste. Now it is the capital of rude and really cheap people. Shame to Cafe Royal! There is nothing royal about you." Man, we can only imagine what the waiter said/did. To top it all off, you just might get hit on by a waiter according to TripAdvisor user kar00, "For a French restaurant you are always guaranteed a bread basket but not here. The staff in general weren't great and some rather pervy."
Official Snootiness Rating: Pervy doesn't necessarily mean snooty, so a solid 5.
L'Ami Louis
3rd arrondissement
L'Ami Louis is a bit of an institution, but as Vanity Fair writer A. A. Gill tells us "The staff are paunchy, combative, surly men, bulging out of their white jackets with the meaty malevolence of gouty buffalo. They exude a pantomime insolence... As you walk in, one approaches with an eyebrow raised and nose aloft to give you the benefit of full-frontal froggy nostril." Also, equally eloquently, TripAdvisor user J Rosenfield points out. "I had to go more than once to really find that the most ignorant rude slug in the world really works there and calls himself Louis. I practically lost my appetite when he grunted us upon arrival."
Official Snootiness Rating: 1 million.

Cafe le Petit Pont
5th arrondissement
People often associate snootiness with laziness, but that's just because they haven't been to Cafe le Petit Pont. As TripAdvisor user nzmiami points out: "The staff looked highly strung...always on edge. One lady (who seemed a little crazy) asked for us to pay before we even got our meals!!" Yelp user vivian t. agrees, "Service is beyond RUDE! BUT it's probably because of all the tourist they get here being located next to the Shakespere attraction." Yeah. It's the tourists' fault.
Official Snootiness Rating: We're saying 3.
Au Pied de Cochon
1st arrondissement
Someone alert the tourist police! This place apparently hates them. "Terrible rude rude rude anti-American one can do without the attitude place. After standing for a table for over an hour seeing at least six parties seated before us I finally went up and asked what was going on; here our name was in the middle of the page with all before crossed off - I asked how much longer and was smugly told sometime between now and Christmas!" says Yelp user Dave J.
Official Snootiness Rating: 9
Le Café du Musee
7th arrondissement
This cafe/brasserie is right around the corner from Musee Rodin, and at first look, it's everything you want from a Parisian cafe... including the snooty service! According to Yelp user B.V.,"This is a ZERO star!!! Americans BEWARE!!! They are very rude!! Service is terrible and the food is awful!! The other reviews are RIGHT! We didn't check yelp before we ate due to rain, we were sorry!!!" On a positive note though, Cat C. wants to remind us that there is one good thing to be had: "Yes, the service sucked but the onion soup made up for it."
Official Snootiness Rating: 8 without onion soup, 5 with.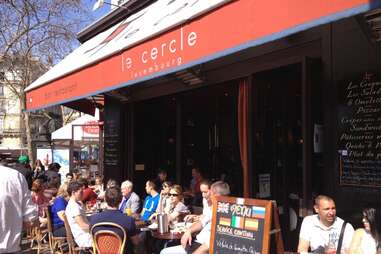 Le Cercle Luxembourg
5th arrondissement
The wait staff at Le Cercle is hard to deal with, even if you're used to typical Parisian behavior as TripAdvisor user Jazzumbo would have us believe with his charming story: "Paris is a lovely city with rude waiters, everyone knows that. I don't use to judge a restaurant by looking at the waiters, but this waiter managed to ruin our evening in such a way that can't be ignored. We (four adults and two children) actually came here for a light dinner and some glasses of wine, so we took our seats on the terrace, asking for the menu lists. The waiter told us that some of the dishes are no longer available, but he is ready to tell us what to order!"
Official Snootiness Rating: Perhaps monsieur can figure it out for himself?