Paris is understandably becoming obsessed with brunch. It provides a perfect excuse to drink booze before noon, eat pancakes a little thicker than a crepe, and stay in bed for a couple of extra hours. On those mornings when a croissant and espresso just won't cut it, here's where you want to go.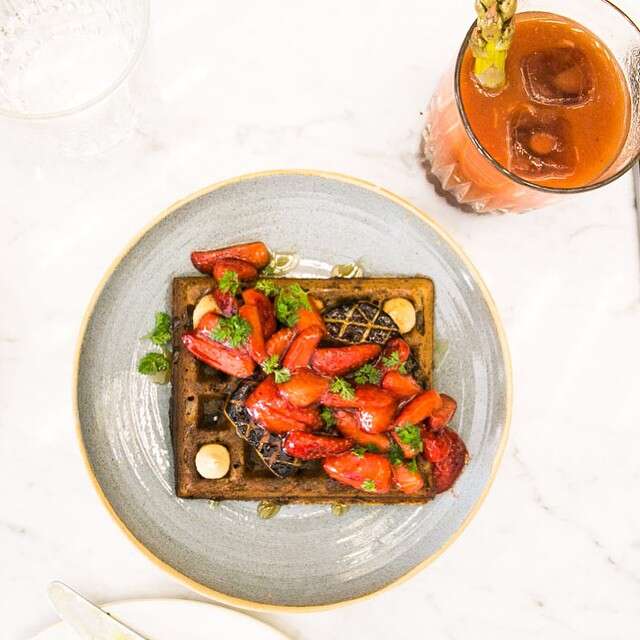 Palais Royal
The team behind Verjus opened a new restaurant this year, and it serves up a playful yet gourmet take on Sunday brunch. Buckwheat waffles with foie gras are available, alongside more classic pancakes and maple syrup. Try the fired potatoes covered in cheddar and paprika, or their signature fried chicken. Keeping with the American tradition (the owners are from the US, after all), their bloody mary features a kick of horseradish and marinated peppers. Ina Garten love going there, so it's a no brainer.
Marais
In the 400-year-old Marché des Enfants Rouges, this little corner bistro serves up a generous portion of eggs, potatoes, cheese, charcuterie, and a white chocolate croissant among other items in its 20 euro brunch menu. They have a huge selection of organic jams (banana, rhubarb, orange, etc.) that circulate among the tables to load on bits of baguette from the nearby Tout Autour du Pain bakery, a neighborhood institution. The only problem is getting a table, but otherwise it's a perfect example of a Frenchified brunch.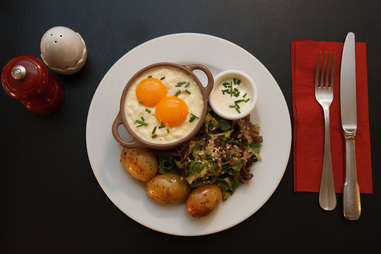 6th Arr
This has been a Left Bank institution for brunch featuring, of course, all things egg. Fried or scrambled, you can add basically whatever you want to them, from truffles and mint to bacon and salmon. Get as creative as desired, but get a reservation first. Few people just show up for brunch. The French plan their Saturday evenings around Sunday's brunch -- or at least it seems that way.
7th Arr
Coffee is the star here, but the food is anything but lackluster. Evolving menus feature all sorts of eggs, meats, cakes, and other typical brunch items. Tucked away not far from the Rodin Museum, it's located far from the specialty-coffee-soaked Right Bank, but aficionados will still make the trip for some of the best cold brew and lattes in the city. They take their coffee seriously, and you should, too.
Canal St Martin
The hardcore patient brunch fans will happily queue up at this Canal Saint Martin hotspot for their coffee drinks, pancakes, and general Instagramability. They're no fools. Eggs with sides like roasted goat cheese or homemade sausage patties pair perfectly with a cup of their black filter coffee or chai latte. Or go all-out and get a bloody mary and do it up right -- these guys get it. Soldier through your morning and get here early since reservations are simply not happening.
5th Arr
A diner in Paris? Don't judge. Who else is going to do an American brunch better than, well, Americans? There are now three locations in Paris, a pretty good sign that they're doing something right. The brunch menu has egg dishes like the New Mexican omelet with salsa and cheddar, because no French cheese can do what cheddar does. Go for the stack of pancakes with the eggs and the bottomless cup of coffee to round off the meal. It's simple, it's delicious, it's excessive -- it's American.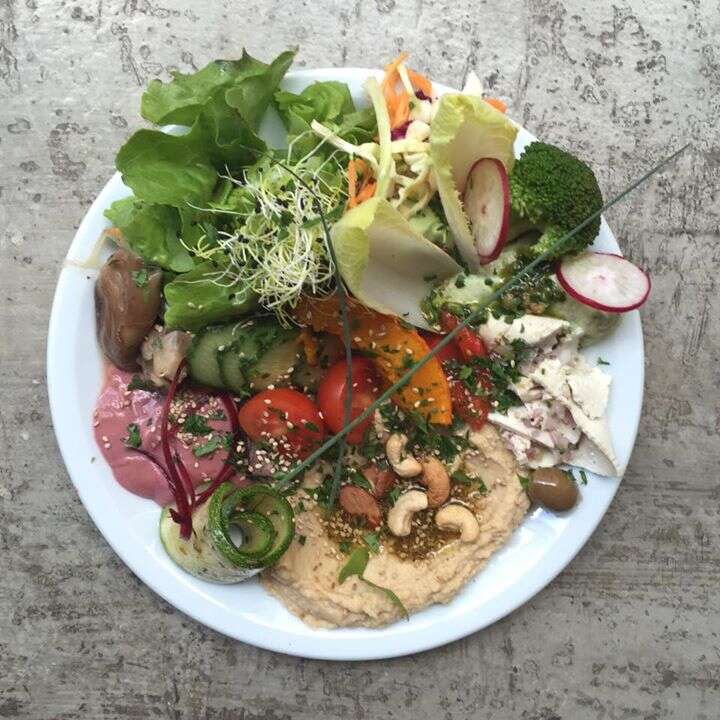 Parmentier
It's hard to imagine a vegetarian place making the list, because a brunch without bacon seems like no brunch at all. Still, locals swear by Soya. It might have something to do with the fact that the brunch is served buffet-style, with plenty of choices among their fresh veggie and grain options, as well as a variety of desserts. It's certainly a much healthier alternative to some of the other options available. But seriously, no bacon?
Marais Nord
This tiny spot not far from Place de la République is unassuming, but offers a simple brunch menu that makes it worth the trek. The choice between prix fixes like Le Fatty and Le Healthy isn't easy. One has a cheddar and bacon egg sandwich with a pancake, the other has pastrami or salmon and soft-boiled eggs. Then there's the Paperben with eggs Benedict and mizuna for something a bit different. It's not high-end brunching, but it's relaxed, the servers are chill, and the coffee is eminently drinkable. For a French attempt at recreating an American brunch, it's kind of adorable.
Marais
Yes, a restaurant dedicated to the mighty eggs Benedict. This is what Paris needed. Apparently the locals agree because this Marais restaurant seems to be busy all weekend long. Traditional eggs Benedict appear alongside a Nordic version, an Italian version, and a black truffle version for those seeing to get a little crazy. Order some mac and cheese or fries on the side to ensure a sufficient dose of cholesterol.
Place de Clichy
Another popular no-reservation spot for coffee also has French and English cooks that whip up a hearty brunch on the weekends. The menu changes with the seasons, but count on variations of eggs, pancakes, and scones. Le Bal doubles as a sort of cultural institute, so you can count brunch as your intellectual activity for the week. The location, hidden away just beyond the hustle and bustle of Montmartre, means that waits shouldn't be too long.
Sign up here for our daily Paris email and be the first to get all the food/drink/fun in the City of Light.
Bryan Pirolli is a Paris-based writer, photographer, tour guide, and PhD candidate at the Sorbonne who is more than likely currently drinking wine. Follow him on Twitter right here.