For the price of a nice dinner out in Paris, you could probably buy a round-trip ticket to Naples and have all the world-class pizza you could ever want... but dealing with turbulence & security sucks, so here are the best places to get some real-deal, homegrown, delicious pizza right here in Paris.
Bastille
What you're getting: The Lipari
The pizzas here are all on par, like the Lipari with mushrooms and Prince de Paris ham, though most patrons know the address better for its cocktails. Push through that nondescript door at the back of the restaurants to enter into one of the city's coolest speakeasy-style bars. The pizza is a delicious front for it all.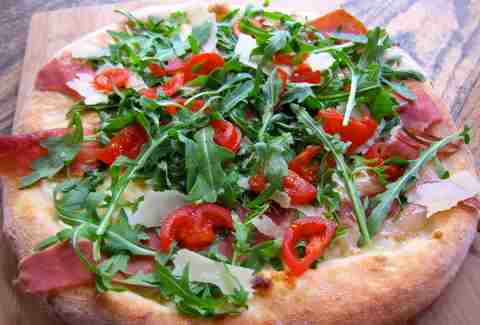 Canal Saint-Martin
What you're getting: The Diavola
You may need to wait in the bar across the street for a table, but it's worth it. Classic pizzas seem to come straight out of Naples, like the Diavola with spicy sausage. It's the go-to in Paris for a solid pizza experience,and it's located just a block away from the hipster-laden Canal Saint-Martin.
Marais and Montmartre
What you're getting: The Basquiat
Opened by a Franco-American couple, Pink Flamingo is the winner for most creative gourmet pizzas, including the Obama (with ham and pineapple chutney) and the Poulidor (smoked duck breast, apple, and goat cheese). It's best just to try them all, if possible. The Basquiat, with Gorgonzola, dried figs, and Auvergne ham is a best-seller. All pizzas are served on organic flower crust, and PF will even deliver by bike, so your carbon footprint stays small.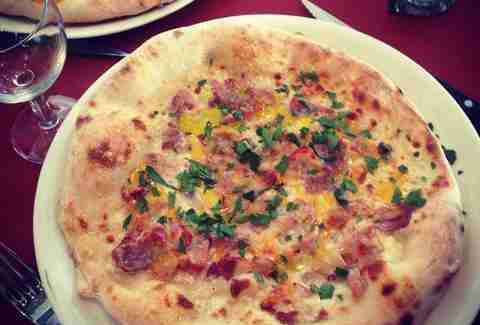 Upper Marais
What you're getting: Any of its white pizzas
Attractive locals mix with the rest of us who just love good pizza. It's a no-frills pizzeria with some of the city's best white pies, if you dare go that route. Topped with arugula and speck ham, the perfectly baked crust gets a chance to shine without all of that delicious and obtrusive tomato sauce.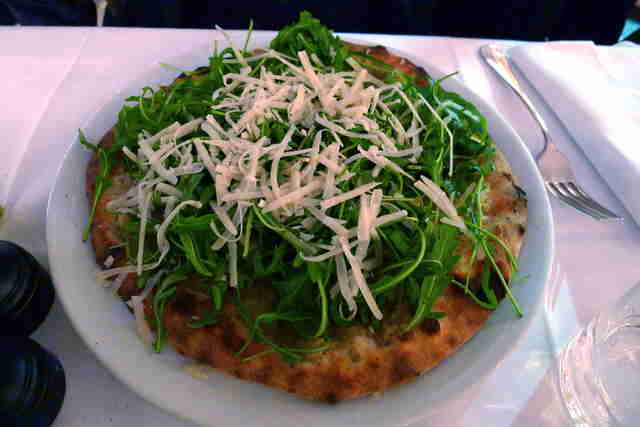 Saint Germain
What you're getting: Carciofi or Crudaiola
Drool over the Carciofi with artichoke cream, arugula, and Parmesan, or go simple with fresh arugula and cherry tomatoes on the Crudaiola. It's not the city's cheapest pizza (as the name would suggest), but it's well worth the few extra euros for those with a craving on the Left Bank.
Oberkampf
What you're getting: Gamberetti or the Zucchini
Rome-style pizza, cut into squares and priced by weight, makes Al Taglio a dangerous affair. Just try and stick to one slice. It's impossible. The Gamberetti, with shrimp and ricotta cheese or the Zucchini, with dried tomatoes and, you guessed it, zucchini, are solid choices among the daily offerings. It has several locations on both banks.
Père Lachaise
What you're getting: Vegetarian or Cocotte
In the chic Philippe Starck-designed Mama Shelter Hotel, this restaurant serves up some of the best pizza you'll find in this corner of Paris. The Cocotte, featuring marinated chicken, mushrooms, arugula, and a touch of cayenne, along with the Vegetarian, featuring roasted red peppers, eggplant, and tapenade, are great breaks from the herd.
Montorgueil
What you're getting: Pizza Fritta
One of the specialties here is the Pizza Fritta -- fried instead of baked. It also has excellent traditional pizzas like the Do rrè with fried eggplant and ham topped with basil. It's strictly Italian here and the décor won't let you forget that.
Strasbourg Saint-Denis
What you're getting: Pizza Ortolana
This tiny, unassuming street is better known for its ladies of the night, but the pizza here is absolutely top notch. Classics like the Ortolana, topped with fresh veggies, are perfect to take out or eat at the pizzeria with a pitcher of wine. The list of special pizzas is also tempting -- and with no pie costing more than 13 euros, it's a steal.
Delivery
What you're getting: Anything that sounds bizarre
If you want to try something a bit more, well, unusual, call in for Speed Rabbit. France's response to Pizza Hut and Domino's, it's not the highest-quality fare in town, but with names like Nebraska Beef (ground beef and potatoes) or Let it Bee (goat cheese and honey), it's definitely some of the most unique pizza in Paris.
Batignolles
What you're getting: Medunina
Giving things a French touch, Corsican native Cyril bakes up noteworthy pies in the up-and-coming Batignolles neighborhood. The Medunina with olives, thyme, and either Gruyere or Emmenthal cheese is not your Italian grandmother's pizza. Don't worry though -- traditional Italian ingredients also make appearances for the purists.

Bastille
What you're getting: Pizza Regina
Line up with the locals to snag a seat at this no-reservations pizzeria. Italian waiters bark at each other as they serve up antipasti, seafood, pasta, and of course, the all-star pizzas. Copious and baked to perfection, the Regina, with prosciutto, buffalo mozzarella, cherry tomatoes, and fresh basil leaves is a no brainer, but just one of many choices to consider.

Sign up here for our daily Paris email and be the first to get all the food/drink/fun in the City of Light.