Paris has a lot of really, really old restaurants. But on the other side of the spectrum, it also has a ton of extremely new ones. These youngsters are all hoping to one day also grow into super-old legends. Which ones will make it? You decide:
This simple, tiny coffee shop, just off rue Oberkampf, offers up chai tea and cold brew coffee. It's Aussie-run, so you can be sure the coffee is as good as it'll get in Paris. If you can get a seat during lunch, try the peppery Israeli shakshouka dish or one of their weekly sandwiches.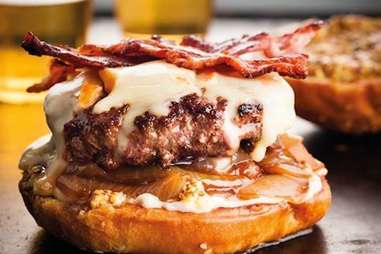 La Seine
Arguably one of the best burgers in Paris, the city's first food truck decided to take things to a new level with the first food boat on the Seine. Yes, food trucks are already passé, and we've moved to the water, where clients can find the burger boat stationed at several points during the week. The burger balloon is next, ensuring that Parisians will never be denied a delicious greasy meal.
Located on the 6th floor of the new Jean Nouvel-designed Philharmonie de Paris, this chic bistro caters to those popping in for a concert with short meals and sharing plates. You need not attend an event to dine here. Chef Karil Lopez offers a more elaborate meal based around specific seasonal products for those who simply want to say they dined in the spaceship-like Philharmonic.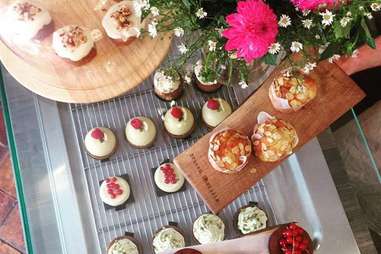 The Irish and British duo behind Broken Biscuits has been providing pastries to other shops for a while before now launching their own coffee and pastry shop this summer. The homey little location is the new spot to head to for some anglo-inspired pastries -- think scones and carrot cake. They also do savories like sausage rolls to feed your inner Brit/Irish/Aussie.
A second outpost of Deux Fois Plus de Piment, this new location by the Centre Pompidou continues to pack as much spicy Szechuan punch as its forerunner. Their noodles and pork dishes are some of the spiciest you can find in Paris, a rare thing since the French usually quit if their tongue tingles at all. The rest of us can enjoy setting our tongues on fire, and for cheap to boot.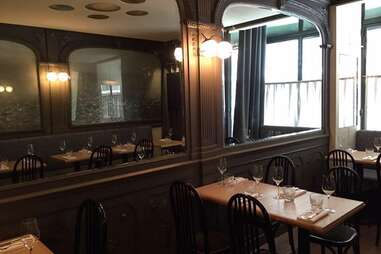 The American chef behind the restaurant Spring, Daniel Rose opened his newest endeavor, La Bourse et La Vie. While French chefs are busy with burgers and grilled cheese, Rose pays homage to the bistros of old, renewing classic dishes (USA to the rescue again). Artichoke and foie gras salad, steak frites, and homemade pastries like lemon tart are all on the menu. It's tiny and popular, so reserve well in advance.
This wine bar outlet of the nearby restaurant Pages is a rare find off the Champs-Élysées. Affordable, comfortable, and actually good, the restaurant and its Japanese chef offer a wagyu burger, bento boxes, and sharing plates. Wash it all down with one of their cocktails, some natural wine, or just a bit of Japanese whisky, if not all three.
Because a gimmick always works, Bulliz decided to base their entire menu around choux pastry. There are already several shops in Paris selling only sweet cream-filled choux pastry, but why not savory ones? With sandwiches and savory gougères all made from choux pastry, it's something a little different for Paris. With sweet choux selling for one euro, it's also a good deal, if nothing else.
Located just south of Pigalle (or SoPi as some people -- not us -- call it) this little bar doubles as a bistro with duck tartare and -- surprise -- a burger, among other plates. Their signature vodka, cucumber, raspberry, and apple cocktail is just one of many drinks and beers available. It's small, friendly, and yet another solid opportunity to drink delicious things around Pigalle.
This no-reservations pizzeria might be a new one to add to our list of best pizzerias in Paris. Just south of the tourist traps around Montmartre, expect giant pizzas served up by hipster-types in a tiny industrial-chic setting. The food is good, the service is attentive, and the location is perfect for all that is trendy and up-and-coming. We'll see how long it lasts.
Yet another little neobistro, NANA is all about fresh, sometimes organic, usually local, and always pretty food. Some Asian influences like tofu and sesame sneak in alongside fish and meat dishes, but the menu changes constantly with the seasons. They also serve up their version of breakfast -- not something many bistros offer in Paris -- with a matcha latte, gluten-free granola, and cakes.
Everyone knows Christian Constant and his two restaurants by the Eiffel Tower – Les Cocottes and Café Constant. This year he's opened up another Cocottes location on the Right Bank at the chic Sofitel Arc de Triomphe hotel. Affordable, delicious, and a short walk from the Champs-Élysées, it's a solid choice if you don't want to sell a kidney for halfway decent food in the neighborhood.
Sign up here for our daily Paris email and be the first to get all the food/drink/fun in the City of Light.
Bryan Pirolli is a Paris-based writer, photographer, tour guide, and PhD candidate at the Sorbonne who is more than likely currently drinking wine. Follow him on Twitter right here.