The 10 best breakfast spots in Paris
Some people might think that breakfast in Paris consists of a croissant, a cigarette, and a momentary existential crisis -- but trust us when we say, it does not, and here are 10 places that prove it...
10th arrondissement
Opened in the fall of 2013, Holybelly has become the breakfast spot in town. Here, they do eggs and they do them well and you're sure to find a few French treats on the menu (like boudin noir sausage). Bread comes from the vaunted bakery down the street, Du Pain et Des Idées, and you can be sure that the coffee you're drinking is roasted locally as well.
What you're getting: Yes, they've been known to top pancakes with bacon on occasion, so ask for that.
2nd arrondissement
You want bacon and you want it now. Look no further than the bacon breakfast sandwich at Frenchie To Go. It's served on an English muffin and you can certainly add an egg or cheddar. Still not enough for you? Get a house-made sticky bun. Then top it all off with a maple syrup and bacon scone.
What you're getting: Um, bacon breakfast sandwich
2nd arrondissement
Coffee bar and cocktail joint Lockwood is the kind of place you could technically stay at all day. They open at 8am for breakfast, do lunch later in the day, and in the evenings, it's all about the aperitivo. They serve freshly made juices for the health-conscious crowd, but hell, that's not you, so don't worry. There's bacon, too.
What you're getting: The house specialty is buttermilk biscuits and gravy, and it's delicious.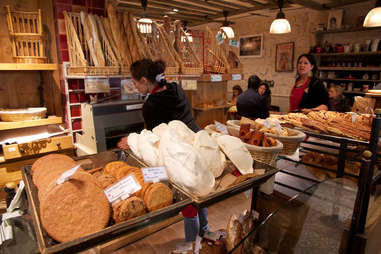 18th arrondissement
If a fast-paced bakery is more your style, then take a seat at Coquelicot in Montmartre. There're several different breakfast menus at this two-level bakery/restaurant, and you'll be sure to get your coffee served in a big-ass bowl. Whatever you order, just be sure you also get an almond croissant. You're in Paris, after all.
What you're getting: Oeufs à la coque; semi-boiled eggs served with bread slices to dip in the yolk
1st arrondissement
A store dedicated to breakfast? Oh yes. Called "l'épicerie du petit-déjeuner", Claus is an upclassed delicatessen that specializes in all things breakfast, which means if you need to stock up before treating yourself to a casual breakfast picnic on the Seine, this is the place to come. You can of course hang out and eat here as well.
What you're getting: One of the set breakfasts -- they all come with eggs, and a basket of pastries
6th arrondissement
While the French may not be known for their savory breakfast spreads, they have made one significant morning meal contribution: oeufs en cocotte. This creamy egg dish is baked in ramekins, but of course Eggs & Co. also does eggs pretty much any way you can imagine.
What you're getting: How do you like your eggs?
10th arrondissement
Smörgås means "sandwich" in Swedish, and yes, we're talking the open-faced kind. There's a breakfast menu for 7€ which gets you two sandos, a dark filter coffee, and a freshly pressed juice, making it one of the better breakfast deals in town.
What you're getting: Something Scandinavian on dark rye bread
9th arrondissement
Started as an organic bake mix company, the sisters behind Marlette are all about tasty sweet treats, especially for breakfast. You'll find an assortment of muffins and even pancakes, as well as French classics like oeufs à la coque or good, old-fashioned petit déjeuner fermier.
What you're getting: A stack of their pancakes
7th arrondissement
Close to Saint-Germain, go to Coutume if you're in need of strong, good coffee and lots of it. This local roaster has become a favorite of coffee lovers in town, and the carefully made filter coffee pairs well with the combination of sweet and savory breakfast choices that're always available. Brunch on weekends is a big deal, so expect a crowd.
What you're getting: Brunch Les Ogres -- scrambled eggs, baked potato w/ chopped hazelnut & chives, bacon, sausage, and a trio of pastries
2nd arrondissement
While Parisians do love a good weekend brunch, here, it's all about a big brunch all week long, and at Twinkie Breakfasts, they're giving the love to all the places in the world that love a big breakfast.
What you're getting: Smoked salmon for the Scandinavian brunch, bacon for the British one, and pancakes for the Americans. Make your choice.
Sign up here for our daily Paris email and be the first to get all the food/drink/fun in the City of Light.