<strong>Les Philosophes |</strong>&nbsp;Robert Hunter /&nbsp;<a href="http://rebusparis.com/" target="_blank">rebusparis.com</a>
While the ultra-expensive fine dining options in Paris are nearly endless, some of the city's best food is surprisingly affordable... even cheap. So if you're on a budget (or you just don't want to break the bank every time you eat out), you'll want to hit up some of the city's best dishes that'll set you back only 10 euros or less (Michelin stars not included).
<em>Oberkampf</em><br />
While the coffee and pastries here are enough reason to go any time of the day, get there at noon for the peppery shakshuka. At six euros, this warm, spicy egg dish delivers a punch of flavors you won't find in most Parisian cafés. And you'll have enough left over for a cup of coffee afterwards.<br />
&nbsp;
<!-- single line template -->
<em>Marais</em><br />
Baguette sandwiches can sometimes get boring, so the little shop in an old garage tucked away in the Marais does something a bit different. The Belgian sandwich called the <em>pistolet</em> is served on softer bread, and is filled with hot or cold concoctions, like duck, spiced apples, and balsamic onion sauce. At just eight euros, it's a thing you can almost get two of, and still be on budget...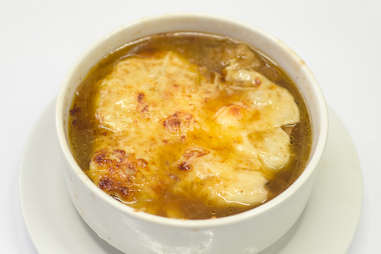 <em>Marais</em><br />
Finding a good, affordable, traditional café in Paris isn't as easy as it sounds. Some have cheap but poor food, and the good stuff usually goes beyond the 10 euro budget. At Les Philosophes, however, both cheap and good collide. The onion soup, at nine euros, is a cheese-topped meal all by itself. Remember that bread comes with everything, so the calorie-to-euro ratio is in your favor.<br />
&nbsp;
<!-- single line template -->
<em>Upper Marais</em><br />
The take-away crepes at this stall in the Marché des Enfants Rouges are some of the most monstrous you'll find in Paris. Stuffed with Parmesan, ham, tomatoes, and basically a whole head of lettuce, they are literally dripping with deliciousness. It may take up to 30 minutes to score one of these crepes, but at under 10 euros, it's worth the wait.
<em>Les Archives</em><br />
Solid, Italian-style pizza is easy to find in Paris, but Pink Flamingo has upgraded it: their four shops across the city have some crazy pizza combinations, but their classics are just as good. At just 9.50 euros take-away, the Dante (a cheese pizza topped with fresh tomatoes and basil) is a super-solid choice. If you're lucky, you'll have some left over for breakfast... the pizzas are just as good eaten cold the next day: tested and approved.<br />
&nbsp;
<!-- single line template -->
<em>République</em><br />
France brought Vietnam the baguette. Vietnam in return gave France the banh mi. This Vietnamese sandwich consists of pork with fresh carrots, cucumber, and herbs on a crusty baguette. At this small, nondescript shop off Place de la République, they pack some heat into this delicious sandwich with chili paste. So if you ask for it spicy, be prepared for it to burn so good... though at just 7 euros, at least it won't be burning through your wallet.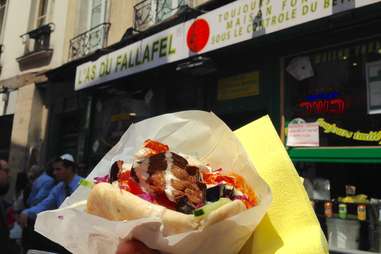 <em>Marais</em><br />
Ah, falafel: the king of cheap eats in Paris. For just six euros, the sandwiches at L'As, topped with marinated eggplant and fresh cabbage, are pretty much objectively the best thing to eat on rue des Rosiers. Pro tip: be sure to ask for the spicy sauce on top.<br />
&nbsp;
<!-- single line template -->
<em>Latin Quarter</em><br />
Paris is no San Francisco when it comes to burritos, but the team at Bocamexa comes pretty close. Its generous bean- and meat-filled burritos fit the bill, ringing up at just around 10 euros. Students and homesick expats typically frequent the little shop on rue Mouffetard in the Latin Quarter, one of the only reliable Mexican joints in the whole city... yeah, we said it, Chipotle.
<em>St. Thomas d'Aquin (&amp; other locations)</em><br />
Bakeries offer the best bang for your buck when it comes to traditional French items... plus, they are seriously on basically every corner. Various combinations of salads, sandwiches, and quiche with a drink and dessert can cost below 10 euros at any of the Eric Kayser bakeries in Paris. This <em>formule</em> is the best way to go when trying to make the money last.<br />
&nbsp;
<!-- single line template -->
<em>Belleville</em><br />
A favorite in the Belleville district, this no-reservations restaurant serves up one of the city's cheapest bo buns. This Vietnamese dish is a simple bowl of vermicelli swimming in a special sauce, and topped with beef &amp; fresh vegetables, as well as spring rolls. Add a little Sriracha for an extra kick.<br />
<br />
<em><a class="vortex-open" data-campaign="5340" href="https://signup.thrillist.com/&quot; target="_blank">Sign up here</a> for our daily Paris email and be the first to get all the food/drink/fun in the City of Light.<br />
<br />
<a href="https://www.thrillist.com/authors/bryan-pirolli&quot; target="_blank">Bryan Pirolli</a> is a Paris-based writer, photographer, tour guide, and PhD candidate at the Sorbonne who is more than likely currently drinking wine. Follow him on Twitter <a href="https://twitter.com/whereisbryanp&quot; target="_blank">right here</a>.</em>