Let's face it -- no one who visits the City of Light plans to leave any lighter. There's such an abundance of iconic food & drink (all of which you're pretty much legally obliged to try), it can be tough to know where to go & what to get, which is why we've narrowed down the dizzying array of foodstuffs to the essential components, and found the quintessential spots to get them. So what are you getting?
1. Baguette at Au Paradis du Gourmand
14th arrondissement
For this one, you're going to have to head a little off the beaten track to the 14th, where you'll find Au Paradis du Gourmand and artisan baker Ridha Khadher. His baguette snagged the official "Meilleure Baguette de Paris" award for 2013, beating the yeasty snot out of over 150 other vaunted bread pipes to win it.
2. Croissant at 134 RDT
3rd arrondissement
Since there's a Best Baguette contest, there're no prizes for realizing that there's a Best Butter Croissant award too. This year's blue ribbon went to Romain Thomann, who works at his family-owned bakery Boulangerie Thomann -- unfortunately it's slapped right on the edge of the city in Lilas, making it too much of a hike for the morning, and meaning the real flaky winner here is the croissant by Benjamin Turquier of 134 RDT in the Marais, nestled right in the centre of town, and just as delicious.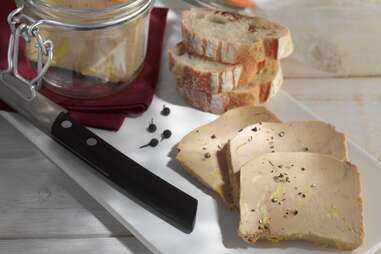 3. Foie gras at Lafitte
4th arrondissement
Selling since the '20s, the Lafitte boutique, located on Ile Saint-Louis, supplies its many varieties of its famed foie to French chefs around the world (as well as just regular peeps), earning a near unassailable rep in the world of fatty goose livers. In fact, the shop sells pretty much only foie gras, in dozens of homemade varietals, and they're not above handing out a few samples.

4. Steak frites at Au Boeuf Couronné
19th arrondissement
If you want good steak, best to go to the source, and there's no better source than the old stomping grounds of Paris's slaughterhouses at La Villette, aka Cité du Sang. Opened in 1865, the menu hasn't really changed since then, centerpieced by a hearty & reasonable rump from Normandy beef sided by herb-laden fries.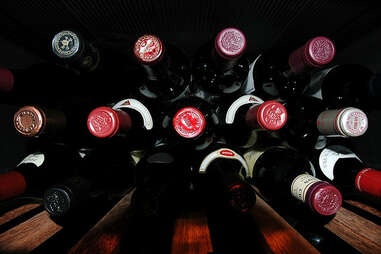 5. Wine at La Buvette
11th arrondissement
Sure, the city is practically flowing with grape hooch, but you want to make sure you get the good stuff, and why not from a small, award-winning space that's as happy to serve you a glass as to sell you a bottle to go? Owner Camille Fourmont (who acts as waitress, sommelier, and chef) has curated a small-but-perfectly-formed list of occasionally obscure and cultish vinos at her bar La Buvette, and's now won Best Cave a Manger 2013 from the awesomely named French food guide Le Fooding. The place itself has only a few tables, and as the name indicates (buvette basically means a "small bar where you can buy refreshments") and'll net you a near-perfect glass/bottle, plus some delicious charcuterie & cheese to top it off.
6. Cheese at Chez Virginie
8th arrondissement
Finding your favorite fromager in this town can take years. Not only does it depend on what kind of cheese they sell, but also their personality (and attitude towards free samples). One spot that tends to pop up on a lot of locals' list of favorites, however, is Chez Virginie. Learned from her father, owner Virginie has been in business since 1946 (!), and she still sells only raw-milk cheeses as well as offering a slew of classes and tastings (phew) so you can improve your Franco-fromage knowledge.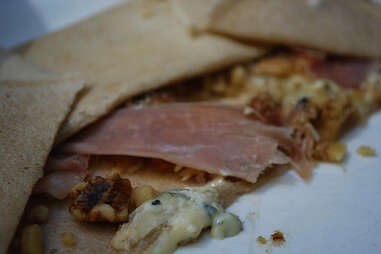 7. Crepe at Ti Jos
14th arrondissement
Anyone can get a mediocre crepe pasted together on any street corner in the touristy hubs of Paris (or like, any other major city), but a real crepe? While the wafer-thin pancake has become an iconic food of the French capital, they actually originate from Brittany, meaning if you're on the lookout for the real deal, you gotta head to Ti Jos. Serving since '32, it's one of the city's oldest Breton institutions, and slings its vaunted savory treats with a list of oakey hard ciders to wash them down.