10 Things You Didn't Know About Rita's Water Ice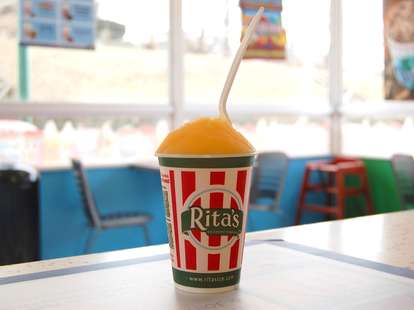 Unless you've spent your life making bad decisions, you probably know something about Rita's Water Ice (it comes in over 65 flavors, it's... um, made with ice, and totally crush snow cones). But there are even more things you don't know about this Philly (and now worldwide) institution. Want proof? Here're 10 things you don't know about the dessert destination, assembled with some help from the good people at Rita's themselves, but not the founder, as you'll see if you read below...
1. Rita's was founded by a Philadelphia firefighter named Bob Tumolo in 1984.
He founded it with help from his mother and his mom. But dude didn't start working there full-time until after he was injured on a call six years later.


2. Yes, "Water Ice" is redundant, and is really just Italian ice.
But "Wooder Ice" just sounds better in "Fluffya." Oh, and if you want a green one, it's "Go Iggles"!
3. At first, Rita's ices came with chunks of fresh fruit.
They soon lost the chunks, but still flavor 'em with fresh fruits and serve 'em within 36hrs of mixing.

4. Tumolo named Rita's after his wife...
whom he divorced around the same time he sold the company in 2005. Today, Bob wants nothing to do with the business he started.
5. Today there are over 600 stores in 21 states and several countries.
These include India, various Caribbean nations, and China. Where instead of "Wooder Ice," Rita's signature product is called... um, something in Chinese, presumably.
6. Almost all Rita's stores are walk-up window only.
Except this one in a former Dairy Land in Roxborough, where it's got a drive-through window, and most importantly for the kind of person who really likes dessert, chairs.
7. In addition to its own ices, custards, etc., Rita's has partnered with brands like Oreo on cookie sandwiches.
It's even made treats flavored with Swedish Fish, Sour Patch Kids, and Peeps, which sadly you won't... um, peep there now, since they stopped making 'em.
8. Rita's first new product this century was the Blendini.
Translation: a custard/ice combo you can top with things like gummy bears, Nerds, Fruity Pebbles, chunks of Heath bars or Reese's Pieces, Oreo bits, M&M'S, Nilla Wafers, etc.
9. Some Rita's also sell stuff in the next-best food group besides dessert: carbs.
Like these soft pretzels from Tasty Twisters in Roxborough.
10. Every year since 1992, Rita's has given away free water ice (1.2 million gallons worth in 2012) on the first day of spring.
Mark your calendars.
Sign up here for our daily Philly email and be the first to get all the food/drink/fun in town.