Cookie Confidential's newest ice cream sandwich of the month is the second most awesome thing ever: chicory coffee ice cream from Foam Floaterie sandwiched between two Mexican coffee cookies, and rolled in tortilla chips.
Previous Venue
Next Venue
Venue Description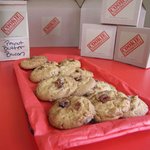 1. Cookie Confidential
517 S 5th St, Philadelphia, PA 19147 (Society Hillqueen Village)
This airy cafe serves up One Village coffees and ice cream from Franklin Fountain along with fresh-baked cookies (chocolate/vanilla-swirled peppermint; key lime coconut), muffins, brownies, and macaroons.