New restaurants open around Philly as often as your stomach growls, and if your beach body's told you anything this Summer, it's that the city's dining scene's seriously bulking up. So we've rounded up five of the latest meaty eateries eager to help you do the same, from that up-top-and-across-the-Delaware Arkansas barbecue whole hog'wich, to the latest Brewerytown sammy-and-bottle shop.
Recommended Video
Ghost Kitchen: How This NYC Restaurant Is Responding to Coronavirus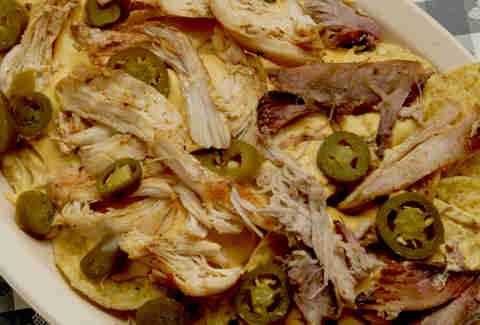 Whole Hog Cafe
Cherry Hill, NJ
This BYO's been taking home trophies before it opened (it won the NJ State BBQ Championship this year) and now it's sending you home with nothing but prized Arkansas-style 'cue, like coleslaw-piled whole hog sandwiches, pulled pork-stuffed potatoes, and full slabs of dry-rubbed ribs all waiting to be doused with a half-dozen house-made sauces from vinegar to Volcano.
Check out every flavor in between right here
Rybrew
Brewerytown
The crew behind Fairmount cafe Rybread just opened a bi-level bottle shop, where wall-to-wall local and seasonal brews (Imperial Pumpking, Flying Fish Exit 16) are stacked as high as these across-the-aisle sandwiches. There're 18 sammies for brown-bagging or pairing with your suds upstairs, from the three-cured meat-and-Prov' Philadelphia, to a Reuben panini served on marble ry(e).
And yes, they offer delivery too
Talula's Daily
Old City
Ever wondered how impossible it must've been to score a reservation at Talula's Table? Try your luck at Talula's Daily. The Stephen Starr-backed market cafe's grab-and-go by day, but switches over to family-style service at 7p nightly, only offering up one 12-top for five-course seasonal feasts of crispy squid, meatballs simmering in garden tomato sauce, and that possibly-still-mooing beef.
Peek what's on the menu this week
Mugshot Diner
Fishtown
You'd think a neighborhood with its own pizza museum would have the basics covered, but Mugshot's finally bringing them to Fishtown in the form of a 150-seat neon-lit diner serving half-pound Texas-style cheeseburgers stuffed with mushrooms, onions, and green peppers under melted Monterey Jack, classic black-and-white shakes, and all-day breakfast staples like creme brulee French toast and three-egg omelets 'til 2a nightly and 24hrs a day every weekend.
And it wouldn't be a diner without a 10-page (!) menu
The Farmacy
UCity/West Philly
A former West Philly resident who discovered beloved brunchery Rx had shuttered just reopened it as The Farmacy (nicely done), a rustic BYO dining room and outdoor cafe serving chipotle cheddar burgers, steak frites with truffle Parm-ed fries, and what appears to be heart-shaped Arctic Char over the top of some potato-crab hash. There're also weekend morning classics like amaretto French toast and Philly Bennies you can wash down with their house-made Bloody Mary mix spiked with your own supply.
Wait, you don't know what's in a Philly Benny?