Any Philly resident knows this is a city of neighborhoods; walk a couple miles and you'll pass through at least three, each with its own personality -- and, thankfully, its own brunch. This leaves us with arguably too many options, so to simplify things, we've pinned down one must-try brunch in 32 Philadelphia neighborhoods, including unique buffets, outrageous bottomless offerings, and see-it-to-believe-it breakfast hybrid dishes. Here are your plans for the next 32 weekends.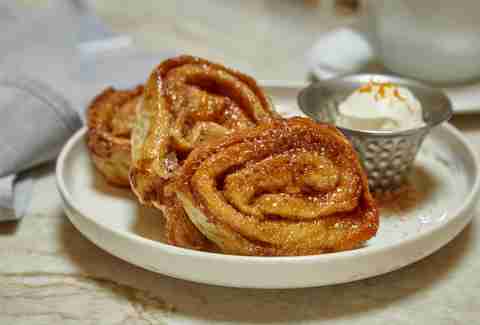 Avenue of the Arts
Aqimero
Posh hotel restaurant serving Pan-Latin fare
The Ritz-Carlton's seafood-centric Pan-Latin restaurant is your go-to for seriously indulgent brunch. For $50 a pop, treat yourself to bottomless savory and sweet selections, including lobster avocado toast and greek yogurt brulee, plus an endless supply of so-called brunch "bubbles," meaning mimosas, bellinis, champagne, and any other fizzy thing you can pair with juice and call a breakfast drink.
Bella Vista
Royal Tavern
Cozy American cuisine with trendy drink list
Because Royal Tavern already understands the importance of an open-late kitchen -- serving its full menu everyday through 1am -- it's no surprise they don't back down when it comes to brunch either. For a languid six hours, 10am to 4pm, you can score weekend brunch additions in the form of bacon and brie pancakes, over-the-top savory breakfast sandwiches, and delectable vegan scrapple.
Brewerytown
Green Eggs Café
Local brunch favorite with alternating specials
One of Philadelphia's most beloved brunch dynasties has sunk its teeth into burgeoning Brewerytown, marking its fourth location in the city -- with two more planned for Rittenhouse and the shore later this year. Like the locations in Midtown Village, Northern Liberties, and South Philly, expect nuanced brunch dishes such as salted caramel French toast and alternating specials served every single day.
Callowhill
Cafe Lift
Relaxed industrial cafe serving locally sourced goods
Cafe Lift has been serving brunch daily for more than 10 years now (it's even expanded to the Main Line borough of Narberth), and its 8am to 3pm service is still as reliable as ever. Like much of Philly's best, everything is hyper-local and hyper-seasonal -- including coffee from Rival Bros. and the freshest ingredients from local producers.
Cedar Park
48th Street Grille
Caribbean classics with a Jamaican focus
Traditional brunch gets a Caribbean twist at the beloved 48th Street Grille, where you can score pulled Jamaican chicken hash with peppers and fried egg, braised oxtails with lima bean gravy, or go for the full Bayou breakfast special with fried catfish, cornbread waffle, gravy, onions, and collard greens.
Chestnut Hill
Cake
Airy greenhouse restaurant focused on eating local
Cake packs in all the twee brunch ambiance you'll ever need, housed in an effervescent greenhouse and surrounded by lush greenery. Luckily, the food is also delicious. Breakfast is served daily, whether it's something from the bakery, a heaping helping of home fries, or a generous smoked salmon plate.
Chinatown
Hidden Gem Cafe
Nuanced dishes with Hong Kong inspiration
While we strongly feel that any Asian cuisine can be appropriate breakfast fare, Hidden Gem Cafe caters to more discernible brunch-centric palates, serving a Hong Kong-style breakfast of ultra-affordable four-course meals, including stir-fry noodles and peanut butter-filled eggy toast.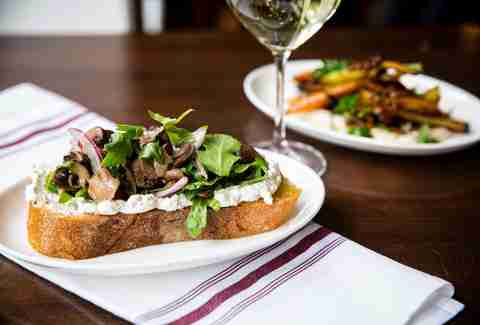 East Passyunk
Brigantessa
Cozy two-story space serving Neapolitan pizzas and artisanal gelato
Obviously breakfast pizza should be an option at any Italian-adjacent establishment. What makes a pizza a breakfast pizza, you ask? Eating it before noon, to start, or -- more realistically -- putting an egg on it. Also, eating it with a mimosa can be a qualifier. Brigantessa offers its best artisanal pies for the late brunch circuit, plus a smattering of savory sides and a bottomless brunch option for mimosas and other cocktails.
Fairmount
Sabrina's Cafe
Line-inducing daytime cafe with over-the-top brunch dishes
Sabrina's, on par with its four other local locations, is an ongoing Philly brunch institution, its stuffed challah French toast the stuff of Philadelphia food legend. If you're more into savory over sweet, opt for one of the always-updating breakfast burgers, which usually come topped with tater tots or fried eggs between a breakfast biscuit.
Fishtown
Kensington Quarters
Meat-focused eatery with artisanal butchery on site
If you're craving brunch classics without all the froof, Kensington Quarters has your back, offering no-nonsense eggs, hash, pork chops, grits, and other savory-leaning dishes, all alongside a lighter menu of grains and assorted charcuterie. Brunch also comes with a set of fresh seasonal cocktails, including a coffee hybrid Caffe Corretto and a chamomile-infused gin and prosecco offering.
Fitler Square
Trattoria Carina
Casual corner Italian bistro and wine bar
Trattoria Carina offers its own Italian-centric brunch dishes -- an arugula pesto meatball sandwich between a crusty baguette, a fried egg sandwich with fennel sausage, and seasonal bruschetta, all of which pair quite nicely with that Aperol spritz on the menu.
Francisville
Bar Hygge
Welcoming brewpub with elevated comfort food
Learn the true meaning of this Scandinavian "Hygge" concept over Monte Cristo waffles, avocado crema home fries, and freshly baked blueberry corn muffins. Enjoy all this from the alluring, cozy digs that draw you to linger there all dang damn day.
Graduate Hospital
Honey's Sit 'N Eat
All-day BYO eatery with cult following
Yes, you will encounter a boggling line whether you go to the Honey's in South Street or in Northern Liberties, but once you settle in and dive into a gigantic stack of pancakes, the wait will be all but forgotten. No-frills classic breakfast is the key every day at Honey's -- they even offer a $5 breakfast special during the week -- so embrace it with the classic breakfast platter of eggs, bacon, and pancakes for the best experience.
Italian Market
Monsú
Intimate Italian BYOB with prix fixe menus
Sundays are no joke at Monsú. In addition to serving a generous family-style dinner in the evening, brunch time means three-course, $25 tasting menus for customers, including egg-dipped mozzarella, prosciutto-stuffed crepes, and lasagna bolognese... with an egg, because Monsú gets it!
Kensington
Cook & Shaker
Craft beer-focused American gastropub
This gastropub specializes in nuanced comfort food, taking that warm, happy feeling in your belly to the next level via cheesy black bean breakfast tots, waffle BLT breakfast sandwiches (fried egg optional), and zeppoles -- fried dough with sugar fairly adjacent to a beignet. Cook & Shaker updates the menu weekly to stay super fresh and local, so be sure to check back for its ongoing specials.
Logan Square
Urban Farmer
Farm-to-table steakhouse in a Parkway hotel
In the ground floor of the Logan Hotel, Urban Farmer is like if Anthropologie went farm-to-table. The steakhouse ages its own meat onsite, offering ultra-fresh brunch dishes like steak & eggs (of course) and the breakfast burger every weekend. It's not all meat-centric dishes though; potted smoked salmon, the crab omelet, and the veggie frittata are all standouts.
Manayunk
Lucky's Last Chance
Craft beer and creative burger joint big on savory sides
The jury is still out on whether a stop at Lucky's will cure your hangover or make it much, much worse, but we're willing to take the risk for savory Main Street tots, donut-fried chicken hybrid sandwiches, and mimosas opting for beer over champagne. Lucky's usually updates its brunch specialties every week, with different offerings on Saturday and Sunday, plus some variants at their sister location in Queen Village.
Midtown Village
Bud & Marilyn's
Mid-century-inspired Americana fare
Bud & Marilyn's generous brunch cocktail menu and smattering of shareable plates make it an ideal sport for a lively group brunch. Order a round (or several) of the highly addictive fried cheese curds, but save room for pecan cinnamon rolls as well. Lemon ricotta pancakes are the perfect way to satisfy your morning sweet tooth, or go all in on the shrimp po' boy Benedict with poached eggs.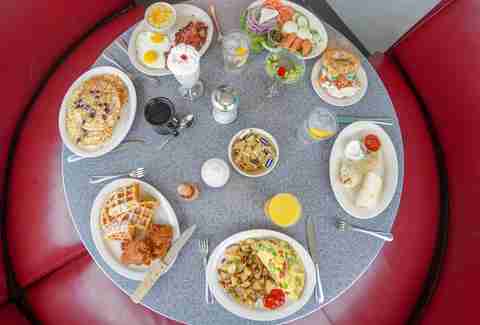 Mount Airy
Trolley Car Diner
Family-friendly, diner-inspired cafe
This long-running breakfast and lunch spot near Fairmount Park takes inspiration from the trolley car diners of the mid-century, serving classics with a modern twist. Everything comes with a side of cheese grits or roasted potatoes, whether you opt for the Cinnabon breakfast sandwich or the cornbread scramble, plus you can also visit its sister location in East Falls.
Northern Liberties
Heritage
Seasonal, locally sourced menu in rustic space with live music
Heritage offers savory-focused brunch dishes that will fill you up for a day of walking and drinking around NoLibs. Try the shrimp and grits with red pepper sauce for an extra kick, or go for the open-faced croque madame with Lancaster-sourced ham. You'll also find some reasonably priced breakfast cocktails, including a $7 Aperol spritz and $6 Bloody Mary.
Old City
Ardiente
Clubby atmosphere serving inventive Latin Fusion
Ardiente's Latin-Asian fusion brunch is a hidden gem in a neighborhood already packed with popular brunch destinations. Stop in for a mostly savory brunch spread of empanadas, burrata, and the must-try chorizo congee. Oh, and if you're looking to experiment a bit, CBD add-ons are available for anything you eat or drink.
Packer Park
SOMO SoPhi
Hip multi-level restaurant and lounge with bottomless cocktails
The second location of the Manayunk original knows how to do brunch properly, meaning that it's offered -- along with bottomless cocktail options -- three days a week. Friday through Sunday stop in for endless mimosas, apple-filled baked pancakes, gravy and cheddar disco fries, and all the biscuits with gravy you desire.
Penn's Landing
La Peg
Indoor-outdoor restaurant focused on American fare with European influence
La Peg's new chef Mike Maronski is taking over this spring, introducing a revamped brunch menu to enjoy while you take in the view of the Ben Franklin Bridge. American comfort fare with some European influence still runs the game, including a parmesan-crusted grilled cheese sandwich with Raclette cabot clothbound cheddar. For breakfast you can also score peanut butter and chocolate beignets, so save room after destroying that creamy dish of shrimp and grits.
Pennsport
The Dutch
Neighborhood favorite for breakfast sandwiches and waffles
The Dutch has breakfast every single day from 8am through 3pm, with alluring cast-iron cooked sweet bread and savory scallion omelets. The fried chicken BLT on a parker house roll is also an instant breakfast necessity -- especially with a side of pancakes, which is very much an option.
Point Breeze
American Sardine Bar
Beloved indoor-outdoor bar with quirky food menu
One of Philly's favorite bars also has a killer brunch, and it's not just limited to half-price breakfast sardines. Crave-worthy traditional plates come with a twist, whether it's the vegan hoagie, the wings and waffles, or the grilled cheese with crab rangoon.
Port Richmond
Mercer Cafe
Elevated diner fare in a retro setting
This neighborhood favorite serves breakfast daily, offering an ideal destination when all you need in life is a perfect breakfast sandwich or omelet. Fresh goods from Le Bus and formidable home fries solidify it as Port Richmond's go-to.
Rittenhouse
Harp & Crown
Lush all-day eatery with sumptuous brunch buffet
You can get a little bit of everything at Harp & Crown's brunch, and there's no sense in doing anything but that. Stop by during the weekend to take in the grand buffet of delicate pastries, made-to-order omelets, cured meats, design-your-own donuts, artisanal cheese, and pretty much everything else, ever -- plus bubbly.
Society Hill
The Twisted Tail
Southern-inspired comfort food with live music
Southern comfort food meets brunch at Twisted Tail, where crawfish mac & cheese can easily be passed off as a brunch dish. There's also spicy big eye tuna, sweet potato waffles, smoked maple BBQ ribs, and lots and lots of sweet tea.
Roxborough
Taylor's Cafe
Laid-back neighborhood BYOB in renovated digs
Boozy brunch is a bit more affordable thanks to Taylor's BYOB policy, which can turn any brunch into a champagne party. The long-running breakfast spot got a makeover about five years ago, drawing younger crowds while holding on to its family-focused clientele with fluffy pancakes and generous breakfast burritos that adhere to all taste buds.
University City
White Dog Cafe
Long-running, elevated farm-to-table destination
Do you like an overwhelming array of dog portraits? Yes or no, you're in luck: For those with a penchant for canines, White Dog is filled head to toe with dog art, and for those who don't, brunch has a bottomless cocktail option that will make things blurry in no time. White Dog comes with a hyper seasonal menu, which doesn't stop when it comes to brunch, but no matter what you order be sure to opt for an ongoing flow of truffle parmesan fries as well.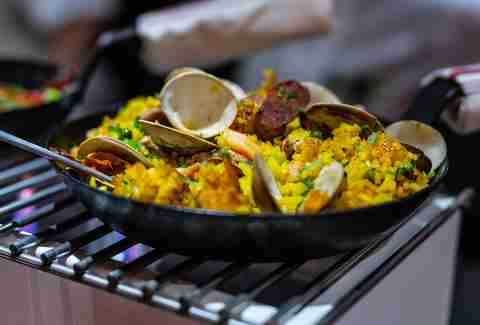 Washington Square West
Oloroso
Spanish tapas and cocktails in a warm atmosphere
Praise be, bottomless breakfast tapas have arrived! Chef Townsend Wentz' Spanish restaurant just rolled out its generous brunch offerings, amounting to dozens of delectable bites including escargot bizkaina, house-made chorizo, charred eggplant, shrimp toast, and much, much more.
Queen Village
Ants Pants Cafe
Vibrant eatery inspired by Sydney, Australia's cafe culture
The Australian-influenced cafe has a cult following in Queen Village and its sister location in Graduate Hospital, garnering local love thanks to classics like the maple bacon egg sandwich, the beef hash platter, and the Brie scramble with Italian sausage. Keep an eye out for the weekend's alternating specials, too, where you'll find eye-opening treats like an Oreo-crust French toast.
Sign up here for our daily Philly email and be the first to get all the food/drink/fun in town.