Given a last meal, we'd always choose brunch. It's the perfect meal, combining the best of breakfast and lunch, along with a totally acceptable reason to have that first drink before noon. And when brunching in Philly, there are a lot of choices -- so many, in fact, that we wanted to point out the best brunch options available right now, meals a lot more interesting than the standard bacon, egg, and cheese.
Lobster roll
The Olde Bar
Address and Info
Old City
While we highly recommend heading to the Olde Bar for the city's best happy hour, you can also get a pretty good brunch at Jose Garces' seafood-focused bar and restaurant on the weekends. Aside from the always-available -- and always-excellent -- raw bar, you can get fishified versions of brunch classics like a shrimp & crab BLT, poached eggs with soft shell crabs, and our pick, a lobster roll made with half of an entire Maine lobster. Wash down that lobster roll with the Olde Bar's Signature Fish House Punch, made with several kinds of rum, brandy, peach cordial, and lemon.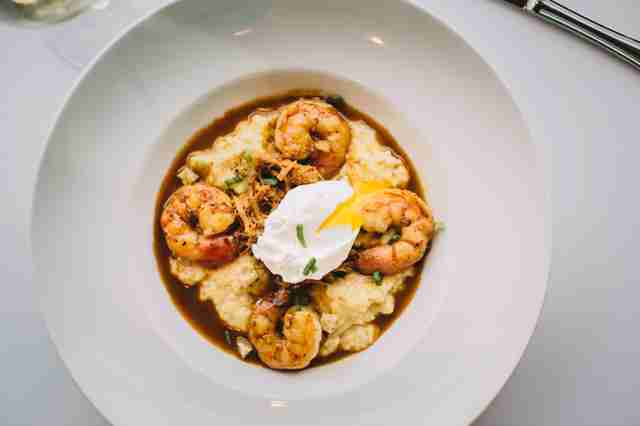 Shrimp & grits with pulled pork
Urban Farmer
Address and Info
Logan Square
Did you know that Pennsylvania was once home to over 800 grain mills and was referred to as the breadbasket of the country? With that piece of bar trivia in hand, head to the Urban Farmer in Logan Square to try the shrimp & popcorn grits. The grits come directly from Castle Valley Mill in Doylestown, one of the last old-school mills in operation, and are coveted by local chefs for their pure flavor and great texture. And while we'd probably eat a bowl of just the grits, Urban Farmer tops theirs with a soft poached egg, shrimp, and pulled pork.
Cardamom sausage & eggs
Tredici Enoteca
Address and Info
Gayborhood
Since it's never too early for a glass of wine -- in our opinion, at least -- Tredici Entoteca is the perfect place to grab that midday glass along with some home-run brunch choices. Our favorite at the moment is the Cardamom sausage and eggs, which come with sauteed broccolini, long hots, and slices of grilled toast. It's a complicated dish: the cardamom sausage, herbal and citrusy, pairs well with the spice of the long hots and tart of the broccolini. If we sound a bit like a sommelier describing the dish, it's probably because we also are still thinking about all of the options on Tredici's impressive wine list.
Grilled sourdough
Bar Bombón
Address and Info
Rittenhouse Square
The perfect brunch food? Toast. Seriously, don't sleep on toast -- especially if it looks anything like the kind you can get at Bar Bombón. Every weekend, chef Chris Allen walks Rittenhouse Market to select the best produce for that day. If the cherries look good, you might get something like the above: sourdough with smashed avocado, black cherries, cucumber, mezcal, and lovage aquachile.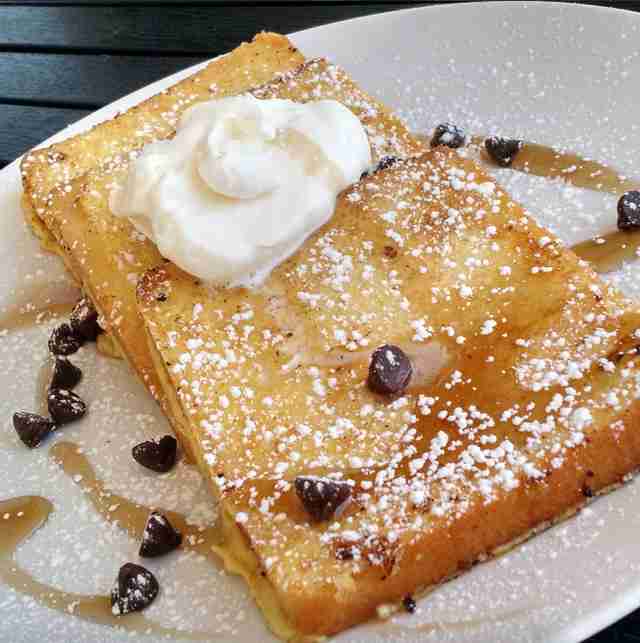 Stock's pound cake French toast
Blue Duck
Address and Info
Northeast Philly
For anyone that hasn't had Stock Bakery's pound cake yet, it's pretty life changing. So in a genius move, the folks at Blue Duck had the idea to use that pound cake to make a breakfast of our dreams: pound cake French toast garnished with whipped cream, chocolate chips, maple syrup, and powdered sugar. It's sweet, but not overly, and the pound cake actually makes for an amazing French toast base. The new item replaced the Fruity Pebbles French toast -- one of the most popular brunch items -- but the uproar has been surprisingly mute... probably because the pound cake version is just that good.
Melon with poached egg, smoked duck, and Robiola Bosina
Sofitel Philadelphia
Address and Info
Rittenhouse  
Normally, we're not the biggest fans of brunch in hotels, often overpriced, involving soggy eggs, and leaving us with a considerable hangover from overly sugary cocktails. But at the Sofitel, there's actually food worth seeking out. Case in point: this dish. Featuring a variety of melons, it's dressed with dill & mint vinaigrette, along with crispy prosciutto, a mild brie called Robiola Bosina, and smoked duck. It's light and refreshing for the summer, and won't give you the heavy post-brunch regrets.
Vindaloo egg skillet
Indeblue
Address and Info
Gayborhood
Looking for a spicy start to the day? Indeblue might have the perfect dish: the vindaloo egg skillet is a fiery take on the standard egg & potato skillet. The plate is filled with pork sausage flavored with vindaloo spices, a tongue-numbing blend of herbs & chili peppers, eggs, and spiced home fries. It comes with seared challah bread, which may help to cool that seared tongue, but the perfect accompaniment is really an ice-cold beer.
Veggie Cuban
Prohibition Taproom
Address and Info
Callowhill
In general, most of our brunch choices usually involve some combination of sweet and meat -- pretty evident, if you've made it this far -- but that's not to say we don't like our veggies. At Prohibition Tavern, one of our new favorites is the veggie Cuban, made with house-smoked mushrooms and avocado. The smoky mushrooms give the dish enough umami that you might not actually notice it's missing the meat. Plus, it comes with fries, so it's not completely healthy.

Sign up here for our daily Philly email and be the first to get all the food/drink/fun in town.