The great joy you feel when you find a great burger is one of life's greatest joys. To keep the euphoria pumping, it's a good idea to make sure you're never too far from one either. We've hand-picked the best meat-wiches in 12 Philly 'hoods so you won't have that problem.
Fairmount
Hickory Lane Bistro (address and info)
Hickory Lane's signature burger lives up to the hype Chef Zagorski's name brings with it, partly thanks to the garlic aioli, but also because the local ingredients make it the freshest in the city, right down to the fries served on the side.
Rittenhouse Square
Rouge (address and info)
The burgers at Rouge are a display of over indulgence, so don't wince if the presentation seems over-the-top. If you're going to try their signature burger w/ caramelized onion & Gruyere on a challah roll, do it on an empty stomach.
Market East
Smokin' Betty's (address and info)
None of the burger options at Smokin' Betty's disappoint, but it's the namesake Betty burger -- with sirloin, pork belly, avocado, cheddar, garlic aioli, and all those other quintessential burger ingredients -- that you want to order.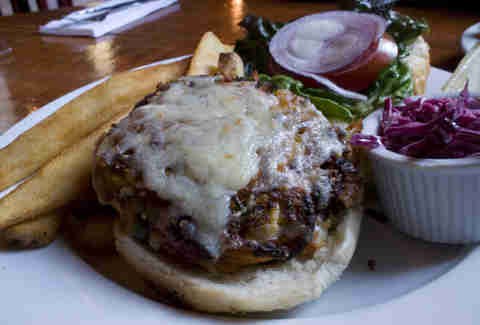 Old City
National Mechanics (address and info)
They've got a solid, if simple, beef-based option, plus discounted burger deals on Wednesdays, but the smart move here, if only for the novelty of it, is to order their veggie burger, which's made with a proprietary blend of julienned veggies and tastes so good (seriously!), you'd swear it was made with... um, something other than julienned veggies.
Graduate Hospital
The Cambridge (address and info)
The Cambridge cooks their burgers to juicy perfection no matter what you're into, but you should go whole hog at the Porker Burger, one of the best ways to eat... well, hog anywhere in the city.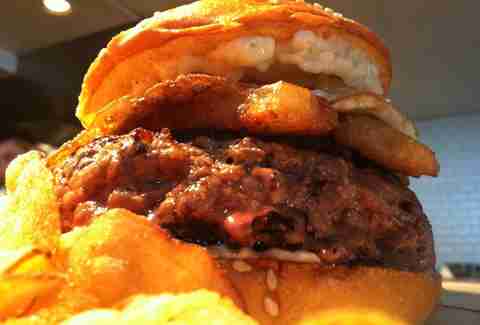 Spring Garden
Alla Spina (address and info)
You should probably try the carbonara burger with fried egg for dinner, then get a beer milkshake for dessert, just sayin'.
Northern Liberties
PYT (address and info)
Ah, PYT… although locals are out on whether it's indeed the best burger spot in NoLibs (Standard Tap is awesome too), no one can argue that it isn't the most innovative. And no one can say no to the The Doh! Nut, which comes w/ beef, cheese & chocolate-covered bacon on a glazed donut bun.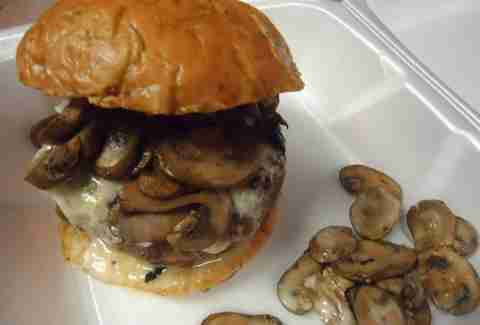 Fishtown
Sketch Burger (address and info)
Sketch Burger views your meal a lot like a choose-your-own-adventure book, but instead of falling to your death trying to ride a mammoth on page 53 of The Cave of Time, you can choose between a handful of meats, sauces (wasabi, BBQ sauce, or chipotle), and more; or you can just skip all that and order the Truffle Butter Burger, which is topped with Swiss cheese and mushrooms cooked in guess what kind of butter.
Bella Vista
Royal Tavern (address and info)
Bella Vista locals swear that Royal Tavern is one of the city's top-notch burger creators, thanks to their use of rich seasoning with caramelized onions, smoked Gouda, and chile mayonnaise.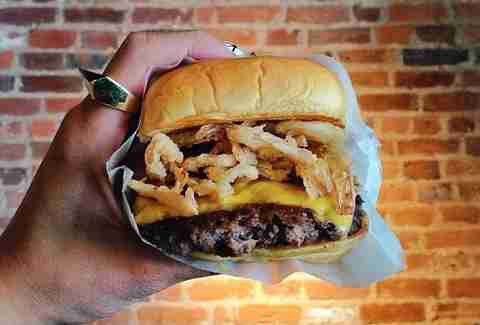 University City
Shake Shack (address and info)
Ever since this famed New York chain made its way to Philly last year, locals have been turning up in droves to see what all the fuss is about, and they found out by ordering a classic burger with a side of cheesy crinkle cut fries.
Queen Village
Bridget Foy's (address and info)
Whether you opt for the Standard burger (Wisconsin cheddar, thank you very much) or the Head House Market burger with fried egg and Swiss, you'll understand why BF's is your new BF when it comes to innovative ways to present your favorite comfort foods.
Manayunk
Lucky's Last Chance (address and info)
After competing against other burger specials for the title, the bacon cheddar burger is the new full-time mainstay on the Lucky's menu. There are still 11 other options to choose from, one of which includes barbecue chicken topped on beef and soaked in Buffalo sauce and bleu cheese, so you best get to eating.
Sign up here for our daily Philly email and be the first to get all the food/drink/fun in town.