If letting you know about the best burger in your neighborhood isn't enough, then what exactly are we gonna have to do to make you happy? Tell you about the best burgers in the country? The world? The universe?! Well, too bad: you're just gonna have to settle for this list of the nine best burgers in Philadelphia...
9. Rex 1516 Burger
Rex 1516 (address and info)
Rittenhouse
Eating one of these juicy meat-wiches pretty much... waitforit!... rex any chance you have of losing that extra 10lbs, especially if you get a fried egg and bacon on top of the 8oz burger, which already comes equipped with crispy red onions and pimento cheese.
8. Rouge Burger
Rouge (address and info)
Rittenhouse
At some point about halfway through the Rouge Burger, you may think you can't finish, but then you remember what your Mother always said: "There are starving children in Africa who don't get any Gruyère, bibb lettuce, caramelized onions, tomato, and dill pickle-packed challah rolls for dinner, so you finish it. AND the pomme-frites.".
7. Prohibition Taproom Burger
Prohibition Taproom (address and info)
Spring Garden/Callowhill
The burger at Prohibition Taproom is all local, with 100% grass-fed beef, which is butchered and ground at Kensington Quarters, then topped with Hope Springs' cheddar from Lancaster (plus lettuce & haystack onions), and finally shoved onto a snow-flake bun, making it one of the city's finest burgers.
6. Good Dog Burger
Good Dog Bar & Restaurant (address and info)
Rittenhouse
When some one asks how this half-pound sirloin burger stuffed with Roquefort and topped with caramelized onions on brioche tastes, there's only one thing you can say: "Good, dawg". Obviously.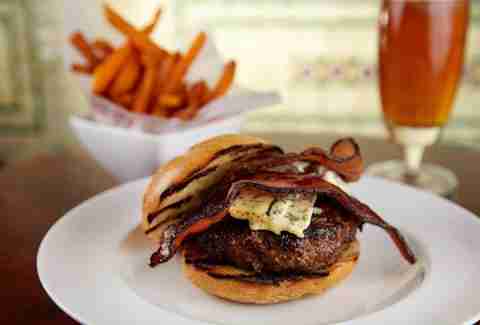 5. Sassafras Bar Burger
Sassafras (address and info)
Old City
This burger is basically a build-your-own, which means you start by picking your meat (ostrich, bison, lamb, sirloin, etc.), then for an additional $3 you can make it "Gangster Style": ordering The Dillinger means adding caramelized onions & Gruyère, while The Al Capone gets you blue cheese & bacon, which are totally worth the extra De Niro.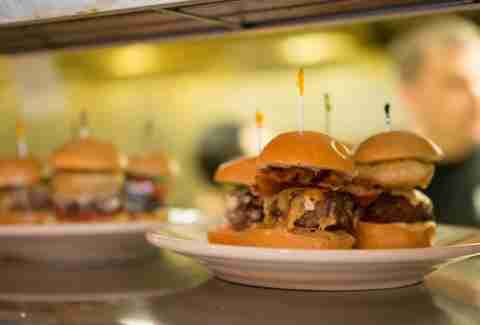 4. Nick's Apple Bacon Burger
Nick's Roast Beef Bar & Grille (address and info)
Old City
These 8oz burgers are made with ground bacon (!), and come in a handful of styles -- from the Bloody Mary w/ bleu cheese, Bloody Mary ketchup & olives, to the jalapeño sauce, salsa & fried pickle-topped Southwest -- but our pick is the Apple Bacon w/ cheddar, applewood bacon & apple onion jam.
3. Whiskey King
Village Whiskey (address and info)
Rittenhouse
Best ordered medium rare and with a side of duck fat fries, the Whiskey King burger spares no expense: it's topped with foie gras, applewood bacon, bleu cheese, and maple-bourbon glazed cipollini.
2. Truffle Burger
Sketch Burger (address and info)
Fishtown
Try the Truffle Burger, complete with truffle butter and seasoning, mushrooms, a fried egg, bacon, and avocado, or opt for build-your-own with options like Kobe beef and seven kinds of house sauces that include wasabi, chipotle, and hot mustard.
1. SpOt Burger
SpOt Gourmet Burgers, Steaks & Pork (address and info)
University City/Powelton Village
Sure, they've got a slew of specialty burgers (like the Charlie Brown w/ whiz, fried onions & bacon) but for our money the best thing at this U-City food truck, and soon to be actual restaurant, is their $6 namesake meat-wich.
Sign up here for our daily Philly email and be the first to get all the food/drink/fun in town.