Of all the gifts Philly has given the world -- and there are many -- the cheesesteak might be the best-known. From the Fresh Prince to national magazines, everyone has their opinion about who makes the best steaks in the city. On this highly touchy subject, we're ranking the best cheesesteak in 9 different neighborhoods sans the Pat's and Geno's of the world.
Bella Vista
George's Sandwich Shop (address and info)
We've previously mentioned George's as one of our favorite underrated steaks in the city and it's worth mentioning again. Sure, you could walk a few blocks over to Pat's or Geno's, but what's the point in picking up a vastly overrated sandwich (for the record Pats > Geno's) when you can swoop in under the radar with a gem from George's?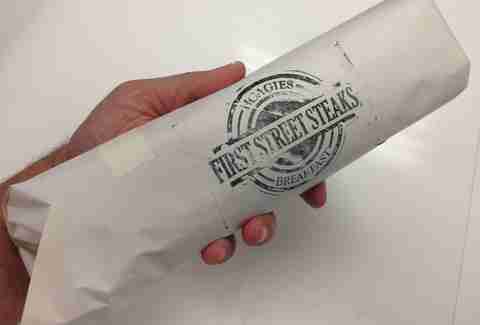 Fishtown
First Street Steaks (address and info)
Somewhat of a newcomer to the area, First Street Steaks is serving up some solid sandwiches near Girard station. While reviews are a little mixed on the basic sirloin option, an extra $4 will get you a steak made with medium-rare filet tips.
Manayunk/Roxborough
Dalessandro's (address and info)
It would be blasphemy not to mention Dalessandro's on a list of Philly's best cheesesteaks. A steak from Dalessandro's has all the key components: chewy bread, perfectly grilled onions, heaping amounts of steak, and whiz (should you choose to go that route). An honorable mention goes to Chubby's across the street.
Old City
Sonny's Famous Steaks (address and info)
Often overlooked in the battle for cheesesteak supremacy, Sonny's is a great option if you find yourself hungry at 2am in Old City (actually, the steaks are great at any time of the day). You might also be tempted with its burgers but be warned -- they take 20 minutes to make and that's a hell of a long wait at 2am.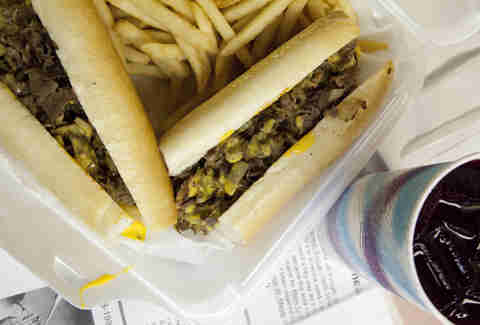 Queen Village
Ishkabibble's (address and info)
While the crowds might be waiting outside Jim's, skip the lines and head to Ishkabibble's for the best steak on South Street. Our favorite is the original location, where you can order a steak and Gremlin -- half-lemonade, half-grape soda -- directly from the street.
Rittenhouse
Steve's Prince of Steaks (address and info)
We're a big fan of Steve's only Center City location (the other three are in the Northern 'burbs) for its extra-soft rolls and sliced, not chopped, steak. A word of caution -- soft bread is great on the mouth but makes eating a messy experience.

South Philly
John's Roast Pork (address and info)
In the tightly contested South Philly showdown between Tony Luke's and John's, the slight nod goes to John's. John's makes a really legit steak -- and even better roast pork sandwich -- and you can get a Tony Luke's steak at a dozen other locations (seriously, this man is building a cheesesteak empire).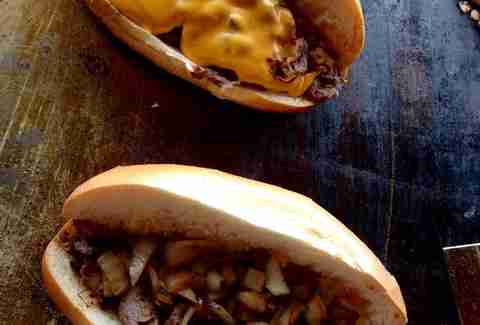 West Passyunk
Phillip's Steaks (address and info)
Slightly off the beaten path, Phillip's is a great option for before/after any event at the stadiums. If you're not heading in the direction of the stadiums, Phillips is also worth a cab ride into South Philly to try the signature Old Fashioned -- a regular steak with grilled tomatoes, onions, sweet peppers, and provolone.

Wissinoming
Joe's Steaks + Soda Shop (address and info)
A recent re-branding certainly doesn't diminish the quality of steak found at this NE Philly landmark. People have been coming in since 1979 to get the perfect Philly steak.
Sign up here for our daily Philly email and be the first to get all the food/drink/fun in town.