Your Favorite Philly Chefs Are Teaching Cooking Classes, so You Can Learn to Cook Like a Pro
Philadelphia is home to some food and drink powerhouses -- you don't become one of the country's greatest food markets and longest-running restaurants otherwise. What if you could recreate some of those culinary masterpieces at home? You might not become the next Jose Garces, but you can get an expert grasp on at least a handful of dishes thanks to the city's collection of cooking classes taught by local food legends themselves. Whether you want to take in wisdom from the chef at your favorite restaurant or are looking to create your version of an Italian family-style feast, you'll find it in one of these classes.
Rittenhouse
COOK specializes in in-depth cooking instruction with no more than 16 people in any class, so you'll definitely get some special attention if you're holding your chef's knife wrong. There's a new set of classes every month, each with renowned chefs there to share their craft, whether it's learning simple yet impactful vegan dishes from the masterminds at V Street and Vedge, or a tutorial in elegant pastries from Parc's pastry chef, Abigail Dahan. If you have a favorite restaurant in Philly, chances are you'll be able to take a private class with its chef if you just keep a close-enough eye on the calendar -- there's something going on almost daily most weeks.
Northern Liberties
Bar Ferdinand hosts outdoor paella classes throughout the year, weather permitting, with plenty of tapas to keep you happy while you undergo the lengthy process of actually sort of making paella. Chef Matthew Daggett enlivens the class and tricks you into thinking you're actually in Spain (or is that just the sangria?), and provides you with a starter paella kit at the end -- including the stock, chorizo, and Calasparra rice -- to attempt your own version at your next dinner party.
Washington Square West
Picking which class to take at Vetri is not going to be easy. In the next couple months alone, chef Marc Vetri will host a pasta master class, where you'll learn how to make pasta by hand and end with a feast of sample recipes straight from Vetri's cookbook. Another session will instruct on whole-grain bread making, taught by the restaurant's head baker, Claire Kopp McWilliams. These carby classes are bookended by prosecco and house wine and beer.
Avenue of the Arts
The one and only Jose Garces opens his most exclusive Philly restaurant, Volvér, for hands-on cooking classes every year (save up your pennies for next summer). Garces himself typically instructs the first class of the series, with chefs from other Garces restaurants taking over the rest of the summer series. There are plenty of options, too: pasta making, cocktail making… you name it, suitable for home chefs and mixologists at any level. We're not saying you'll be the next Iron Chef after this, but we're not not saying it.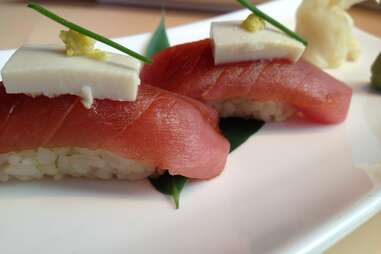 University City
The initial approach to making your own sushi is an intimidating one, and with good reason -- the best sushi chefs spend their entire lives mastering the craft -- but tonight, you're just making a California roll and a tuna hand roll, and leaving the rest to the pros. Chef Keunsik Lee will walk you through the history of sushi with some snacks peppered in along the way. After you've finished eating the sushi rolls you rolled your damn self, you're rewarded with a dessert fluffernutter roll and a sushi kit to practice with at home.
Market East
Despite the name, La Cucina proprietor Anna Maria Florio outgrew the restaurant's original space in Reading Terminal Market -- let that sink in -- and La Cucina now functions out of a space just across the street at 1206 Arch St. La Cucina holds classes on how to create high-quality Italian cuisine. Try your hand at Italian brunch classes or lessons on handmade ravioli, but no matter the outcome, you can always expect plenty of delicious seasoning and sauce pairings to go along with whatever you create.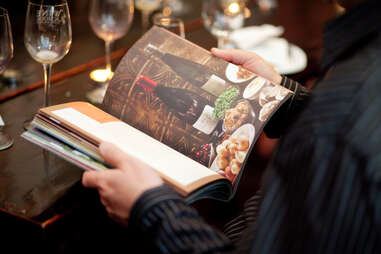 Rittenhouse
If you want to fill your mind with new culinary knowledge, but aren't so keen on the actual cooking part, the Wine School probably has something more your speed. Courses vary from beginner to advanced wine tastings, instructed by nationally ranked sommeliers, as well as beer brewing courses that will walk you through making a microbrew you can name after your dog. If you want to sharpen your wine palate and are also interested in cooking, fear not: there are a few cooking classes demonstrating how to prepare seasonal dishes and match them with the perfect wines.
Saturday morning class at Savona
Glen Mills
Savona's facilities are currently undergoing construction to expand upon the restaurant's cooking class offerings, with Saturday morning sessions at 10:30am. Hosted by chef Andrew Masciangelo, the classes will focus on Italian dishes using different ingredients and flavors each week. After mastering the chef's curated menu for the day, enjoy the meal you've crafted in Savona's dining room. You earned it.
Sign up here for our daily Philly email and be the first to get all the food/drink/fun in town.