Eat Your Way Through the Best Food in Reading Terminal Market
On the edge of Market East, Reading Terminal Market is a sprawling, slightly chaotic urban food paradise. Row to row, aisle to aisle, it's packed with more than 100 merchants selling everything from alligator gumbo to zucchini curry. There's a lot to take in: the hiss of frying chicken, the rustle of purveyors packaging meals in small plastic bags, the constant throb of people eating, talking, and surveying the endless array of goods. It can be overwhelming for both newbies and regulars, so it helps to have a plan of attack if you want to wade in.
Whether you're popping in for a snack, scrounging for a quick lunch, or snagging goodies to binge on later, Reading Terminal Market truly has it all. Here are our favorite things to eat and drink in the entire place.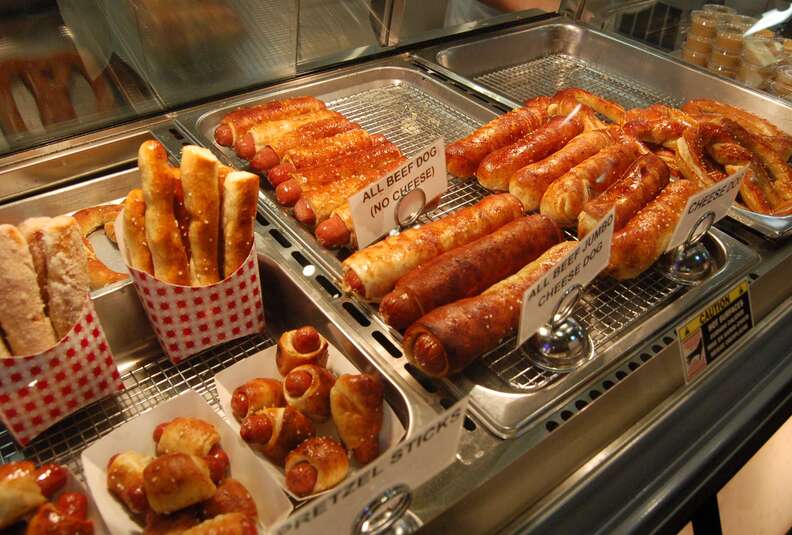 Snacks
Our nose tells us we've reached Miller's Twist before the signage even appears in our line of vision. Its warm, buttery pretzel is an A+ snack choice. Spring for a pretzel dog -- a hot dog encased in pretzel dough -- if you're in the mood for something a little more substantial.
The fried mac & cheese balls at Beck's Cajun Cafe are a cult favorite. These gooey guys come two to an order (don't worry, they're big) and are served with a creole tomato sauce for dipping.
Nanee's Kitchen's spinach & feta samosas are the perfect handheld bite. They're the size of an iPhone 6 Plus, and at only $3 a pop, won't set you back much.
The fried Polish pierogi at Famous Franks A Lot are a straight-up steal. Nab two for $2 and four for $3.90. Go nuts and get the side of sour cream for an additional $.40 cents.
The burgers at Hunger Burger get a lot of love, but don't sleep on the sides at this stand. In particular, its lobster mac & cheese is a creamy, decadent winner, and the deep golden onion rings go great with one of those stacked burgers.
If you're looking for something snappier (and healthier) as a snack, pick up some pickles from Beiler's Pickle Patch. Choose a few from those giant, red pickle barrels. We like the hot ones best.
Drinks
Four Seasons Juice Bar is the first place we go when we're battling a hangover and need an antioxidant infusion. Choose your favorite fruit or veggie combo for a power-packed smoothie. If you don't want to commit to a full beverage, grab a fresh wheatgrass shot. It's like a hit of sunshine.
Iovine Brothers Urban Produce Market has a stunning selection of cold-pressed organic juices in flavors like apple, beet, carrot, and lemon; watermelon & mint; and a green concoction with apple, cucumber, cilantro, ginger, and lemon.
Lancaster Country Dairy also boasts a banging selection of fresh-squeezed juices and lemonades. It has a variety in containers bigger than single servings, too, which is good news if you're looking for more than an afternoon thirst quencher. Stock up on orange juice here for true mimosa magic on the weekend.
For those looking for a caffeine fix, Old City Coffee has its loyal fans. However, we like sipping on the La Colombe brew at Termini Bros. You might have to elbow some tourists out of the way to get to the counter, but it's worth it.

If you want to retreat from the crowd and nurse a beer, Molly Malloy's is a slice of heaven. With more than two dozen local brews on tap -- from staples like Yards and Victory, to lesser-appreciated breweries like Evil Genius in West Grove, PA, and Sly Fox out of Phoenixville, PA -- it should offer you something frosty to hit the spot.
Full-on meals
Having been named one of America's best sandwiches, the roast pork sandwich from DiNic's is a legit superstar. Some would even say this overstuffed monster, which is as long as an adult's forearm, is the crown jewel of the Market. It's jammed with roast pork, garlicky broccoli rabe, and sharp provolone. Bring napkins.
If you feel like channeling more of a German vibe, the schnitzel BLT sandwich at Wursthaus Schmitz is a knockout. A pork or chicken cutlet comes with a hit of lettuce, tomato confit, herb mayo, and bacon. Opt for a side of potato pancakes with sour cream & applesauce to round out the meal.
If your heart is pulling you in a cheesier direction, the Melter Skelter at Meltkraft Grilled Cheese is especially spectacular. Raclette cheese is paired with pickled green tomatoes, jalapeño, peppery watercress, and a side of BBQ chips. You can even get it grilled in duck fat if you want to go all out.
You wouldn't think the shrimp pad thai at Little Thai Market would make waves. But if you want a quick, affordable meal, you'd be pressed to find a better deal. The plump, sweet shrimp, salty ground peanuts, and squeeze of lime make this dish utterly delicious.

Another must-try is the falafel at the Middle Eastern corner spot, Kamal's. This is the spot locals flock to. The pita wrap comes with veggies and tahini sauce, which makes for a satisfying, filling dish.
To fulfill our serious deli cravings, we always head to Hershel's East Side Deli. A thick pastrami sandwich on just-baked rye bread and side of matzah ball soup make us feel like we're getting a (culinary) hug from grandma.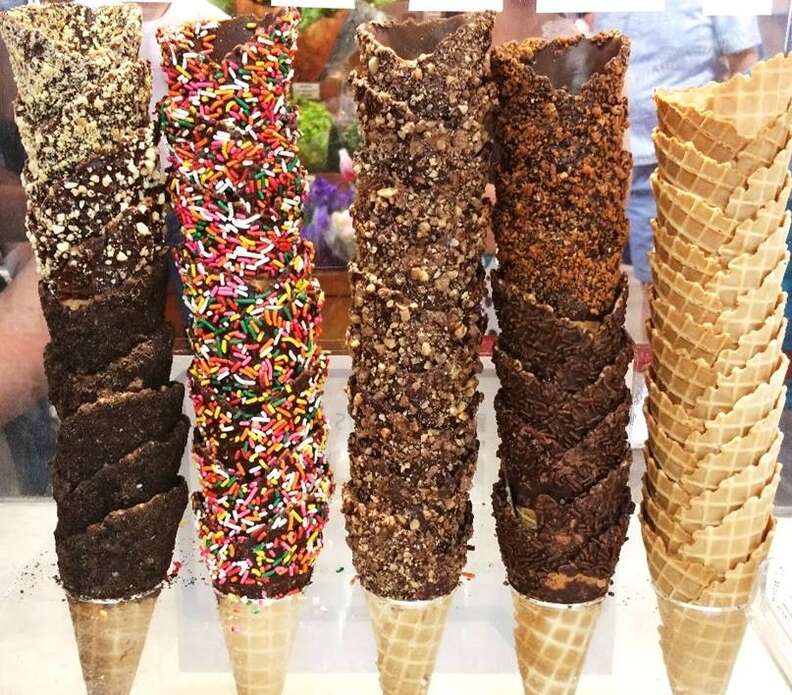 Sweet treats
We're fans of the hot apple dumplings at Dutch Eating Place because they're not overly sweet. Be warned: each dumpling is about as big as a softball, and makes for a wonderful breakfast if you can't finish it in one go.
No trip to Reading Terminal Market would be complete without swinging by the Beiler's Donuts counter. There are dozens of directions you can go here, but don't let indecision grip you too hard. There's no wrong answer. If you truly can't decide, grab an apple fritter and don't look back.
We love the whoopie pie from Flying Monkey Bakery, which is like the Little Debbie's Devil Dog's dainty little sister. Smooth vanilla buttercream is sandwiched between two layers of a dense, moist chocolate cake. Squish it together and enjoy.
Chomping down on a cannoli from Termini Brothers is never a bad choice, but don't overlook the other offerings. Its perfect mini-cakes and pastries are practically begging for your fork to be poked into them for a taste.
If you're more in the mood for a frozen treat, ice cream from Bassetts is a must. People love those over-the-top milkshake creations. As for us, we're more likely to be savoring a solitary scoop of Moose Tracks.
Sign up here for our daily Philly email and be the first to get all the food/drink/fun in town.
Anna Goldfarb is a writer in Philadelphia who has never met a whoopie pie she didn't like. Follow her @AnnaGoldfarb on Twitter and Instagram.