The 12 best French fries in Philly
COLIN JOLIAT
COLIN JOLIAT
There comes a time -- like World 3-1 in Super Mario Bros. 3 -- when it's time for the sidekick to take center stage, which is why you use Luigi for that level (obviously!), and why we've rounded up the 12 best French fries in Philly, which you can get with some great burgers, covered in cheese, all by themselves, and more...
Old City
These Belgian frietjes, which are probably best with one of their craft beers and some mussels before you hit a show at the nearby Ritz East, have a crisp outside and an almost mashed potato-like inside that they can only get because they're twice fried. Or magic, obviously.
Bella Vista
Duck confit potato skins w/ bacon, Gruyère, sour cream, truffle butter & scallions are the pro move here, but you can always go old-school with their Olde Baye fries (or even old-schoolier with tater tots) and lots and lots of ketchup. And a burger.
Rittenhouse Square
Pretty much the only acceptable way to eat vegetables is when they're fresh cut and then deep-fried. Guess how Mama's makes these suckers?
Market East
Finally! An excuse to go to a vegetarian restaurant... in the form of golden chickpea fries w/ a Spring garlic aioli sauce that're served carefully stacked on top of each other at this surprisingly meatless small platery.
Old City/Midtown
Good: shoestring potatoes. Wayyyyy better than good: Szechuan shoestring potatoes w/ a Chinese mustard sauce drizzled on a plate that's technically big enough for two.
South Philly
Right across from Tony Luke's take-out joint sits this nightclub/sports bar, ready with American, cheddar, pepper jack, blue cheese, and roux (flour and butter) dips that're just waiting for you to dunk huge Parmesan-topped potato chunks into.
South Street
Pop quiz: Should you A) order their Belgian-style fries in a paper cone w/ tons of dipping sauces, or B) the hand-cut fries topped w/ braised short ribs, ricotta salata & chives, or C) both? Don't screw this up!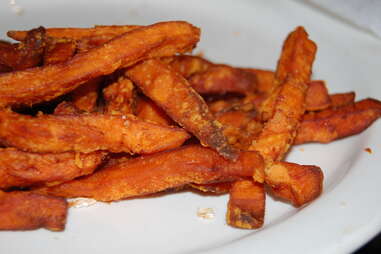 Old City
Unlike most sweet potato fries, KPP's are crispy and perfectly seasoned... oh, and did we mention you can get smoked cheddar fries w/ debris too?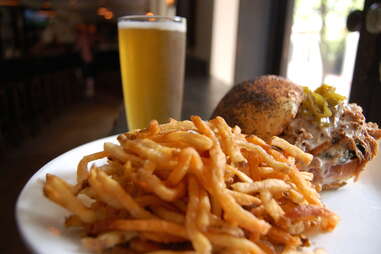 Rittenhouse Square
Long, thin, and crispy with a little bit of smush, these simple carb-spears pair perfectly with the pulled pork shoulder sandwich and a nice, light Summertime beer, and they are available until 1am.
Manayunk
One thing Winnie's is known for is its carbs -- breads, pastries... more breads -- but they also have some thick and meaty steak fries that are served in a basket so big that pretty soon you'll need your own (Le) bus to get around.
Conshohocken, PA
Their thick-cut truffle fries, which they toss in truffle grease (the best kind) and chunks of Parmesan, are probably enough on their own, but if you need something else... you're probably pretty fat... and you're definitely gonna order the The BBQ smoked duck breast sandwich and an oversized bottle of craft beer.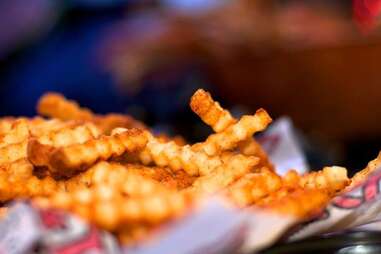 South Philly
They may look like frozen crinkle-cut fries, but Chickie's & Pete's Crabfries are a Philly, Old-Bay-flavored staple, served with an addictively good white cheese sauce... who presumably wouldn't have been played by Method Man.
This list -- and all the rest -- look even sexier in our iPhone app. Get it now!