11 Healthy, Yet Somehow Still Delicious, Philly Restaurants
Going out to eat while keeping an eye on your caloric intake can be pure torture. Everyone else is ordering fried deep-dish pasta truffles... why can't you??? While you may not be able to indulge like that if you're trying to keep up with your resolution for a fitter, healthier you, you can still enjoy a dinner out without blowing up your Fitbit. Whether you're trying to go vegan or gluten-free to cut back, or you simply want healthier options without having to change your entire diet, there are plenty of Philly restaurants that use local ingredients and fresh produce to create delicious and healthy dinners (which may or may not be plant based). Take a look at the restaurants that will help kick off 2017 the right way.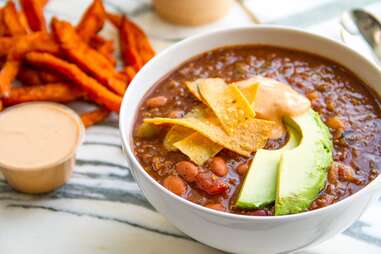 Spruce Hill & Rittenhouse
HipCityVeg opened with the goal to make fast-casual food that tastes indulgent despite being 100 percent plant based. This means vegan takes on burgers, fries, chicken, cookies, and breakfast options. The initial location in Spruce Hill was so popular that HipCityVeg opened a second location just recently in Rittenhouse, the shop in high-demand from more than just Philly's large vegan population. If another one of your resolutions is to save the planet, then you'll also be doing your part by using your meal's 100 percent compostable packaging.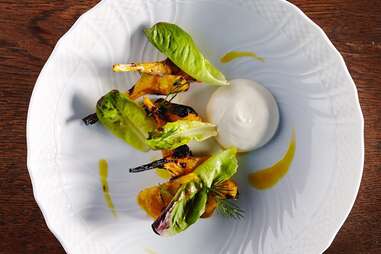 Midtown Village
This is another vegan spot, but the vibe is full extravagance with its dim lighting, tufted chairs, and strong cocktails to sip alongside your plant-based small plates. The ricotta and pasta dishes are perfectly satisfying to any carb-loving, dairy-loving carnivore, and the avocado toast will make you a believer in an otherwise overplayed healthy choice option.
Fitler Square
The Mediterranean BYOB sits on the lively corner of 20th & Spruce Streets, offering outdoor seating when it's nice enough, an open kitchen, and plenty of healthy menu items without staking itself firmly in vegetarian or vegan territory. Flatbreads incorporate seasonal ingredients and hummus, while small plates include heartier options like butternut squash risotto and grilled octopus with feta. Grilled salmon and roasted chicken make for perfectly seasoned entrees without being heavy and calorie-laden.
University City & Other Locations
White Dog was one of the earliest farm-to-table restaurants in Philly to get major attention, and it continues to deliver with hyper-seasonal menus designed to satisfy but not be so filling that you'll have to be rolled out the door when you're finished eating. Stop by for dinner for hummus plates, the yellowfin tuna burger, or salmon with lobster curry; but don't miss the brunch, a menu utilizing cage-free eggs in dishes like the egg white omelet with avocado and cilantro.
Washington Square West
Talula's is the perfect solution for whatever you're in the mood for, whether it's a mid-day grab-n-go meal from its market or an all-out, multi-course dinner in a gorgeous setting. Tuna ceviche, chestnut pasta with apple fondue, and orange scented duck cocotte all make for creative entrees that won't make you need to unbutton your pants afterward.
University City
Every item on Harvest's seasonal, locally supplied menu falls under 500 calories, making for pages and pages of safe menu items. This means you can opt to order from the street tacos menu, or a bigger main dish like the steak & wedge, the stuffed pork chops, or the many vegetarian versions of pasta and stir fry without your calorie tracker getting angry at you. Plus, if you head here on a weekend night, you can burn even more calories on the dance floor that pops up post-happy hour on the second level.
Old City
Zahav has repeatedly been heralded as one of the very best restaurants Philly has to offer, and somehow it manages to secure this title while offering a vast selection of healthier plates to choose from. The restaurant specializes in modern Israeli cuisine, which means fresh, fluffy hummus, protein skewers grilled over hardwood charcoal, and small plates of seasoned Brussels sprouts, grilled duck hearts, and haloumi.
Graduate Hospital
Pumpkin is another farm-to-table mainstay that was early in bringing the concept to Philly. Today, it still supplies the best local ingredients to make fresh and seasonal menus, like this month's lamb soup and monkfish with mushrooms and turnips. The five-course prix fixe menu is $45 a person and BYO, so it's kind on your wallet, too.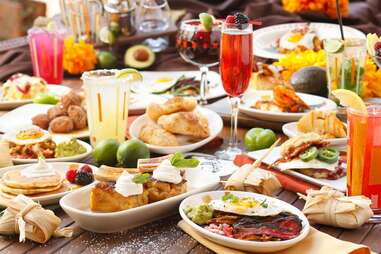 Manayunk
This bistro and cafe may have a lengthy pizza menu, but it's also one of the healthier eating out options in the neighborhood thanks to a gratuitous selection of vegetarian and gluten-free items, as well as wraps, grilled sandwiches, other bites to satisfy any need for meat or bread without going overboard. The organic quinoa salad with basil pesto and toasted almond, or the portabella burger with fresh mozzarella are just two of many great options for vegetarians and gluten-free folks at Couch Tomato. Plus, if you do want to indulge in a little pizza, there are ways to ante up your choice with gluten-free crust, vegan cheese, and veggie toppings.
Rittenhouse
When your go-to happy food is tacos, find solace in the myriad of at least moderately healthy ways to enjoy them. Bar Bombon is one such option. Every dish at this Latin eatery is veggie based, so enjoy the restaurant's takes on guacamole, fish tacos, and Cubano "sandwich" stuffed with chick'n and tempeh with ease and a celebratory margarita.
Midtown Village
This ain't just another vegetable restaurant -- Vedge consistently vies for the title of best restaurant in Philly, period. Chefs and owners and husband-wife duo Richard Landau and Kate Jacoby have proven time and time again that eating vegetarian doesn't have to be a dull, dreary affair. Even the pastry menu here is James Beard-approved. Don't sleep on the two other restos from Landau and Jacoby, VStreet and the more recent WizKid, both which serves up fresh vegan takes on street and classic comfort foods, respectively.
Sign up here for our daily Philly email and be the first to get all the food/drink/fun in town.