While untrained eyes may see cheesesteaks as the only sandwich option in Philly, there are also plenty of quality meat-and-bread options around town in the form of the often overlooked hoagie. To be considered a real Philly hoagie (we invented the term, so what we say goes) the sandwich needs to be served on a seeded, long Italian roll with lettuce, tomato, and onions. With a list of many worthy contenders, we've chosen the top 10 hoagie shops in Philly.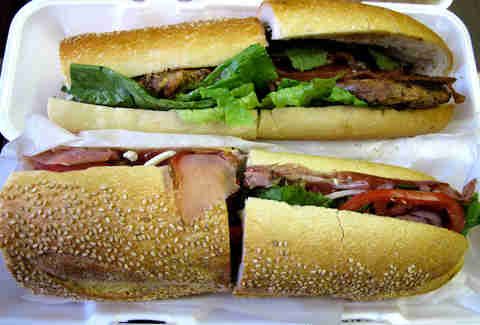 Tacony
What you're getting: Original Italian
While Jack's may be a little far North for the majority of people living South of Market St, it's easily worth the drive up to Tacony to try one of Jack's signature hoagies. Ownership lays claim to "serving the best hoagie in the free world" for the past 20 years, so odds are you won't find a better one unless you're hoping on a plane to mother Russia.

Italian Market/Bella Vista
What you're getting: Old-Fashioned Italian Gourmet Hoagie
Given that Sarcone's bakery supplies the bread to half the hoagie shops in the city -- including a few of the spots on this list -- it's no surprise that it can make a pretty mean hoagie. While any filling is gonna be good on that bread, you're going here for the Old Fashioned Italian: prosciutto, hot soppressata, hot coppa, sharp provolone cheese, herbs, oil, vinegar, lettuce, tomatoes, and onions.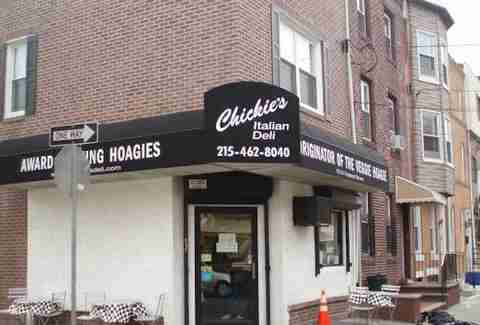 Passyunk
What you're getting: The Original Veggie Hoagie
Another in the long list of family-owned Italian shops in the area, Chickie's has one item on its menu that competitors can't touch: The Original Veggie Hoagie. While you might scoff at the idea of ordering a veggie sub at an Italian place, this award-winning sandwich is legit. The combo of baked eggplant, sautéed broccoli rabe, roasted peppers, and sharp provolone cheese gives Chickie's one of the best hoagies in the city. Unfortunately, the shop just announced it's closing in April, so hurry up and get these while you can!
West Philly
What you're getting: Tofu hoagie
It would be easy to pass by Fu-Wah market as just any other corner store. Looks, however, can be deceiving, and you won't want to miss out on their selection of bánh mìs (Vietnamese hoagie). While chicken or roasted pork are solid options, don't miss the tofu version, which has developed a cult following. They also have an eclectic collection of snacks -- specialty sodas, vegan candy -- if you have a case of the munchies.

Midtown Village (&Other Locations)
What you're getting: Turkey Diablo, Italian Diablo
Available at seven different locations around the city, with dozens more throughout the 'burbs and Jersey, the shear number of locations speaks to how much Northeastern Pennsylvania loves hoagies from Primo's. While you can get pretty much any combination of deli meats, our favorites are found within the spicy Diablo section. If you're going that route, you might as well head to the South St location, which has a full bar and the cheapest HH specials in the area ($1.50 PBR pints!).
Italian Market
What you're getting: Diavlo, Paesano
Despite being smack dab in the center of the Italian Market, Paesano's is making hoagies that are anything but old-school. Paesano's menu features fantastical flavor combinations -- top choice has got to go to the namesake Paesano -- and pretty reasonable prices for what you're getting. Plus there's just enough table/counter space that you might get lucky enough to eat sitting down.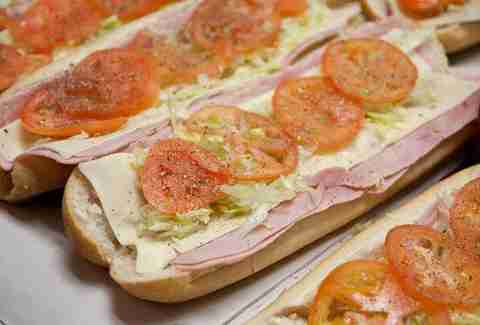 South Philly
What you're getting: Godfather
If you're in an Italian joint and there is something on the menu named after a Francis Ford Coppola movie, order it. At Cosmi's, you're ordering the Godfather: a basic Italian with mozzarella, roasted red peppers, sun-dried tomatoes, olives, and balsamic vinegar. The only gripe with Cosmi's is that you have to pay an extra $2 for a seeded Sarcone's roll (which you can, you know, get for free at Sarcone's), but you gotta go with the roll.

South Philly
What you're getting: Chicken Cutlet Inferno
After crushing a city's worth of Italian's, Pastificio's selection of spicy Inferno hoagies are a nice change of pace. While it might seem like blasphemy to not order anything with prosciutto in place that's also making homemade pasta, the Chicken Cutlet Inferno is a spice-lovers dream. With hot pepper cheese and fried long hots, the sandwich is HOT. We'd recommend not ordering it if you have an afternoon's worth of closed door meetings.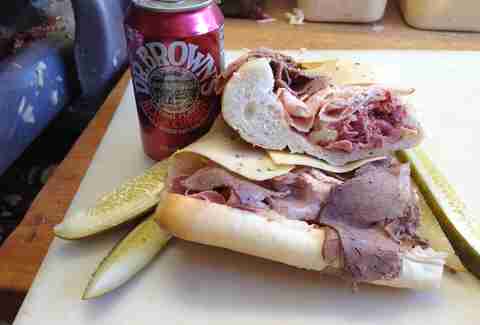 West Philly
What you're getting: Restaurant School Special
Any list of sandwich spots wouldn't be complete without a Jewish deli. At Koch's, you can get all the standard deli fare, but since the focus is on hoagies, we recommend the Restaurant School Special. Make sure you come hungry -- the gut-bomb of a meal has corned beef, turkey, and brisket topped with hot pepper cheese, coleslaw and Russian dressing. Koch's motto is "more meat, less bread" after all.

Roxborough
What you're getting: Good Fella
If you're unable to make it to Center City, Roxborough's Lennies Hoagies is the next best thing for a real Philly-style hoagie. Sandwiches are served on seeded rolls and they have a whole list of Italian sounding options like the Good Fella, Soprano, and Godfather Part 1, 2, or 3. And you'll get to avoid (some) of the attitude spunk that comes along with the Downtown Philly businesses.

Sign up here for our daily Philly email and be the first to get all the food/drink/fun in town.