Philly is home to one of the highest concentrations of Italian-Americans in the country, which means we all get to reap the benefits of the city's heritage when it comes to pasta, Neapolitan pizza, and generously portioned meat and fish entrees (also: wine) in our city's best restaurants. It's nearly impossible to take a walk around Philly without passing at least one (or five) tempting Italian options, and narrowing them down by history or level of Old World influence doesn't help cut the list much either. Despite these difficulties, we've culled the herd down to our 13 absolute favorites, from family-owned dynasties that stretch decades to modern dining experiences that mingle the old country with the new. Oh, and if pizza's specifically what you're after, here are our picks for the best pizza in Philly -- just in case.
Passyunk Square
Celebrated nationally as one of the best "new" restaurants in the past year, Palizzi Social Club brings to life an old members-only tradition, and makes it modern with hearty dishes in a vintage setting -- despite updates, the digs stay true to when the club first opened in 1918 specifically for South Philly's Italian immigrants. Now with an expanded kitchen and menu, it's still tough to get into the club, but worth the effort for tender, garlic-doused lamb chops and house specials like the locatelli-stuffed baby artichokes.
Washington Square West
This mainstay on Locust Street has a foolproof formula that keeps diners returning for what will be five years this Fall. The same team behind other Philly restaurant greats such as Barbuzzo, Lolita, and Jamonera, among other establishments, Marcie Turney and Valerie Safran offer Italian-American dishes in a space that boasts a 40-seat outdoor garden area in addition to the 40-seat indoor dining room. Let the garlic bread with sea salt be your gateway to equally addictive dishes, like the wild mushroom gnocchi bathed in truffle butter with celery, watercress, and tomato.
Melrose
Deep in South Philly, L'angolo offers traditional Italian fare inspired by the region of Puglia, where co-owner Davide Faenza grew up. Its proximity to the stadiums makes it a go-to for families or groups before (or after) a concert or show, which has helped lure many guests since opening in 2000. More alluring, though, is the spot's steadfast dedication to classic Italian, like the grilled calamari, the seafood spaghetti with mussels, clams, shrimp, and yet more calamari, or basically any dish that has fresh mozzarella in it. Don't be fooled by the spot's BYOB policy, either: guests tend to bring the nice here bottle to dinner. For suburbanites, L'angolo opened a second location in Delaware County last year, offering up the same greatness for Havertown diners at L'angolo West.
Passyunk
Everything you order from Le Virtù, be it the porchetta or the lamb or the sausage ragu, will taste fresh thanks to the restaurant's commitment to locally sourced ingredients. If the resources of PA and New Jersey just don't quite meet Le Virtù's demands, though, there's a pretty decent backup plan in place: get 'em straight from the Central Italy region of Abruzzo, which is the main inspiration behind Le Virtù's cuisine. This is what we in the industry call "being legit."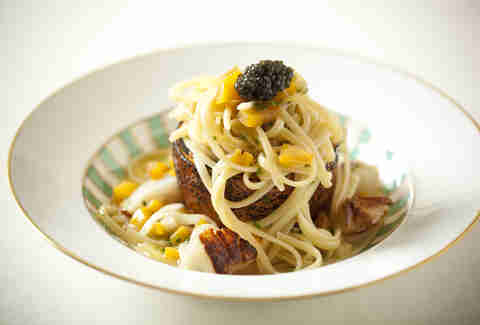 Washington Square West
Marc Vetri's Italian restaurant opened all the way back in 1998 to rave reviews almost immediately, in part from chef Vetri's experience working in premier kitchens both in the US and Italy. The operation has only grown since, as has admiration for the nationally acclaimed spot. Dining here means a commitment to the sampling menu, which is a pricier option at $155 a pop, but for a specially custom-tailored menu, it's absolutely worthwhile.
Fairmount
Osteria easily earned a spot as one of Philly's most heralded Italian restaurants thanks to its position on the Vetri family tree when it opened in 2007, nine years after chef Marc Vetri opened his first local Italian restaurant. Osteria features an open kitchen with a wood oven as its centerpiece, drawing inspiration from the traditional osterias of Northern Italy. If you can take yourself away from the endless salad and pasta options, try the Lombarda baked-egg pizza and finish your meal with gelato.
Passyunk
As one of the city's oldest Italian restaurants, The Victor Cafe seals the deal of its authenticity with red-checkered tablecloths and serenading opera singers, who will either make you feel awkward or like you've been transported to Italy -- your choice. In 1933, the space became known as The Victor Cafe, Music Lover's Rendezvous, after first functioning as a gramophone shop in the late 1910s. The menu works to meld Old World classics with modern takes on Italian fare, along with seasonal daily specials.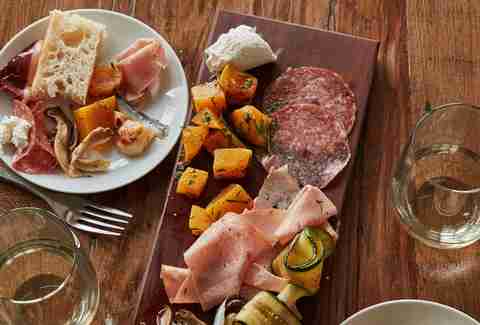 Fairmount
It's been just over two years since A Mano quietly opened in the dead of winter, drawing diners out to the single-dining-room BYOB despite the miserable weather. Its menu of antipasti, primi, and secondi courses all fit on a tiny sheet of paper, which might seem simplistic at face value, but don't judge based on size -- plenty of filling surprises are in store, like seared octopus and the mushroom escargot primi.
Fishtown
This renovated whiskey distillery quickly garnered high praise since opening in 2016, making it easily the best Italian and, second maybe to Pizzeria Beddia, the best pizza in Fishtown. Inside, the vibe is all leather seats and rich wood finishes, plus you can even book an overnight stay at the four-room boutique hotel attached. The Double Margherita pizza is an enhanced take on a classic that's just extra enough, and don't go through dinner without trying at least one of the bartenders' strong and creative cocktails.
Bustleton
With generous portions and the trendy P-Square outdoor lounge, Macaroni's is an unexpected treasure in the Far Northeast. The menu features approachable modern takes on Italian classics, like the roasted lamb rack crusted with pistachios and drizzled with a Gorgonzola port reduction, or the lobster risotto with bottagra. Don't skip dessert, either: you'll definitely want to pair some tiramisu with a strong after-dinner liqueur.
Passyunk
If it felt like pizza was sorely missing from this list, fear not: Brigantessa has arrived. Served in the traditional Neapolitan style without pre-cut slices, it's a pizza that forces you to get creative and fork-and-knife your way along... before resigning yourself to asking the server to slice it up for you. The Regina pizza with Piennolo del Vesuvio is the must-have item, while gnocchi brushed with Calabrian chili oil is a must for lovers of all things hot. If you thought pizza bagels were exciting, elevate your tastes and head here for weekend brunch, where any pizza becomes a breakfast pizza with the addition of an egg.
Old City
Oh, the wine. Panorama is yet another fine Italian establishment that takes its wine pairings very seriously, and luckily it's stocked with plenty of options to try -- 120 on tap and 150 bottles -- that won't leave you penniless. Stop by for wine flights of five carefully selected samples, but don't forget to eat, too: Pasta dishes are available in half and full sizes (perfect if you simply can't choose between the burrata-filled pasta or the lamb shoulder agrodolce), and the antipasti dishes are perfectly portioned for those wine samples.
Washington Square West
This cash-only BYO is a perfect hideaway on Spruce Street, offering only the best versions of classics: mussels with Asiago and prosciutto, short rib ragù, and the daily fish selection are just a few examples. If the main menu isn't enough, there's also an entire other menu dedicated to just cheese, meats, and oil. To feel like Restaurant Week any time of the year, ask about the four-course tasting menu so you can (start to) try a bit of everything.
Sign up here for our daily Philly email and be the first to get all the food/drink/fun in town.