Philly's Best Mexican Restaurants You Can Enjoy From Home
It's margarita season.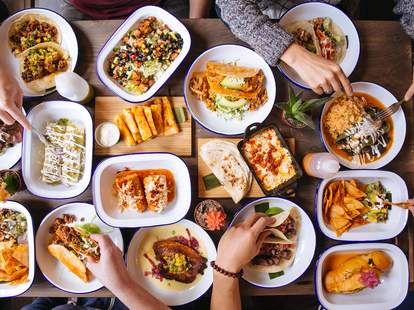 Courtesy of Tio Flores/Aversa PR
Are tacos one of the best comfort foods? Absolutely. As Philadelphia continues social distancing through the coronavirus pandemic, there are few cuisines that can hit the spot for your cabin-fever blues like Mexican fare. Treat yourself to a smattering of your favorite dishes and sides from some of the city's best Mexican restaurants, where you might even be able to walk away with a margarita (or five) for later. Take a look at our favorite picks for Mexican food right now, all of which are available for delivery and takeout.
Bella Vista
Get authentic Mexican dishes from this awesome family-owned business even during quarantine as Blue Corn stays open for takeout and delivery. Go for coctel de camarom (shrimp smothered in homemade sauce) or the simply perfect skirt steak tacos. Starting this May, Blue Corn will also be offering a special weekend takeout brunch menu, including fresh homemade cocktail mixers.
How to order:
Call 215.925.1010 for pickup or delivery
Passyunk
Enjoy a sweet and savory Mexican-style breakfast with churros, molletes, and the special huevos motuleños -- a tower of huevos rancheros covered in refried beans, ham, cheese, salsa verde, poblano rajas, caramelized onions, tomatoes, and queso. Wash it all down with a Mexican hot chocolate.
How to order:
Order delivery
online
Passyunk
This Passyunk staple is offering their custom-order tacos and burritos for delivery and pickup during the pandemic, sweetening the deal with tres leches for dessert. Definitely don't be afraid to pile on the guac and cheese on your al pastor taco while at home.
How to order:
Call 215.755.3550 for pickup and delivery
Spruce Hill
The West Philly staple is continuing to serve up the good stuff during the pandemic, with burritos, tacos, enchiladas, and other essentials on the rotation. For an early day treat (or really anytime treat), check the house breakfast complete with nacho chips cooked in rojas and salsa verde along with fried beans, bacon, eggs, and one mollete for just $10.
How to order:
Order
online
or from
Grubhub
for delivery
Multiple locations
Order deliciously no-frills tacos, quesadillas, and even waffle fries (?) from this local restaurant with three city locations. Even better: the spot is offering six-pack takeout beers that pair perfectly with your starter guac.
How to order:
Call 215.644.8080 (Graduate Hospital), 267.886-8061 (Fishtown), or 215.796.9890 (West Philly) for pickup; delivery through
Caviar
Port Richmond
Nemi has done a refresh to stay open as COVID-19 persists, offering takeout and delivery late during the week and brunch on the weekends. Choose from the entire dinner menu, including sophisticated ceviches and duck confit for two. You can also order virgin margarita mix to make a little stronger at home over bites of coffee flan.
How to order:
Call 267.519.0713 for pickup or delivery
Point Breeze
Strange as it may be to have something with "pizza" in the name on this list, Rosario's is a double master of Italian takeout alongside both traditional and experimental Mexican fare. The vast menu includes empanadas, crispy queso flautas, a few Philly-meets-Mexico cheesesteaks, and, ya know, nachos.
How to order:
Order for pickup or delivery
online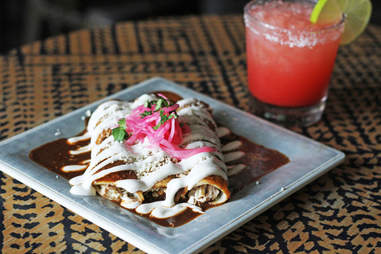 Courtesy of Rosy's Taco Bar/Aversa PR
Fitler Square
The lively corner taqueria is closed for now but offering margarita and cocktail kits to keep the fun alive while social distancing. In addition to drinks, the full dinner menu is available if you're in the mood for unique takes on some classics like Korean short rib tacos. You can also build your own with the $10 DIY taco kit.
How to order:
Order for pickup or delivery
online
Fishtown
Get all the Sancho Pistola essentials on the restaurant's "Apocolypse" delivery and pickup menu, including Kobe beef burritos, mahi-mahi tacos, fried plantains, churros, and tons of other options. The atmosphere may not be as lively in your apartment, but the food will be just as good. Sister location
Jose Pistola's
is also open for services.
How to order:
Call 267.324.3530 for pickup or delivery
Little Saigon
Don't skip the tinga quesadilla with spicy chicken or the marinated pork burrito with a dash of pineapple from Tacos California, home to super fresh, high-quality Mexican fare where you'll get a lot of bang for your buck.
How to order:
Order delivery
online
Graduate Hospital
Taco Tuesday is every day during quarantine for Tio Flores as the restaurant extends its long-running $22 deal for nine takeout tacos and a six-pack of Tecate to every day of the week. You can also try some fried avocado tacos for something a little different, and be sure to snag some $30 sangria pitchers for pickup before they sell out.
How to order:
Order
online
for pickup or from
Grubhub
for delivery
Headhouse Square
After closing for a deep clean, Xochitl reopened for delivery and takeout just in time for Cinco de Mayo. The cozy candlelit restaurant is offering pints of margarita mixers as well as DIY family taco kits for the occasion.
How to order:
Call 215.238.7280 or order through
Caviar
for pickup or delivery
Sign up here for our daily Philly email and be the first to get all the food/drink/fun in town.
Marielle Mondon is a writer from Philadelphia. Follow her @MarielleMondon on Twitter and Instagram.