Everyone in Philly knows where to get a great cheesesteak (one of these places, for starters), and where not to go for any reason whatsoever (Jersey), but it can be tough to figure out where to score foods that Philadelphia's less famous for... like Mexican food. Until your favorite men's lifestyle site decided to round up Philly's 10 best Mexican restaurants, obviously.
Market East 
What you're getting: Once you've settled on one of six guacamole blends, go with the taco tasting platter -- which includes sea bass, beef, chicken, carnitas, and mahi -- to cover all your bases. Oh, and quench your thirst with a nice pitcher of Granada margaritas.
With alternating taco specials and an endless drink menu, El Vez infuses seasonal specialties in classic Mexaurant standbys, and it is apparently named after Morris Day's back-up band.
Rittenhouse Square
What you're getting: The Queso de Mariscos appetizer -- for when you NEED your shell fish and peppers to be bathed in melty cheese
The servers at Tequilas like to show off how many creative ways they can serve you a drink (think head-balancing actd), but don't worry about the occasional broken margarita glass spoiling your meal, especially if it includes the spot's signature tequila salsa.
University City
What you're getting: A breakfast burrito complete with guac and homefries
This low-key West Philly truck gives you an authentic West Coast taste without any of the frilly touristy nonsense. This is also a great spot to fill your belly before you head around the corner to Local 44 for the night.
University City
What you're getting: The.. waitforit!... Cap'n Crunch-Crusted Tilapia Burrito
Cucina Zapata is one of the city's premiere choices for burritos on the go and a UCity necessity whether you opt for the freshly fried fish, or the... wait, sorry, but maybe you didn't read close enough: CAP'N CRUNCH BURRITO.
Bella Vista
What you're getting: The spicy pork burrito, which comes accented with sautéed onions and pineapple
Quetzally regulars come for the generous portions of authentic Mexican food at fair prices. Burrito-lovers can rejoice at the varied and fresh options... and the fact they're bigger than your head.
University City
What you're getting: Chicken and guacamole tacos
This UCity spot by Jose Garces has Philly's best guacamole, and it's a great place to get rowdy thanks to rotating margarita specials. Or it's a great place to just have a classically amazing Mexican meal... if you're into that sort of thing.
Fairmount
What you're getting: Pork belly tacos to pork up your belly
Come prepared for strong flavors and stronger margaritas. This is a perfect rest stop to fuel up before voyaging all around the Art Museum area.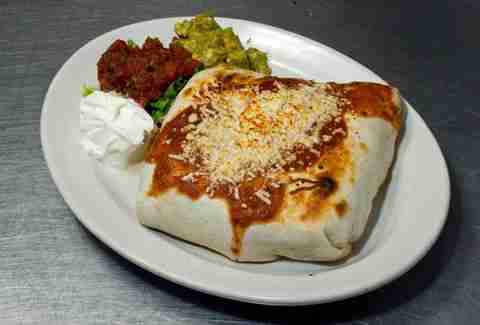 University City
What you're getting: The waffle fries. No matter what you get, make sure it comes with waffle fries.
Try to get past the frozen-margarita-loving college crowd (or just embrace it) and face the fact that any burrito as big (and possibly deep-fried) as the square ones this place serves is a good decision. For dessert, you can have the Ice Cream Burrrrito.
Northern Liberties
What you're getting: The award-winning strawberry habanero guacamole
Not only does Union Taco observe the greatest of weekday holidays, $2 Taco Tuesday, but you can also get some Chorizo Cheese Fries to add some variety to your eats.
Bryn Mawr
What you're getting: If you still have room after the spiced calamari and can take your eyes away from all the other tapas, try the seasonal pumpkin taco, or any of the traditional tacos meant for "sharing".
The Main Line tequila bar is a bric-a-brac of Latin cuisine, including daily tequila specials and a late-night happy hour.
Sign up here for our daily Philly email and be the first to get all the food/drink/fun in town.