In a city most notorious for adorning late-night hoagies with cheese whiz, Philadelphians are proud to boast all the other food our city has to offer, none of which includes standing in line outside a neon-lit eatery on 9th St. As much as Philly is a city for food lovers, it is a city of neighborhoods too -- each simultaneously presenting distinct characteristics through dining options.
You'll notice there is no shortage of button-popping Italian restaurants on this list, nor refined eateries with multiple courses and lofty ambiance. Of course, being Philly, a significant number of the best restaurants in the city are more simplistic -- a cozy hideaway where the kitchen stays open late, a diner where breakfast is served all day, a dive full of local beer that has a secretly amazing pub menu. Take a look at where your favorite neighborhood for eating out lands.
Recommended Video
This Burger Has a Pizza Bun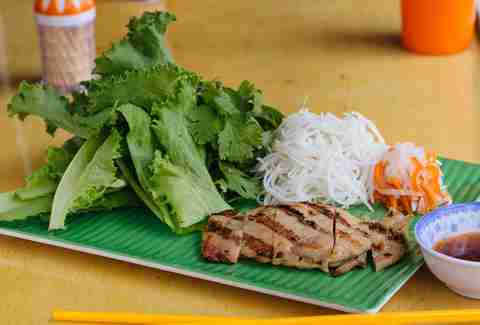 9. Northern Liberties
The essentials: Pizzeria Beddia, Honey's Sit N' Eat, Silk City Beer Garden
NoLibs typically gets more buzz for its bars and never-ending Schmidt's Commons developments than its dining scene, but the neighborhood is not without noteworthy mainstays. Pizzeria Beddia makes some of the best pizza in the country. Cantina Dos Segundos has some of the most delicious tacos in the city (and the kitchen stays open until 1am every night), while N. 3rd offers high-quality pub fare in a dive that's fit for the area. The original Honey's Sit N' Eat is a local favorite, thanks to Southern comfort food and all-day brunch items, and Silk City reinvents diner cuisine and throws in a beer garden for good measure. Other restaurant concepts like the Vietnamese BYO Same Same and Armenian-Mediterranean spot Apricot Stone also keep NoLibs from being pigeonholed into one kind of cuisine.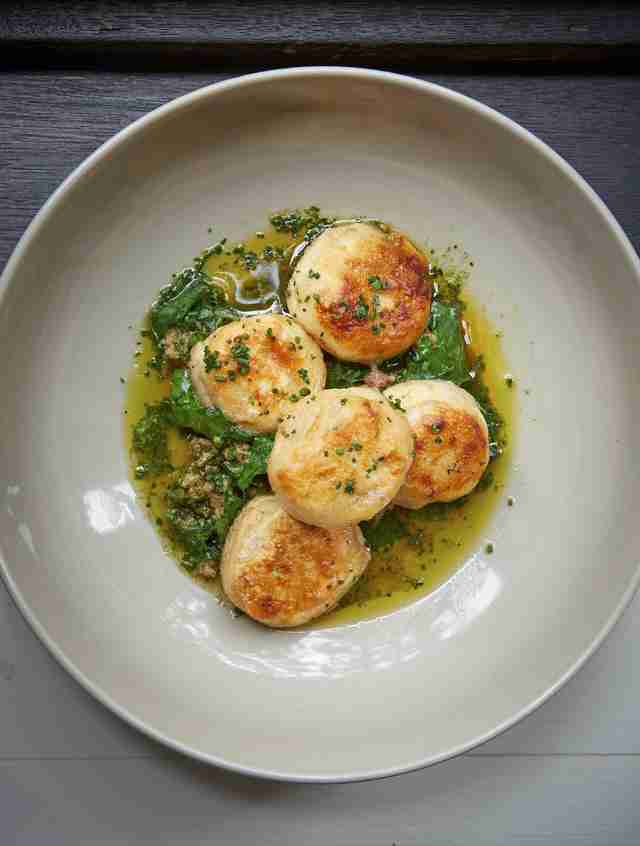 8. Graduate Hospital
The essentials: Rex 1516, Sawatdee, Pub & Kitchen
A handful of eclectic restaurants call Grad Hospital home, fitting nicely with the growing nightlife the 'hood offers. Pub & Kitchen has a nice blend of lively bar scene and high-quality European-American dishes, and Rex 1516 offers a similar warm ambiance, but this time with gourmet burgers and comfort food. For great dishes and fresh daily specials that are filling without breaking the bank, BYOB Miles Table does the trick (plus, it observes the most important of holidays: Taco Tuesday). Sawatdee is this 'hood's destination for Thai food, and if you're a sucker for all things seasonal, the ever-changing menus at Pumpkin will keep you happy.
7. Fishtown
The essentials: Wm. Mulherin's Sons, Kensington Quarters, Fette Sau
Fishtown has grown studded with unique restaurant concepts over the last few years, including Kensington Quarters, which functions as an eatery with meat-heavy seasonal menus in a gorgeous space, as well as an in-house butcher shop. The more recent opening of Wm. Mulherin's Sons adds not only a new Italian restaurant to Front St, but soon a hotel as well, just a stone's throw from Front Street Cafe, where all your lunch, coffee, dinner, and bar needs are housed in one lovely space. Johnny Brenda's gets a lot of attention for its hyper-local beer taps and performance space, but do not ever overlook the food menu: one taste of the fried chicken sandwich will make you a believer. Stephen Starr has also made a big footprint in Fishtown, both with BBQ joint Fette Sau and German beer garden Frankford Hall. Loco Pez is home to some of the best (cash-only) nachos in the city, and nobody can overlook the brunch menu at Memphis Taproom.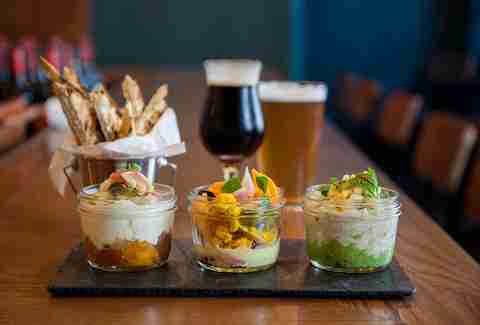 6. University City & West Philly
The essentials: Abyssinia, Distrito, White Dog Cafe
Despite catering to its college crowd, U-City is nonetheless home to Jose Garces' take on Mexican cuisine at Distrito (along with its more casual taqueria), as well as the seasonal farm-to-table fixings at Harvest and White Dog. As you go further into West Philly, your options for excellent dining experiences do not fall flat. The tasting menu at Marigold Kitchen offers an acutely curated, highly seasonal 14 courses, with a new option to opt for a 6-course menu instead to make finishing each dish a little more attainable. For Ethiopian cuisine, Abyssinia is a local favorite, especially for group dining, and Dock Street Brewery complements its brews with plentiful pizza and quite possibly the best fried mozzarella in Philly. Clarkville has even more pizza and local beer, plus tons of options for vegans and vegetarians. When it's time for something sweet, stop by Little Baby's Ice Cream for handmade, small-batch desserts.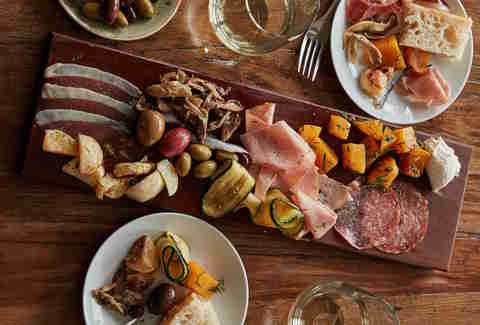 5. Fairmount
The essentials: A Mano, Bar Hygge, Rembrandt's
Fairmount has a great mix of long-standing haunts and new up-and-coming restaurants helping to build up the area closer to North Broad St, like the bluesy music venue and restaurant SOUTH, offering more Southern comfort food than you ever imagined to find in Pennsylvania. Osteria and Alla Spina also bring pasta, thin-crust pizza, and all other Italian-centric dishes into the mix. Going westward, cozy BYOBs like A Mano evoke the homey feel of Fairmount with a plentiful side of black squid ink pasta. Longstanding favorites like Rembrandt's and the Belgian Cafe are quintessential when it comes to elevated pub fare and European frites, respectively, and both provide plenty of good beer to help wash it down. It's safe to say that Fairmount also has one of the best brunch games in town, thanks to the stuffed French toast at Sabrina's (though maybe not, thanks to the lines at Sabrina's), and the gluten-free options (though you wouldn't know it based on taste) at Fare.
4. Passyunk
The essentials: Le Virtu, Bing Bing Dim Sum, POPE
Restaurants along Passyunk Ave have a bit of everything, so it's perfectly understandable why people who live here tend never to leave. Bing Bing Dim Sum offers a trendy and colorful take on Jewish-infused Chinese food, while Sate Kampar serves authentic Malaysian dishes in a laid-back BYOB setting. You can find traditional Neapolitan pizza at Brigantessa, as well as dough infused with spicy chili oil, and survey fine French dinings at Townsend (if you've never tried escargot, this is the place to do it). Italian dishes inspired by Abruzzo draw a lot of locals to Le Virtu, but if you want some music with your pasta, try Francoluigi's Pizzeria and enjoy the singing servers. If you're in need of satisfying food without committing to a frilly dinner, there are plenty of taco and/or burger outlets within your grasp. Cantina Los Caballitos will warm you up in the dead of winter with strong margaritas and warm tacos, and both P'unk Burger and The P.O.P.E. are standout options for your burger fix.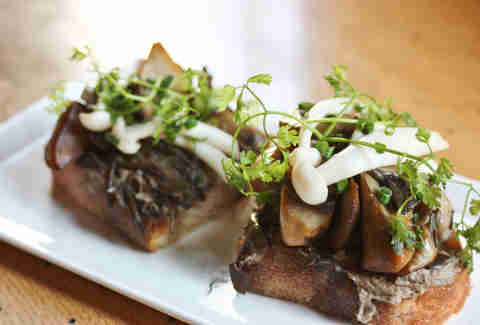 3. Old City/Society Hill
The essentials: Zahav, Amada, Fork
Old City has a long-running history of claiming the top spot when it comes to Philly dining, and that is largely thanks to a handful of restaurants who moved into the neighborhood long ago and never left. Even as new dining neighborhoods rise, favorites like Amada and Buddakan from Garces and Stephen Starr keep attracting diners here, while Italian food and books of wine await at Panorama and La Famiglia Ristorante. We also need to give credit to the premier Israeli cooking at Zahav, the authentic Belgian tavern that is Eulogy, the reinvented retro raw bar at The Olde Bar, or Fork. Head further south into the Headhouse/Society Hill district and you're greeted with the bourbon-happy Twisted Tail, where music trails out of every corner and beer-battered cheese curds are on a menu focused on Southern comfort food. Marrakesh is a perfect option for Moroccan food (you might spot some belly dancers), and when you find yourself in need of pizza, look no further than Pizzeria Stella. Last but not least, don't forget City Tavern, because any neighborhood restaurant that includes servers dressed in revolution-period costumes straight out of Hamilton deserves to be high on any list.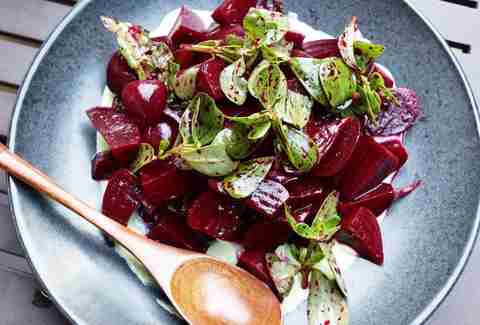 2. Rittenhouse
The essentials: Barclay Prime, Lacroix Restaurant, Sbraga
It's no surprise that one of Philly's most coveted neighborhoods is also home to its most coveted restaurants, and while a good number of the best meals in Rittenhouse will cost you, it's still possible to get a good meal without going over budget. SliCE Pizza and Spread Bagelry are great for a quick carb fix, and the macarons at Miel Patisserie will not lead you astray. When it comes time for a full-on dinner, save room for steak from spots like Barclay Prime or Butcher and Singer, both of which will provide premier ambiance once inside, or find a spot at one of the outdoor tables at Parc or Rouge and pretend you're in Paris. The Rittenhouse Hotel houses Lacroix Restaurant, where vast global fare is available a la carte or via tasting menus. The simplistic, fresh Mediterranean menu at Audrey Claire makes it a great BYOB for the neighborhood, and Tequilas has pretty much all the food you would like to eat with tequila. The Dandelion Pub somehow makes British cuisine we crave (looking at you, fish & chips). Twentieth Street is a particularly good place to get a meal, with two Garces restaurants right near each other: the gourmet pub Village Whiskey, and Spanish tapas gem Tinto.
1. Washington Square West/Midtown Village
The essentials: Vedge, Garces Trading Company, Vetri
The nightlife of nearby Midtown Village has helped catapult Washington Square West's dining scene deeper into fun, trendy restaurant concepts while still maintaining the taste and tradition at some of the neighborhood's long-standing favorites. When it comes to enjoying the scenery of Washington Square, Talula's Garden's farm-to-table menu and earthy decor make it a favorite for brunch by the park. If you've ever wanted a wine-and-cheese taste through heaven, you can find it at Tria Cafe's Washington Square West location, where you may suddenly become an expert at detecting the wine notes and cheese origins. Vegans and their meat-eating friends will both be happy at spots like Charlie was a sinner and Vedge, where veggie dishes are satisfyingly filling, but if you're still hungry, it's best to stuff your face with pasta from Little Nonna's and Mercato, or house-made mozzarella from Garces Trading Company. M Restaurant, housed in the Morris Hotel, offers dreamy garden views with seasonal menus. Cheu Noodle Bar serves up Japanese dishes like crab and shrimp balls and spicy tuna poke. Expect plenty of reinvented retro American classics, plus a decadent brunch menu of fried chicken buckets and lemon ricotta pancakes, at Bud & Marilyn's. For a very special occasion, don't overlook the prix fixe dinner at Vetri, which seats only 30 and creates custom Italian courses for each guest upon arrival.
Washington Square West's neighboring Midtown Village also brings fantastic eating experiences to the area, such as the newer multi-level Japanese spot Double Knot, where you can choose between dozens of robataya options alongside sushi and other entrees. Tredici Enoteca is quickly becoming a favorite for Mediterranean cuisine paired with a bounty of wines, and Stephen Starr's El Vez has a long history of serving tacos, guacamole, and margarita pitchers to very happy people.
Sign up here for our daily Philly email and be the first to get all the food/drink/fun in town.