Even if you "just can't" with brunch lately, you can't deny that breakfast is the most important meal of the day, and lunch is also somewhere in the top three, and therefore the culmination of the two is vital to your nourishment. We've rounded up five new brunch dishes that'll make a believer out of anyone.
Recommended Video
Party on Like Rudolph With This Red Nose Punch
Kale and Smoked Gouda Pimento
Knead Bagels (address and info)
Market East
One of the most glaring flaws in Philly's "we're better than New York" mantra is the bagel situation here. Lucky for us, Knead Bagels opened in November to deliver round bread-y goodness to the City of Brotherly Love. For the perfect breakfast sandwich try the Kale and Smoked Gouda Pimento. It has kale, so it has to be healthy, right?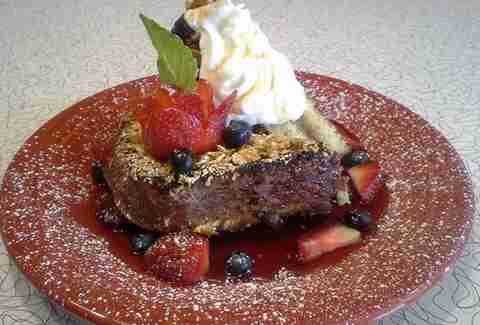 Torrejas del Dia
Cafe Ynez (address and info)
Point Breeze
Cafe Ynez recently added a slew of new brunch specials to its menu of Mexican fare, so try the breakfast nachos with whatever Torrejas del Dia special is on the books for the day. Options alternate, with choices such as the cinnamon apple-stuffed French toast topped with corn flakes.
Homestyle Western Omelet
Dottie's Dinette (address and info)
Fishtown
This new Fishtown diner is the perfect place to find all your favorite brunch staples without paying a fortune. Opt for a nice breakfast platter of a ham and pepper-stuffed, bacon-glazed omelet with toast and home fries to get all your bases covered.
Orange Sourcream Pancakes
City Tap House Logan (address and info)
Logan Square
City Tap House just opened a new location in Logan Square, which means you can score the equally delicious eats and craft beer from the much-loved U-City spot without fighting college kids for a table. The spot launched weekend brunch last month from 11am-3pm, featuring Orange Sourcream Pancakes drizzled with blueberry-anise compote and topped with whipped butter.
French Toast Gateau
Girard (address and info)
Fishtown
Girard is bringing French brunch and dinner staples to Fishtown, and because we all know French people don't get fat, you are now at liberty to nosh on gateau (aka cake), a concoction of dark cherry compote, hazelnut brittle, and espresso ice cream on perfectly cakey French toast.
Sign up here for our daily Philly email and be the first to get all the food/drink/fun in town.