Recommended Video
Flaming Blowtorches And Savory Donuts At The Gastro Garage Pop-up
The Doh! Nut
PYT (address and info)
Northern Liberties
All the comfort food you could ever desire comes wrapped in gooey, glazed deliciousness with PYT's latest burger special. Ground beef and a ton of melted cheese surrounded by fried dough, plus sprinkles that're actually bacon, make this a can't-miss late-night option.
Traditional brisket hamburger
Lo Spiedo (address and info)
Philadelphia Navy Yard
The new Navy Yard rotisserie makes fresh and classic eats over their signature wood-burning flame, which means their burger's farm-fresh meat is extra savory... oh, and the bacon, cheese & onions don't hurt either.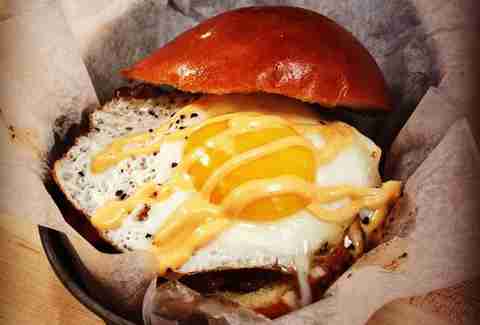 Pork Roll Burger
Blue Duck Sandwich Company (address and info)
Northeast Philadelphia
The new Northeast BYOB does not disappoint with creative burger and sandwich combos, like this one, which comes w/ ground pork, a beef patty, Sriracha mayo, cheese & a sunny-side egg on a potato roll.
Anniversary Burger
Tap Room on 19th (address and info)
Melrose
In honor the spot's anniversary, you get to eat LaFrieda beef w/ collard greens, black pepper bacon & fried chicken skin in a perfectly toasted bun.
Sweet + Sour Pulled Veal
The Treemont (address and info)
Rittenhouse Square
The burger on the bar menu at The Treemont features green olives and crispy onions. It is your new go-to during their sweet Sunday-Friday happy hour.
2nd Story Burger
2nd Story Brewing (address and info)
Old City
The Old City brewery's signature burger includes tomato jam, manchego cheese, and arugala on a toasted bun that's so good you'll want to order a... waitforit!... 2nd one.
Sign up here for our daily Philly email and be the first to get all the food/drink/fun in town.