2014 has been a big year for Philly restaurants, so it makes sense to take a break from eating (and even more eating...) to reflect on the past year. But don't take to long 'cause if you haven't already, you still need to check out Philadelphia's 11 best new restaurants of the year...
Recommended Video
Buffalo Chicken Beer Cheese Fondue Fries Are Like an Edible Sports Bar
Rittenhouse
Jose Garces' latest gives you the chance to try internationally-inspired tasting menus in six-course or 12-course installments. Locally sourced and seasonally changing menus (made by Garces himself) are the true highlight of the restaurant, but if you can't score a ticket -- yes a ticket! -- to dinner in the back, the bar out front is down to feed you a selection of the aforementioned prix fixe items à la carte-style.
Fishtown
You can opt for the $30 bountiful prix fixe brunch menu, which includes an entree, appetizer, side, and bottomless margaritas or mimosas, or order off the awesome raw bar and taco menus and you won't be disappointed. But let's be honest, in this town, the fact the kitchen is open until 2am alone makes it one of the biggest openings of the year.
Midtown Village
The Corner got a nice NOLA-flavored makeover from Louisiana chef Paul Martin, who's offering Cajun favorites like as crawfish fritters, confit rabbit nuggets, and skillet-roasted fish.
Northern Liberties
There's plenty to do and to try at this new North 2nd St spot, whether you opt for biscuits and gravy at lunch or the Bang Bang Chicken pizza, when you're done eating sip on the Dead Black Sage cocktail and enjoy the live music, burlesque, or whatever other event is being held that night.
Market East
Ten years in, Lolita needed a makeover, and it certainly got one. Now the spot's equipped with a full liquor license (cucumber-jalapeño margaritas!) and Mexican eats, including mango guacamole and a whole lot of tacos, plus late-night food specials throughout the week.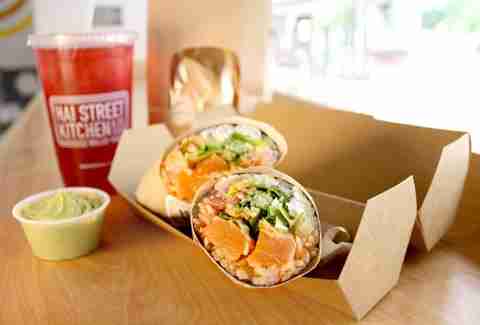 Rittenhouse Square
Think of it as a marginally lower calorie, but much better, version of Chipotle. Design all the fixings for your sushi of choice and get it wrapped up in a nice sushiritto, for when you need your raw fish on the go, which we all do.
South Philly
This may seem like the perfect place to fuel up for a night of bar hopping, but after you stuff yourself on their burger with a mac & cheese filled BUN -- 1,783 calories for $12.50 -- you'll probably have to settle for hitting the bar and nightclub inside this one-stop eating and drinking spot instead.
Graduate Hospital
Cafe Ynez serves three meals a day, which means nachos in the morning, nachos in the evening, and nachos at suppertime... though it you have too, you can also score Mexican coffee, a taco platter, or some South-of-the-border-style seafood, too.
Society Hill
This cozy, sun-soaked spot gives a nod to local heritage via antique furniture/fittings, old-school wainscoting, vintage wood, etc., plus it offers a mix of your favorite comfort foods like Chef Yun Fuentes' $8 hamburger, or more eclectic dishes like cider turnips and scallops with grits.
Rittenhouse Square
The rustic bi-level restaurant offers dry-aged Berkshire pork chops, chickpea fritters, deviled eggs with duck confit, and happy hour six days a week. You can also try the Escargots à la Georges Perrier, in case you've been missing Le Bec Fin.
Old City
High Street on Market has gained quite a following in its short existence, and it's no wonder why: fresh shareable bites, such as Sunflower Seed Risotto, populate the starters, and creative pastas and other dishes make the entrees hard to choose between. Luckily, there's a solution for that: sample eight dishes selected by the kitchen staff for $50.
Sign up here for our daily Philly email and be the first to get all the food/drink/fun in town.