Philly's dining scene had quite the exciting year. We saw beloved food trucks become brick-and-mortars, long-awaited food concepts become a reality, and mixed-genre restaurant spaces (like one with bowling lanes in the basement) come to life. From brand new Filipino and yakimono concepts, among the first of their kind in Philly, to nascent Italian restaurants standing out in a pasta-dominated town, local foodies have a lot of new treasures to enjoy from 2016. Take a look at the very best new Philly restaurants this year.
Recommended Video
Dreading the Holidays? You Need This Cranberry Sauce Margarita.
Fairmount
It's difficult for new Italian restaurants to stand out in Philadelphia, but the refreshingly refined, simple menu and atmosphere at A Mano made the corner BYOB a quick favorite for locals. A Mano is Townsend Wentz' second mark in the Philly restaurant world, after his namesake French restaurant in Passyunk, and this time he plays up a cozy, dimly lit atmosphere in Fairmount. The menu is a hyper-seasonal curated collection of three courses -- a selection brief enough to fit on a half sheet of paper. The arctic char crudo antipasti stands apart with apple and crisp artichoke, while you can score some garlicky escargot in the parsley cavatelli primi dish (or opt for the goat cheese gnocchi if snails freak you out). Take a peek into the open kitchen for a hint at the homemade pasta or braised short rib on the way to your table.
Midtown Village
Double Knot is fitting for any time of the day, thanks to an upstairs coffee shop and lunch menu that supplies drip coffee and build-you-own rice, bahn mi, noodle, and salad bowls. There is, of course, a fully stocked bar fit for the swankiest of happy hours, making the upstairs area is a perfectly suitable space whether you stop in before or after work. Though that may seem like enough, there is so much more: head downstairs to the "hidden" restaurant and enjoy pages and pages of robatayaki menu items, sushi rolls, and small plates that will take you forever to choose from. Your best bet to get the 10-course Chef's tasting menu. At $65 a person, it actually turns out to be an economical choice when you realize how much food you're getting. Lobster claw, scallop sashimi, tempura cheese curds, and kobe beef robatayaki are only a handful of great options to get you started at this decidedly hip izakaya-style restaurant and cafe.
Rittenhouse
The new Harp & Crown space is grand in its rustic, golden warmth that echos through the high ceilings, exposed brick, wrap-around bar, and vintage-inspired furniture that adorn the restaurant. You almost wouldn't believe that the same restaurant also houses an irreverent, dimly lit two-lane bowling alley downstairs. Charcuterie and cheese plates go with small plates of Spanish octopus and lamb meatballs to start off the meal, and entrees range from mushroom pizza with capers to hanger steak and farro pasta with spinach pesto, or if you're sharing at a table of two you can opt for the niman ranch ribeye. The great thing about Harp & Crown is that you don't need to come for dinner for a multi-course meal to be satisfied: a full lunch menu and some high-end bar fare make a quick stop-in an easy and worthwhile break in your day.
Passyunk
Top Chef winner Nick Elmi has created a lower-key neighbor for his much-lauded Laurel restaurant, making ITV (for "In The Valley," a translation of Passyunk in the Lenape Indian dialect) a quasi add on to the concept, this time focusing on an endless by-the-glass wine list (and more expensive bottles) served with French-American small plates. It's less of Laurel spillover than it is its own intimate hangout. You can make your ITV experience as laid back or as fanciful as you like, with the option for full-on champagne and caviar service.
Graduate Hospital
If you're in search for a new neighborhood bistro, Lou Bird's offers a refined, classic atmosphere with dim red lighting that make it the perfect place to hole up for winter with an array of small plates and appetizers to comfort you. Fluke crudo, pork belly, and even pierogies round off the starter dishes, while entrees like lobster in whole wheat torn pasta set Lou Bird's apart from other low-key bistros. Brunch is also a refreshing surprise here, offering an alternative to your tired brunch standbys with vanilla pancakes, lobster and grits, and croque madame.
Rittenhouse
Mission Taqueria's expansive Sansom Street space has already made a dent in the Mexican fare landscape of Philly, as well as the overall brunch scene thanks to ample seating designed for big groups. The space is airy and white with pops of color and eclectic decor, complete with gourmet tacos and strong house margaritas. The perfectly grilled skirt steak tacos cut no corners, while the lengua tacos (veal tongue) are a worthwhile risk. Freshly made guacamole and warm flakey chocolate churros are great bookends to a meal. If you're in the mood for sharing, don't skip the platos grande options, with pork shoulder, lamb, and grilled swordfish big enough to feed four.
Passyunk
The new Passyunk BYOB brings modern Filipino cuisine to Philadelphia, made all the more elusive by its small dining room, which seats only 30. Perla is not without a great origin story, either, with Chef and Owner Lou Boquila having rose from dishwasher to Executive Chef at Audrey Claire's before making Perla his new home. Echoing the limited seating, the menu is a four-course fixed price menu available during the week. Sundays patrons can come in with a larger group (six minimum) for a $40/person kamayan dinner, where you'll eat solely with your hands. Dishes are reimagined recipes from Boquila's childhood, heavy on meat and fish plates, and the semi-open kitchen lets you have a sliver of a peek of it all.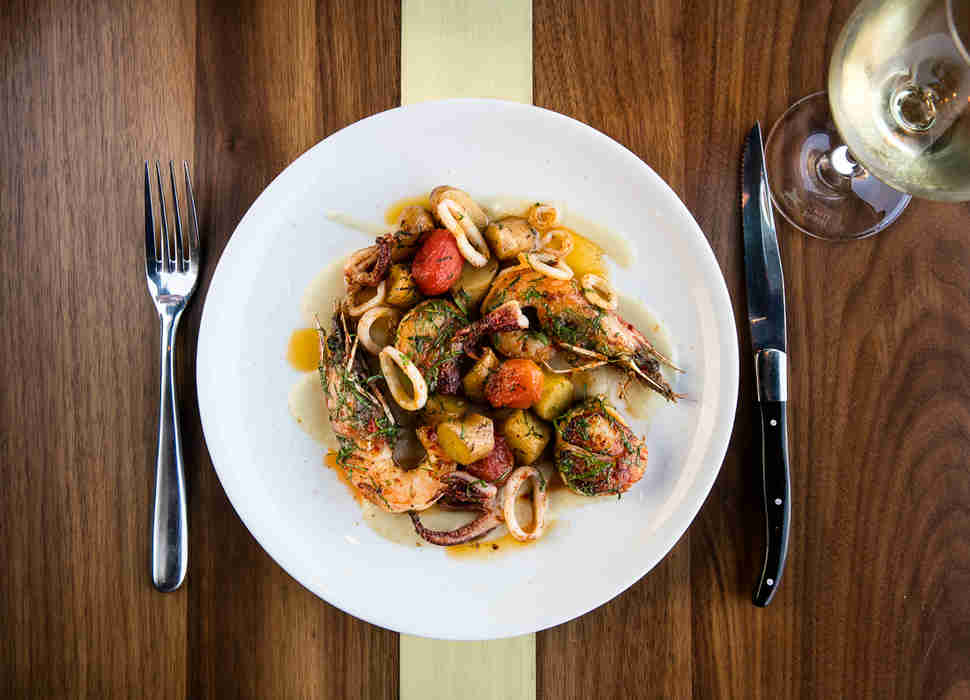 Fishtown
In addition to having one of Philly's best bartenders right now, ROOT also delivers when it comes to a refined wine selection, savory small plates, and diverse entrees, including spice rubbed lamb chops and seafood a la plancha. For dessert, try locally-sourced chocolates from West Chester and the hazelnut creme brulee with candied orange. Brunch is equally as varied, with an extra treat for vegetarians who order the deluxe burger and are met with a mushroom-based patty. The brunch cocktails stray from by-the-book options, with rum-spiked lattes and kombucha in the mix.
Queen Village
This long-awaited divey sushi spot was worth the four years of anticipation, and don't be alarmed at the idea of raw fish from a dive -- that aspect is strictly atmospheric. Stephen Simons and David Frank (who brought us the Khyber Pass Pub, among others) envisioned this space in 2012, and now that it's open, it stays that way until 1am every night. The place specializes in yakimono, which are grilled or pan-fried dishes common in most Japanese taverns. Shareable plates of pork and veggie dumplings, chicken gizzard yakitori, fried octopus balls, and tons of sushi and sashimi options round out the whiskey bar, which includes dozens of sake bottles.
Fishtown
Set in a restored former distillery, Wm. Mulherin's Sons has made a sizeable footprint in Fishtown dining, garnering praise throughout the city. The decor helps, incorporating elements from the building's original design of high, arched windows and a company safe turned coat closet. Thankfully, the food lives up to the space's grandiose, the menu heavy on unique wood-fired Italian fare, including fall squash and pumpkin pizza, squid ink and octopus pasta, and carefully prepared land and sea plates. If you're still a believer in pizza in the morning, you will not be amiss here either, thanks to a brunch menu that boasts three types of breakfast pizza (and a 24oz porterhouse for the table served with a dozen eggs). If that's not enough, the cocktail list comes from the same team behind Olde Bar and a.bar, so you know you're in good hands. Wm Mulherin's Sons evolution isn't done yet, however: a forthcoming hotel will add to the space in the coming months, bringing an entirely new market to the neighborhood.
Sign up here for our daily Philly email and be the first to get all the food/drink/fun in town.