goldie

| Michael Persico
goldie

| Michael Persico
Philadelphia's Best New Restaurants of 2017
This year was a mixed bag in Philly's food scene, with some of our favorite eateries closing down including Midtown staple Little Pete's and Kevin Sbraga's namesake restaurant, along with his fried-chicken haven Fat Ham. From the ashes of the shuttered destinations, though, Philadelphians can count on new restaurants to pepper the city's food map as it continues to shift and change. This year the notable eateries making this list range from casual and beer-centric to traditional members-only clubs, from fast casual lunch spots to stylish cocktail lounges, from South Philly hideaways to airy suburban destinations. Take a look at the very best new Philadelphia restaurants of 2017.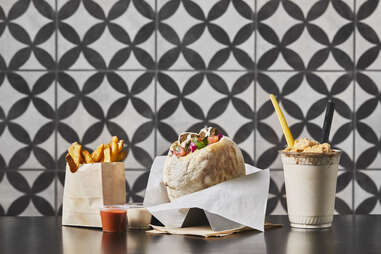 Rittenhouse
Basic, well-executed vegan lunch spot serving falafel, fries, and shakes
Goldie's menu keeps things simple, offering a few basic lunch staples that everyone can agree on: falafel (alongside Dizengoff pita bread), fries, and four different kinds of shakes. The eatery is just the latest in a string of restaurants from the Cook N Solo restaurant family to take over the Samson Street corridor that keeps Federal Donuts, Abe Fisher, and Dizengoff all within a stone's throw of each other. You can now also start eating Goldie while you grocery shop, as there's a second location opening in the Fairmount Whole Foods. Read why Thrillist chose Goldie as one of the Prime 13 best new restaurants of 2017.
Passyunk
Old-world Italian recipes in reinvented retro digs
It didn't take long for Bon Appétit to proclaim Palizzi Social Club one of the best new restaurants in the entire country this year, and while we're very happy for the restaurant, the act of getting a table there has since doubled in difficulty -- and it was already tricky thanks to Palizzi's members-only dining policy. Once you make it inside, though, expect shareable small plates of filling fare, grilled specialities, and perfectly prepared pasta. Chef Joey Baldino took over the long-running club after inheriting it from his uncle, introducing a new set of Italian-American classic dishes in a space that stays authentic to its social club roots, complete with art deco bar and vintage cigarette machine.
Rittenhouse
Charitable, crowdfunded spot for sandwiches, salads, and cocktails
As noted above, Rooster Soup Company isn't far from Goldie, catering to a lunch rush crew that loves comforting sandwiches, hearty soups, and a midday Bloody Mary. You can also score brunch during the weekend, and late-night Friday karaoke if you're lucky (or unlucky, depending on how you feel about karaoke). The best part about Rooster Soup Co., though, is its backstory: The restaurant began as a crowdfunding effort started by Federal Donuts and Broad Street Ministry to give 100% of all the its profits to homeless and vulnerable Philadelphians. So, if you're wondering whether to order that extra side or that second drink, just remember you're doing it for the greater good.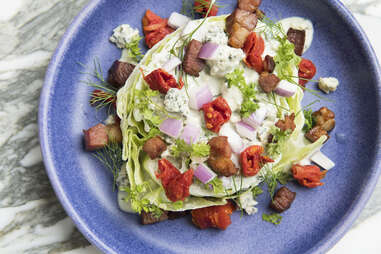 University City
All-day cafe that can do upscale dining just as well as casual coffee
Now that most of us are sufficiently used to the FMC Tower being part of the Philly skyline, we've got the perfect excuse to actually step inside: a meal, at virtually any time of day, in Walnut Street Café. The airy, American-style cafe can function however you need it to: a casual stop for coffee and quick breakfast, a lengthy, multicourse dinner, a swanky happy hour option, or even a brunch place where you may or may not order from the raw bar. You can't say no to a place so multifaceted it can offer both steak porterhouse for two and a fresh array of breakfast pastries all under one roof.
Navy Yard
Homestyle Italian small plates in an expansion of the Vetri empire
This year, Amis Trattoria in Washington Square got a scaled-back, casual outpost in the Navy Yard to cater to the area's professionals, as well as anyone on the hunt for refined small plates that cater to their cravings (as in smoked and fried mozzarella or Italian hoagie toast). At the bar you'll find a mix of rotating, locally brewed drafts and standby bottles, as well the buzzy wine slushie -- frosé, of course -- that blends wine with rum and citrus. Bar Amis also employs the quinto quarto tactic, meaning it uses each part of an animal in its entirety for maximum sustainability without sacrificing taste for those Parmesan pork chops.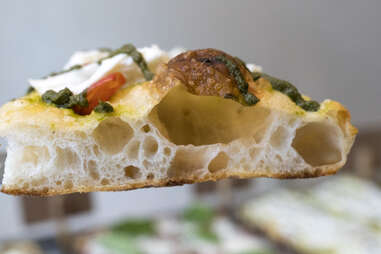 Rittenhouse
Casual shop serving perfectly crafted Roman-style square pizza
Just when you thought Philadelphia didn't need any more Italian food, let alone pizza, along comes Rione with its thick, perfectly executed Roman-style pies. Whether you get the classic margarita or the more artisanal patate or prosciutto crudo pies, be sure to also grab a side of the potato croquettes, and save room for the tiramisu as well. The square pies are a breath of fresh air for the Rittenhouse area, and specifically among the other celebrated artisanal pizzerias around Philly, many of which focus on smaller, Neapolitan-style pies. Here, your meal is as big as you like -- the rectangular pizza is sold by the slice or the tray -- and the pies are extra fluffy thanks to a 72-hour airing period that gives the dough the coveted combo of being both thick and light.
Washington Square West
New American restaurant with French undertones and a retractable roof
The aesthetic of Maison 208 is enough to warrant a visit on its own, but thankfully the food is impeccable in its own right. Chef Sylva Senat, a contestant of Top Chef fame, opened the restaurant earlier this year with one clever design secret: a retractable roof that allows Maison 208 to seamlessly go from cozy enclave to open-air bar, with an upscale design as elegant as the menu. Share some small plates at dinner, such as the Kobe beef island lollipops, the braised pork belly, or the house pomme frites doused in garlic, truffle oil, and Gruyere cheese -- and if you want to get fully French (or at least pretend), there's even ratatouille on the list of entrees. If you don't have the time or funds for a full meal here, you can still enjoy the ambiance with a stop at the bar for small bites -- the pizza noir has black truffles and fontina -- and European wines.
Northern Liberties
Southern-style fried chicken with hearty sides and monthly pie specials
Love & Honey offers an easy -- and affordable -- way to indulge in Southern cuisine right here in Philly. Not only can you grab three- or six-piece chicken meals (or just order by the breast, thigh, and drum), but you can complete your plate with all the fixings for a comfort meal: mac & cheese topped with Ritz Cracker crumbs, cornbread, potato salad... the choice is yours. If you want wings, stop by Wednesday or Sunday, and don't be late -- the wings doused in hot honey sauce tend to sell out quickly.
East Passyunk
Some of the best Spanish tapas in Philly, alongside delicious cocktails
Right at the corner of the Ave and Watkins Street sits Barcelona, with its expansive outdoor patio and all the fixings to craft your fantasy cheese and charcuterie board -- what, don't you dream about meat and cheese plates too? A lengthy tapas menu also means you don't have to sacrifice any of what your palate desires; instead, small plates of crispy eggplant, steamed mussels, fig chorizo, and truffle vinaigrette hanger steak (along with 20-or-so others) are all perfectly acceptable to order simultaneously. At least, we think so. The seafood paella is an ambitious feast to conquer, though Barcelona's handcrafted cocktails and sangria may help to fuel your appetite.
King of Prussia
Probably the best high-end meal you'll ever have in a mall
It's not often we send city-dwelling restaurant seekers to the neighborhood that's home to the second-largest mall in America, but as King of Prussia has continued to develop a quasi-downtown area in the form of the KOP Town Center, and as rumblings of a direct rail line from the city continue to reverberate, the area is getting harder and harder to ignore. At Mistral, located in the high-end part of the mall that houses the likes of Hermès and Cartier, expect locally sourced ingredients that come together in highly seasonal dishes. This is the second location of Mistral, which got its start in Princeton, and the PA location welcomes more Japanese-tinged dishes, including tuna poke and tempura squash on the most current menu.
Fishtown
Gigantic brewpub in the Piazza serving brick-oven pizza
Who doesn't love a good brewpub? Urban Village takes the concept a step further with brick oven artisanal pizzas, including a new scrapple breakfast pie, made on dough that has been slow proofed for three days -- a baking technique that ensures soft, fluffy bread. In addition to artisanal pizza and standby brewpub fare like wings and fries, you can go ultra-high brow (at least for a brewery) with small plates like ricotta gnocchi, fried cauliflower, and three types of mussels. Not hungry? Stop in anyway for a beer flight to sample all the brews being carefully crafted onsite.
Sign up here for our daily Philly email and be the first to get all the food/drink/fun in town.