Philadelphia's first Center City Restaurant Week of 2019 is upon us, and our start-of-the-year diets are already being put to the test. While the list of restaurants participating in CCRW continues to expand, it's important to take note of the restaurants out there who are actually serving you a deal. Most restaurants abide by a three-course, $35 menu during the special weeks (which go from January 13th to the 25th this year), but what a lot of first timers don't realize is how restaurants will also strip their regular menu of all the best items during this discount time.
The real trick is to hone in on the restaurants that continue to offer most (or all) of their regular menu, as well as the ones making the $35 dinner a true deal. The restaurants highlighted below feature entrees that could typically surpass the special price just on their own, as well as trendy spots that you've probably been meaning to try for years. Whether you're after multiple courses of small plates, high-end French cuisine, homemade pasta, or just a really, really good steak, you can find all that and more this Restaurant Week.
Recommended Video
Get Your Bubble Tea in Hot Pot Form
Rittenhouse
Abe Fisher has been a must-visit since it first opened more than four years ago, and now you have the perfect excuse to try it out if you still haven't made it there. For restaurant week, you pretty much get the entire typical prix-fixe menu options to choose from, from savory small plate starters to larger entrees like the veal schnitzel tacos or the skirt steak with manischewitz sauce. After three courses, Abe Fisher offers a fourth dessert course -- the bacon and egg cream finished with maple custard chocolate foam is perfect if you're still craving some savory at the end of the meal.
Queen Village
Here's your chance to try some of the best dishes from one of the city's best French restaurants, at a fraction of the cost. The white-wine braised chicken, which typically goes for $25, or the mustard-braised rabbit, typically $27, can be ordered in conjunction with a first course and a dessert for just $35, about half of what you would pay for that much food usually. For the adventurous francophiles, don't skip the escargot soaked in garlic herb butter (usually $14) to start.
Rittenhouse
Though the options at this five-star Stephen Starr steakhouse are cut back greatly for the restaurant week menu, the special nonetheless offers diners the chance to try three courses for less than what the 8-ounce filet usually costs on its own. For Restaurant Week, you can try that same filet -- or one of the two other entree options -- with a side of mashed potatoes or cauliflower after enjoying a crab cake or onion soup appetizer. End the whole thing with crème brûlée or New York-style cheesecake. Three courses alone would usually carve upward of $70 from a diner's pocket.
Old City
Pineapple guacamole, tuna ceviche, steak "Argentino," and tres leches cake are all waiting for your consumption at Cuba Libre this restaurant week, another great deal compared to how much you might spend during a normal three-course dinner at the Old City spot. Stay late to work off the calories when salsa dancing starts on Friday and Saturday nights.
Old City
FARMiCiA doesn't hold much back during restaurant week, offering customers no less than eight entree options (including three veggie ones like the eggplant cannelloni or the risotto croquettes). You can also start the meal with the nearly addictive shrimp and grits, baked meatballs, stuffed peppers, or six other first course choices. Head here for dinner and add a dessert (they have creme brulee and flourless torte), or stop by for lunch and try two courses for just $25.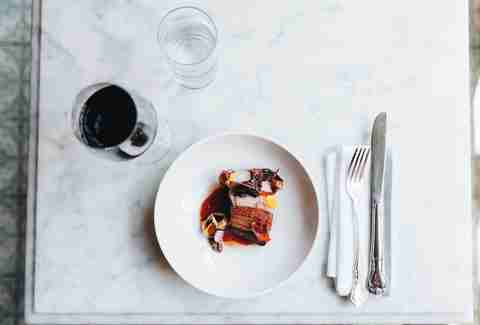 Rittenhouse
Harp & Crown's Restaurant Week menu is easily one of the best steals of the whole two-week affair. Because the Schulson restaurant emphasizes small, shareable plates as well as some personalized entree portions, the $35 menu essentially becomes a tasting of all the regular menu greatest hits -- spread out over six courses. Start off with a salad course, then move on to a hot and a cold plate before selecting a pasta (can't go wrong with squid ink lobster bucatini), a meat/fish course (garlic halibut is highly recommended), and a veggie course.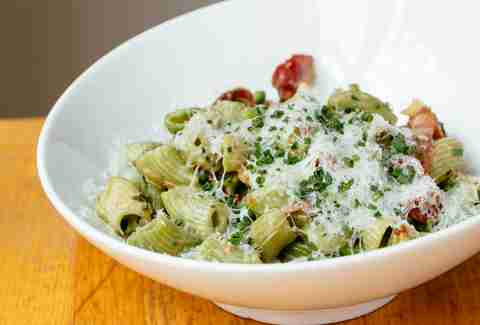 Washington Square
Cozy BYOB Mercato is one of those alluring Spruce Street restaurants whose food you can smell just from walking by -- so why not finally stop in for a three-course meal? Plus, since it's BYOB, you can bring your own refreshments without spending beyond the fixed Restaurant Week price. Try the fontina-stuffed meatballs or P.E.I. mussels for a hearty start before moving on to one of the seven entree options, including spicy crab bucatini and short rib ragu. Try tiramisu or a cannoli for dessert.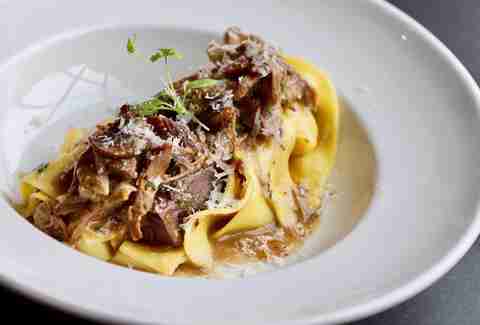 Old City
Besides boasting one of the biggest wine collections in Pennsylvania, Panorama also has one of the biggest Restaurant Week menus. Diners craving pasta can opt to start the meal with one of six options, including chestnut pesto gnocchi and lamb belly ravioli, before moving on to protein-heavy second courses such as veal tenderloin or New York strip steak. Alternatively, pastas can be upgraded to the main course after a starter of salad, shellfish, veggies, and other plates. Save room for course No. 3, as Panorama has seven dessert options -- more than most restaurants during Restaurant Week. Panorama also offers a three-course lunch option during Restaurant Week for $25; the menu's a truncated (though still expensive) version of the dinner menu.
Rittenhouse
For some of the best sushi and Japanese fare in Center City, head to Zama to grab discounted plates of pork dumplings, veggie tempura, seared salmon, and maki combos this restaurant week. The rice krispie maki for dessert is a good option if you're in the mood for something a little different -- or, try the ever-changing mochi of the day. During lunch, stop in for a Bento Bite (stir-fry or entree of your choice with edamame, house salad, miso soup, and rice) or a Lunch Set (trade the entree for maki, sushi, sashimi or chirashi combos) along with a dessert course for $25.
Sign up here for our daily Philly email and be the first to get all the food/drink/fun in town.