There are a few things that signal when it's fall in Philadelphia: everyone is in Eagles gear, the Made in America Festival is over, the Jersey Shore has emptied, and Restaurant Week returns to Center City. This fall's two-week dinner and lunch specials offer three-course menus at $35 and $20 a pop, respectively. This time you can also catch newcomers to the foodie event that help stretch the scope of Restaurant Week beyond its typical Rittenhouse-heavy participation, including spots throughout Old City, Spring Garden, Penn's Landing, and elsewhere.
 
Though the full restaurant list of participants is impressive, veterans know that not all restaurants are actually ready to offer up the goods. Some spots will have severely limited Restaurant Week menus, the likes of which would likely be around the same price with or without the special. To truly get the most out of your buck, check out our nine highlights of restaurants that offer beyond the typical three courses.
Recommended Video
This Restaurant Gives Brunch a Punjabi Twist
Rittenhouse
This buzzy restaurant by Rittenhouse Square Park offers most of its main menu tenants during Restaurant Week, so you don't have to worry about getting skimped on. Try the seasonal chive and ricotta dumplings, usually $16 a dish, to start, before moving on to a second course of clams or crudo. When it comes to entrees, consider the flank steak or the half-chicken (each usually $29) to get the most out of the deal. The New American eatery doesn't stop there, offering a bonus fourth course for dessert.
Rittenhouse
Stephen Starr's British-inspired restaurant is an elevated take on the archetypical English pub, and the ambiance -- as well as the food -- does not disappoint. Though the official Restaurant Week menu for the Dandelion has not yet been released, it's hard to imagine it not being a good opportunity to try a smattering of everything, whether you have your eye on the cheese board or the more adventurous chicken and duck liver parfait. In addition to a shellfish menu, main dishes feature refined farm-to-table goodness including rabbit pie, tandoori chicken, and steak and chips.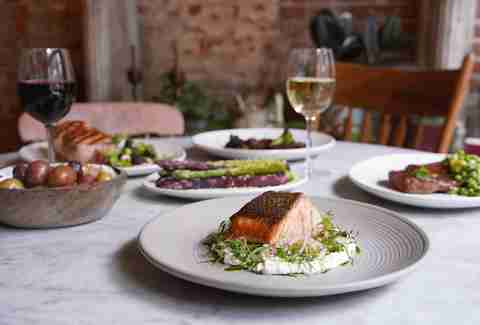 Rittenhouse
The Schulson Collective's massive bar (and semi-secret bowling alley) is offering a seven-course menu this Restaurant Week, giving you a chance to try a mix of small and medium plates that more than scratch the surface of the widespread menu. Start off with a burrata salad before moving on to the second course of one hot and one cold appetizer, including charcuterie, white fish toast, and lamb meatballs. Save room for the spicy crab spaghetti, hanger steak, pork chops, margherita pizza, and seasonal dessert that await in courses ahead.
Old City
More restaurants in Old City and surrounding neighborhoods are joining forces for Center City Restaurant Week, and with the additions comes staple Philly restaurants such as High Street on Market. The gorgeous corner eatery has a cult following thanks to its elevated casual fare with some adventurous departures. Get the most out of Restaurant Week with High Street's whipped avocado -- gloriously featured with watermelon and feta -- and any of the featured entrees, which will usually cost you upward of $30 for the dish on its own.
Penn's Landing
The beautifully renovated warehouse by the Ben Franklin Bridge has become an eclectic destination whether you're in the mood for dinner, a show, or just a drink. If you play your cards right, you may be able to enjoy a performance at La Peg while stopping by for Restaurant Week, where you can score honey-chipotle glazed salmon or mushroom risotto, along with two rounds of appetizers and dessert -- at a fraction of the cost.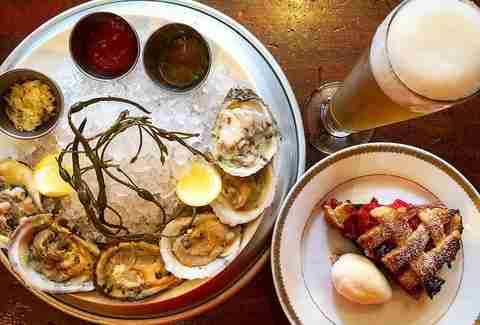 Old City
Jose Garces' renewed take in the historic Bookbinder's site is an alluring, cozy oyster bar and cocktail lounge. Try the spot's signature oysters on the half shell to start, then move on to some tots or a salad before ordering the blackened sea trout, fried chicken, or even a fried calamari platter. Save room for strawberry shortcake or huckleberry verrine for dessert.
Spring Garden
Osteria has been a favorite Italian dining destination in Philly for many years, but it's newer to the Restaurant Week scene, and its offerings do not disappoint. During the special, score four courses for $35, with starter courses that include a curated cheese plate, charred octopus, and seared scallops. For the bigger courses, try the rabbit ragu or saffron swordfish before moving on toward the roasted whole branzino (usually $27) or the oven roasted halibut (usually $25).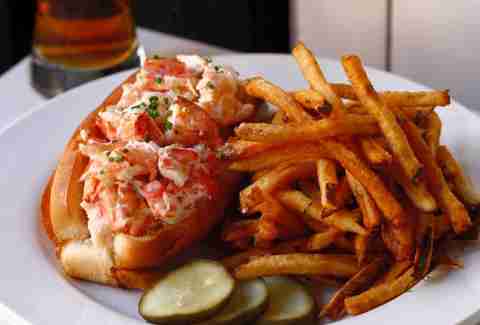 Rittenhouse
Restaurant Week is your chance to try some of Philadelphia's most authentic New England-style seafood at a fraction of the coast. Before trying the signature lobster roll at Oyster House (typically $28), start off with a half-dozen half-shell oysters or clams casino. For dessert, don't skip the chocolate panna cotta with toasted meringue.
Rittenhouse
Chef Mackenson Horebe's kitchen is an underrated gem in Center City, serving hearty cuisine with a touch of Haitian and Carribbean influence. During Restaurant Week, stop by for fresh-from-the-oven cornbread, gnocchi and meatballs, and peach cobbler for dessert. The spot is also offering a three-course lunch special which includes duck wings, short rib sandwich, and chocolate bread pudding.
Sign up here for our daily Philly email and be the first to get all the food/drink/fun in town.