Where to Get the 10 Best Bowls of Pho in Philadelphia
Just because ramen is #TrendingSoHardItNeedsAHashtag right now, doesn't mean you can forget about pho. The traditional Vietnamese noodle soup is great for curing colds, busting hangovers, or just, well, eating. Philly's got 10 places with outstanding pho that you need to hit up (but leave any vegetarians at home, there's something about a non-meat pho that feels so... not Vietnamese).
Q.D. Tran/Thrillist
Chinatown
Pho Xe Lua, aka Choo Choo (for its neon-lit steam locomotive sign in the front window), has been a go-to spot in Philly for years. The tasty cuts of beef, perfectly-cooked rice noodles, and flavorful broth make its pho the traditional complete package. The restaurant also serves Thai cuisine, so do yourself a favor and try its tom yum soup, which is arguably just as good as its pho, if that's possible.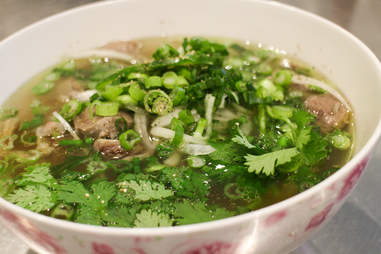 Q.D. Tran/Thrillist
South Philly
Café Nhan is a newcomer to Philly's pho scene, but it is a serious contender for the title. Chef/owner Nhan Vo has only been in the tiny South Philly space -- which only has two tables, a few counter spots, and shares a restroom with Tran's Beer Distributor -- for about eight months, but the former Hue native has been making all the dishes on her menu for most of her life, now providing the City of Brotherly Love some serious homestyle Vietnamese comfort food. The complimentary chili garlic sauce that she makes herself using five kinds of chili peppers brings some serious heat that burns and tastes oh-so-good.
Q.D. Tran/Thrillist
East Kensington
This beloved East Kensington spot by the Huntingdon stop has no menu, but that doesn't matter because all you need to know is to order the chicken pho (it's the best in town!). The modest main dining room is always packed with Vietnamese patrons, but it does have an unmarked second floor that is actually much roomier if you don't mind the rumble of passing subway trains once in a while. The restaurant's lemon, salt, black and habanero pepper dipping sauce for the chicken is absolutely phenomenal.
Q.D. Tran/Thrillist
Pennsport
What really stands out about the pho at Pho Saigon is its rich, beefy broth. There are few (if any) that are as flavorful in town. It's most likely the main reason why so many folks get their Vietnamese grub on in a strip mall on Columbus Ave. 
 
Graduate Hospital
Huong Tram is located on the heavily Vietnamese-populated Washington Ave; however, it is on the less-traveled West side of Broad St in Hoa Binh Plaza. Its pho is traditional, well balanced, and definitely very filling. For some, it might be difficult to ignore the blaring Vietnamese music that comes with video footage of a couple doing sexually suggestive acts with food on Huong Tram's two giant television screens, but it's worth trying if you can.
Q.D. Tran/Thrillist
Bella Vista
Pho Ta was formerly part of the international Vietnamese chain restaurant Pho Hoa. The large dining space has broken off from the franchise, standing on its own probably due to the consistent quality of its beef pho and its large menu of traditional favorites. Remember to always start your meal off right with an order of the restaurant's delicious cha gio (Vietnamese spring rolls).  
 
Bella Vista
Pho 75 is the go-to spot for culinary rock stars like Anthony Bourdain, Marc Vetri, and Mike Solomonov. While the place may now pale in comparison to a few other pho joints popping up throughout the city, it still remains a good introduction for those just getting their palates wet. 
 
Bella Vista
Le Viet may look like an upscale tourist trap that resides just off of Washington Ave on 11th St, but it's actually reasonably priced and quite tasty in comparison to the other neighboring no-frills Vietnamese restaurants. The place provides a nice ambiance for those who have friends and family that tend to shy away from some Asian restaurants because of their décor and/or cleanliness. Its beef pho is done one way with all the different cuts in the pool so if you are not a fan of tripe, tendon, and/or beef balls, then make sure to let them know. (Pro tip: for lunch from 11am-3pm all week, its pho and select dishes are only $5.) 
Q.D. Tran/Thrillist
Bella Vista
Lee's Café & Bistro is a new incarnation from the Nhu Y folks, who are famous in town for their banh mi sandwiches (having recently upgraded their baguettes). They also have a sit-down dining area on the second floor, where you can enjoy a bowl of pho and other Vietnamese/Chinese dishes. The broth is on the sweeter side -- mostly due to a heavier hand with the cinnamon -- which is common in the more Southern parts of Vietnam, and the generous helping of onions gives their pho a boost of flavor and balance.  
 
Chinatown
For such a metropolitan city, Philly's late-night eating options can be quite limited. Rest assured, you now have Vietnam House to satisfy your late-night pho cravings. The relatively new pho joint is open till 2am all week, except Wednesdays when it's closed. Supplement your seafood pho with a side of rice vermicelli with BBQ pork.
 
Sign up here for our daily Philly email and be the first to get all the food/drink/fun in town.
Q.D. Tran wants to eat and drink his way through all the countries in the world. David Byrne is his spirit animal. Follow him on Twitter @TheDeliPhilly.